Teck Resources (NYSE:TCK) has struggled considerably over the past year, impacted most by falling commodity prices. The latest commodity cycle remains a challenging one, with prices declining to levels that in some cases are well below what we saw during the global financial crisis of 2008 and 2009. The current cycle is drastic in terms of its depth.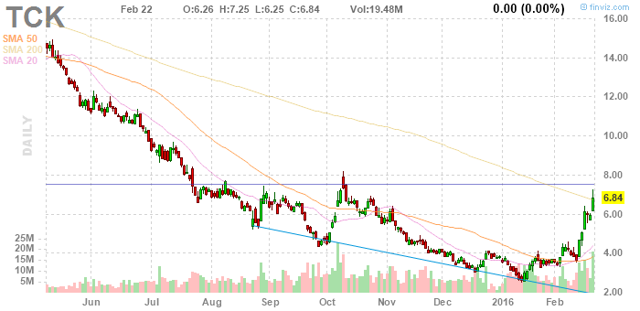 Click to enlarge
The sustained depression has significantly impacted Teck's share price as well as investors' confidence. In the last year alone, its share price plunged over 60%. On January 25th, Teck's stock reached its lowest price of $2.56 per share for the first time since the global recession of 2008. However, its shares have been rebounding over the past couple of weeks. Teck's stock jumped almost 60% from its lowest level, reported last month.
Here the question arises whether the company's stock still has upside potential or if it could lose the gains it has generated in the last few days. In my view, Teck Resources could gain even further momentum in the coming days, on the back of positive indicators for commodity prices. In addition, the company has been significantly lowering the cost structure of its business model, which could lead to big profits with some stabilization in the prices.
In 2015, the company exceeded its guidance for cost cutting and for capital expenditures. It achieved cost reductions through its CRP program, and the results have been helped by low oil prices. With regards to its mines, Teck has reduced cash unit costs across all operations. This has resulted in positive cash flows from all of its major operating mines. In steelmaking coal, the company's continued focus on cost cutting has allowed it to generate below-site cost guidance of C$45 per tonne.
The company's steelmaking coal unit showed a cost of sales decrease of US$20 per tonne in fiscal 2015, which includes transportation costs and inventory adjustments. In copper, it lowered its C1 unit costs by $0.20 per pound. Despite slimming down its cost structure, the company still is not compromising on its production and growth projects.
In fiscal 2015, Teck resources generated record copper, zinc and silver production. The company generated growth in copper production of 13,000 tonnes in the final quarter of 2015. With strong cost-cutting and continued growth in sales volumes, it generated annual profits attributable to shareholders of $188 million, or $0.33 per share, which looks strong when compared to the losses of its peers.
The company also appears strong in term of cash generation and its liquidity situation. It generated $1.95B of operating cash flows in 2015, when its capital requirements were around $2B. The company is looking to make further cuts to its investments this year to remain cash flow neutral. In addition, it is selling assets to save some cash for future needs. Teck's liquidity situation is strong, with cash of $1.8b and $3.0B in revolving credit capacity.
Above all, commodity prices are now rebounding after a long depression. In the last thirty days, all commodities - including copper, zinc, gold and aluminum - gained a lot of momentum. At the end of the latest trading session, base metals extended their surge by 1.4%, led by gains in zinc and nickel of 2.5% and 2.4%, respectively. We can expect more strength in commodity prices after big cuts in investments in the next few quarters.
In Conclusion
With the stabilization in prices, Teck's share price could build a lot of momentum in the coming days. In addition, with its low-cost business model, the company is laying a strong foundation for future growth. Its liquidity situation is strong enough to reduce any solvency risk. The company has also been working on several growth projects that are likely to improve its production in the coming quarters. I'm expecting improved financial performance from the company in the first quarter, on the back of rebounding prices and significant cost cutting. I believe there are many positive signs to support Teck's share price.
Disclosure: I/we have no positions in any stocks mentioned, and no plans to initiate any positions within the next 72 hours.
I wrote this article myself, and it expresses my own opinions. I am not receiving compensation for it (other than from Seeking Alpha). I have no business relationship with any company whose stock is mentioned in this article.