One of the banes of every trader's existence - initiating a position, getting flushed out of the trade due to volatility, and then having the trade move in the direction you originally anticipated.
Well, I can certainly relate. Previously, I had written an article strongly arguing for a long position on gold. Part of my reasons for doing so were based on the fact that a decline in the US dollar along with global growth concerns were causing gold to rally to levels not seen in at least a year. Moreover, gold imports to India (one of the world's largest importers) were increasing vibrantly in spite of government restrictions.
Specifically, I had argued that a breach of the 1180 level would validate a long position in gold. As the rally continued, I decided to initiate a long limit entry position in gold at a price of 1211, with a stop loss of 1205 and a take profit target of 1221. Lo and behold, the price of gold dipped just below 1205 before shooting up to 1260.
If this trade taught me anything, it's that gold is a particularly volatile instrument and an investor going long needs to account for significant levels of volatility along the way. Meanwhile, we have seen gold dip back from the 1260 level and is now oscillating at around the 1220 level: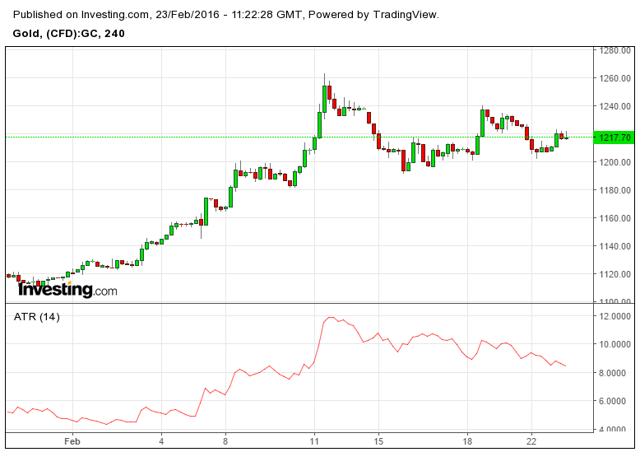 Click to enlarge
Moreover, we see that the peak Average True Range was $12 over a 4-hour chart, which means that an investor should be prepared to see a dip of $12 or more in price if expecting to initiate a long position. So, where does gold go from here?
Last month, higher oil prices were not on the cards. Investors were seeing gold as a safe haven largely due to a decline in the US Dollar. However, the gold/oil ratio tends to peak during periods of financial crisis, since oil prices tend to fall during periods of weak economic growth and gold subsequently tends to rise: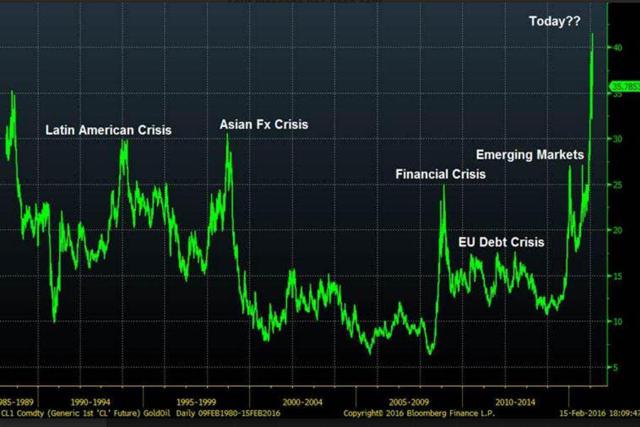 Click to enlarge
Source: Marketwatch
With oil prices now rising, gold could be set to consolidate. Even if the rise in oil prices is only temporary, gold prices can still expect significant volatility in the short to medium-term. Moreover, it is primarily investment demand that has been pushing up gold rather than physical demand. In China and India for instance, demand tends to be driven by physical purchase of gold in jewelry form. There has been a lack of demand for the same, which indicates that gold demand may just be driven by contagion rather than organic purchases. In this sense, the gold rally may be unsustainable.
Where gold goes from here is anyone's guess. However, the past month has demonstrated that the rally may be unsustainable. Even if gold should go up, investors would incur significant volatility in trading the metal. In this context, I will be passing on gold on this occasion.
Disclosure: I/we have no positions in any stocks mentioned, and no plans to initiate any positions within the next 72 hours.
I wrote this article myself, and it expresses my own opinions. I am not receiving compensation for it (other than from Seeking Alpha). I have no business relationship with any company whose stock is mentioned in this article.