In my previous analysis of Polaris (NYSE:PII), I made the argument that the company was in a prime position to outperform Arctic Cat (NASDAQ:ACAT). With higher levels of profitability, lesser incidences of product recalls, as well as a foothold in emerging markets such as China and India, I argued that Polaris would be a more suitable growth prospect in spite of trading at a premium valuation to Arctic Cat . The purpose of this article is to follow up on the performance of Polaris, evaluate if the company still has a significant competitive advantage, and assess the potential impact of the current economic slowdown on the industry.
On the metric that ultimately matters most to investors - price - Polaris has taken quite a beating: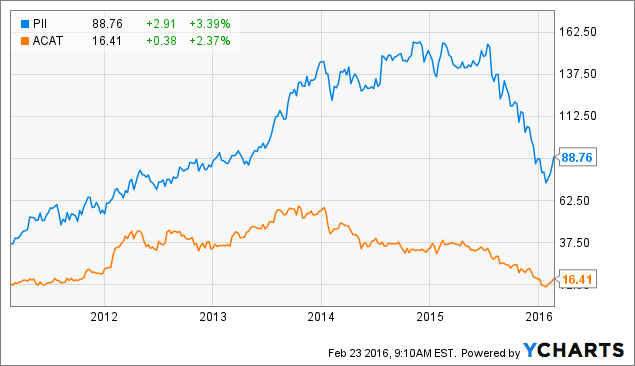 Polaris has undoubtedly declined very significantly. The company appears to have been adversely affected by the decline in market conditions, as more volatile stocks have gone out of favor. Moreover, my last analysis demonstrated that Polaris was trading at a premium valuation, and investors may have fell out of favor with the company for this reason.
However, I am still confident behind the business model of Polaris, and moreover see the company as having an attractive valuation due to the price drop, as well as promising earnings and cash flow prospects. In spite of the price drop, Polaris did manage to increase sales and earnings for the sixth consecutive year in 2015, even in spite of currency volatility.
Moreover, the company managed to further its inroads into both developed and emerging markets through acquisitions including Brammo's electric motorcycle business, Hammerhead Off-Road Vehicles in China, along with snowbike maker Timbersled Products. Moreover, motorcycle sales were particularly strong growing by 33 percent, partially thanks to vibrant demand in India - a market Arctic Cat has failed to penetrate.
Moreover, we see that Polaris has grown diluted EPS per share in 2015, while that of Arctic Cat has declined: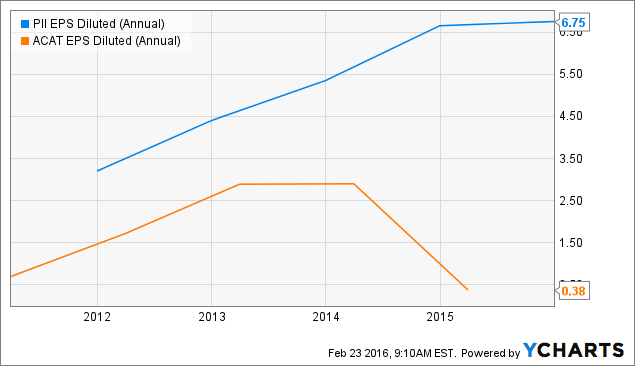 Additionally, while free cash flow took a hit in 2015, I believe it still remains on a sustainable growth trajectory overall should earnings continue to increase, and higher than that of Arctic Cat which has negative free cash flow: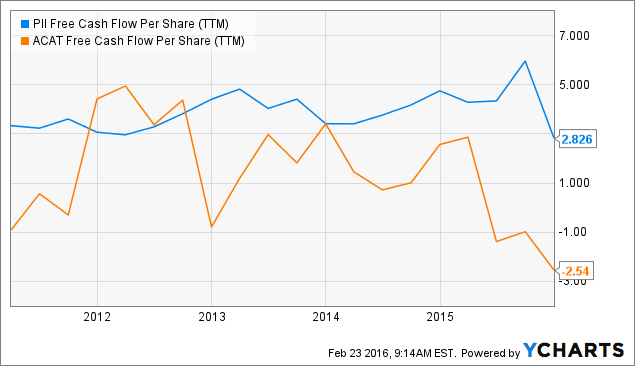 Given the discrepancy between the recent price drop along with sustainable increases in earnings and free cash flow, I maintain that Polaris is a long-term buy and the current price may mark an attractive entry point.
Disclosure: I/we have no positions in any stocks mentioned, and no plans to initiate any positions within the next 72 hours.
I wrote this article myself, and it expresses my own opinions. I am not receiving compensation for it (other than from Seeking Alpha). I have no business relationship with any company whose stock is mentioned in this article.