Canadian National Railway (NYSE:CNI) has defied the negativity in the railroading industry, gaining almost 16% in the past month. The company's recent run has been driven by a better-than-expected bottom line performance in the last reported quarter
In fact, when compared to other Class I railroading companies, Canadian National was the best of the lot, as its revenue for fiscal 2015 was up 2.4% from last year. In comparison, Canadian Pacific (NYSE:CP) had seen an increase of just 1% in revenue, while the likes of Union Pacific (NYSE:UNP), CSX Corp. (NASDAQ:CSX), and Norfolk Southern (NYSE:NSC) saw steep declines in their top lines.
This clearly indicates that Canadian National is on top of its game even in challenging times for the industry. This is due to the company's focus on several areas such as improving franchise growth, investing in growth platforms for the long run, and emphasis on a diversified business that will help it improve cash flow even in difficult times. In this article, we will take a look at the reasons why Canadian National should continue delivering more upside going forward.
Focus on operational efficiency is delivering results
A look at the chart given below makes it clear that Canadian National has laid great stress on improving the efficiency of its operations, which has allowed the company to improve its margin profile even in adverse circumstances.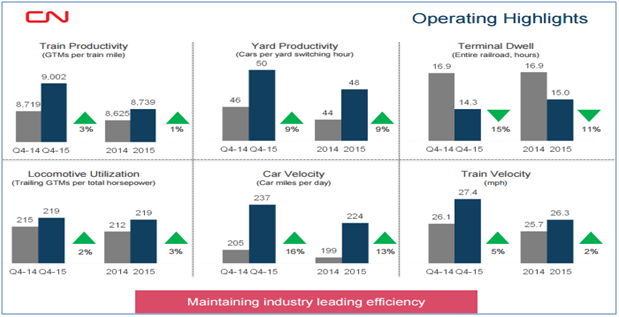 (Source: Canadian National Railway)
The chart above makes it abundantly clear that Canadian National has taken aggressive steps to improve its operational efficiency by focusing across the board. For instance, in order to improve train productivity, the company has increased the number of cars on its trains, along with an improvement in train velocity. This means that each of its trains have been carrying a larger amount of freight at the same cost base, thereby leading to better operating efficiency.
Additionally, the company has reduced the amount of time that its railcars spend in the terminals to the tune of 15%, while car switching has increased by 9%. As a result of these moves, Canadian National has been able to bring down its idle time and improve the efficiency of the yard. The net impact of these moves has led to an increase in both its operating ratio and earnings last quarter, despite a slight dip of 1.3% in revenue that was a result of weakness in the commodity-related segments such as coal and crude oil.
In fact, Canadian National's operating ratio last quarter was up 350 basis points as compared to the prior-year period, while its earnings increased to the tune of 15%, which is impressive in light of the end-market challenges.
More positives to consider
The company is increasing the pace of investments in the efficiency and safety of its network in order to further improve its operating ratio. For instance, it has allotted approximately C$1.7 billion toward improving its network this year. As a result of this investment, Canadian National will try to improve accessibility to the tracks for its trains and outsource more work to external contractors.
Additionally, the railroad company plans to invest approximately C$400 million on positive train control, or PTC. The good part is that Canadian National has already made some progress on this front by implementing PTC on mainland tracks in areas where commuter railroads and intercity passenger railroads operate, in a bid to meet the PTC mandate.
As a result of these moves, the company expects its earnings to grow in the mid-single digits in 2016 as compared to last year. This growth in its bottom line is despite the fact that it expects continued downturn in the energy-related commodities business. However, considering the fact that Canadian National sees considerable growth opportunities in the housing, automotive, and intermodal markets, it will be able to counter the weakness in the energy business.
In fact, Canadian National has been able to successfully tackle the weakness in the commodity segments, as it was able to increase its operating cash flow and free cash flow performance last year, as shown below:

(Source: Canadian National Railway)
The reason behind the growth in Canadian National's cash flow last year is due to its diversified operations and impressive cost control. As a result, the company was able to increase its quarterly dividend by 20% last month, and I believe that the trend will continue, as it expects to grow its earnings once again this year.
The company's prospects will be helped by the growth in key markets such as automotive and construction. According to IHS, low interest rates and low gas prices will help the auto market to grow once again this year, exceeding 18 million units in sales in the next couple of years.
Apart from IHS, even fellow railroader CSX expects North America light vehicle production to grow to 18 million units annually this year, an increase of 3% from 17.5 million in 2015. Also, it expects steady growth in the housing market and forecasts housing starts to grow 16% this year. The following charts indicate the expected growth in the housing and construction markets going forward, which is good news for Canadian National Railway.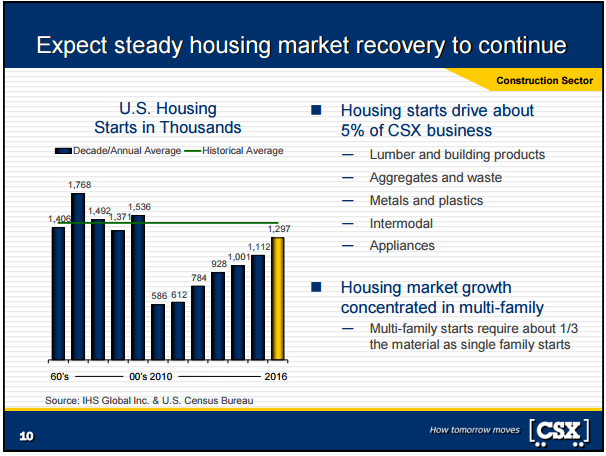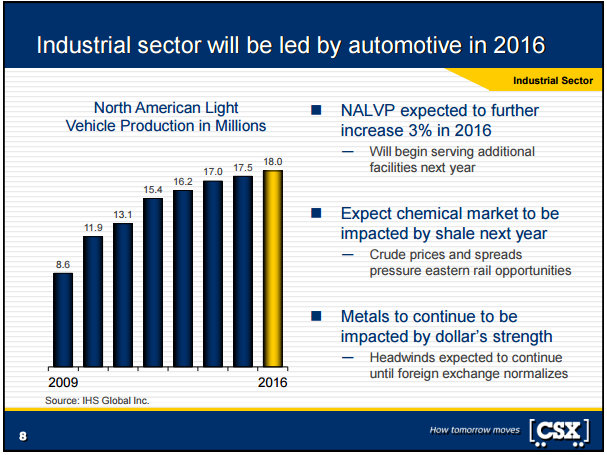 (Source: CSX)
Conclusion
Thus, Canadian National Railway is making a number of smart moves that will allow the company to record impressive growth in the long run. It has managed to improve its cash flow and increase the dividend in difficult times for the industry on the back of its efficiency moves. This year, the company intends to improve its efficiency further, which will lead to an increase in its earnings performance.
Thus, it will be a good idea to continue holding Canadian National Railway shares for the long run given its operational efficiency and strong cash flow.
Disclosure: I/we have no positions in any stocks mentioned, and no plans to initiate any positions within the next 72 hours.
I wrote this article myself, and it expresses my own opinions. I am not receiving compensation for it (other than from Seeking Alpha). I have no business relationship with any company whose stock is mentioned in this article.