Southwest Airlines (NYSE:LUV) is one of several airline companies that have benefited from lower oil, and thus lower jet fuel prices. While reversion to the mean (statistically), the decline in U.S. oil drilling (locally), or the Saudi-Russian agreement to limit production (globally) suggest oil and jet fuel prices could rise, Southwest Airlines is better positioned than many to continue to benefit. This optimism is reflected in a price-to-earnings ratio of 12.5, stronger than those of American Airlines (NASDAQ:AAL) (4), Delta (NYSE:DAL) (9), and United Continental (NYSE:UAL) (3). It is also reflected in recent positive comments by Credit Suisse.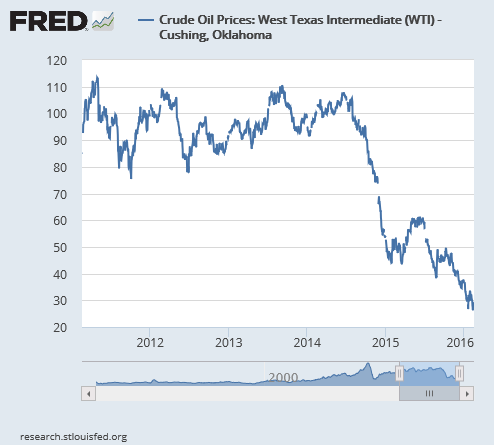 Vertical Axis is $/BBL
Investors should note that although this analysis leans on the fuel cost factor, several other operating and financial parameters are discussed.
Oil and Jet Fuel Prices
The chart above shows the dramatic fall of oil prices over the last 18 months. Since jet fuel is the first or second-largest cost of operating an airline, a drop in its price goes straight to earnings for all airlines.
Overall Operations
Southwest Airlines operates 704 planes, virtually all the 737 series. In 2015, its average load factor was 83.6%, up from 66% in 2002. It has 49,000 employees and serves more than 100 million customers annually. Southwest's current network comprises 97 destinations with a peak travel schedule of 3900 flights per day.
Southwest Airlines has just signed a five-year contract with its ground service employees union. It is still negotiating with its pilots and its flight attendants, despite having just announced record profit-sharing equal to two months' pay.
Global and US Competitors
In the U.S., Southwest Airlines competes with American Airlines, Delta Air Lines, United Airlines, and a host of discount airlines, ranging from Virgin America (NASDAQ:VA) to Spirit (NASDAQ:SAVE) to Allegiant (NASDAQ:ALGT), among others. Southwest has few international flights and thus few global competitors.
Strategy
Wright Amendment restrictions at Dallas Love Field, where Southwest started 45 years ago and where it is still headquartered, required the company to grow slowly and deliberately. It entered some markets (Dallas Love, Chicago Midway) at a secondary airport, and then established itself as a price-setting and often dominant airline in those markets.
The paced growth, strong company culture, vivid branding, and good operational planning, both short and long term, has allowed the company to grow to the size of its legacy competitors. Southwest has a $26 billion market capitalization today, on par with American (also $26 billion), larger than United Continental ($21 billion), and smaller only than Delta at $39 billion.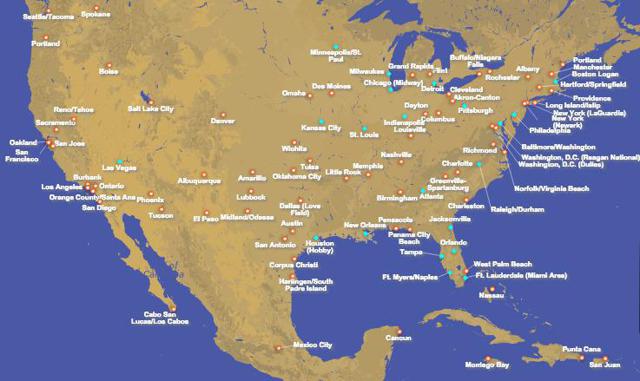 Click to enlarge
Notes on Operations
Southwest's opportunity to expand its flights from Dallas Love Field to non-neighboring states - direct to San Francisco, for example - came at an utterly propitious time. Although it has not been an oil region-focused airline for quite some time, the lifting of the Wright Amendment in October 2014 predated the fall in oil prices by about a month. Thus, just as there was more need for planes to fly nonstop from Dallas to Los Angeles, there was less need for planes to fly to the Midland, TX and Oklahoma City, OK markets, and fuel was cheaper.
Southwest's numbers for the Dallas Love Field market tell the story: in October 2015, the company offered 180 flights from Dallas Love Field to 50 destinations, up from 118 flights to 16 destinations in October 2014. Unsurprisingly, its Dallas passenger traffic increased 56% over the same time period.
Hedging
While Southwest Airlines hedges its jet fuel purchases, the company has not gone to the lengths of Delta Air Lines, which actually owns and operates an oil refinery.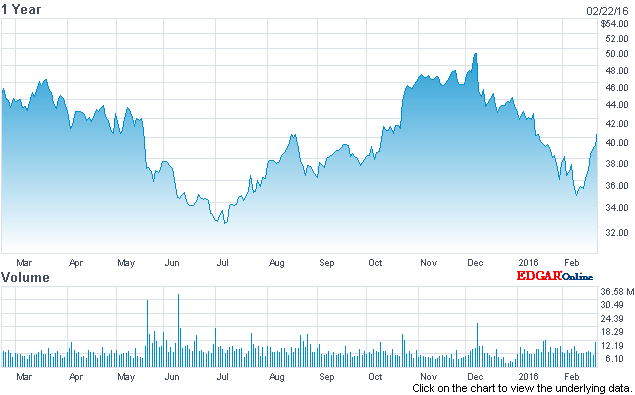 Credit: Nasdaq.com
Stock and Financial Highlights
The company released its 2015 results on Jan 21, 2016 with the first full year of expanded Dallas operations. However, those expansions did not occur all on October 11, 2014 but were sequenced throughout 2015. So 2016 will be telling with Dallas growth more completely integrated and what could be a longer-for-lower crude oil and thus jet fuel price in 2016 than even in 2015.
As of December 31, 2015, the company had $14 billion of liabilities and a liability-to-asset ratio of 65%. This compares favorably to the liability-to-asset ratios of American (92%), Delta (80%) and United Continental (80%). Southwest's market capitalization, as noted above, is $26 billion. Its ratio of current assets divided by current liabilities is 0.54, which is similar to Delta's but lower than United's or American's. The short position in the company's stock is only 4% of float. At the end of December 2015, it had $3.1 billion in cash and short-term investments.
Based on a February 22 stock closing price of $40.82 per share and a trailing 12 months' earnings per share of $3.52, the company's price-to-earnings ratio is 12.5.
Southwest's one-year target price is $53.31. The company's mean analyst rating is 2.0, a 'buy' from the 14 analysts who follow it. Five have a 'strong buy' rating, seven have a 'buy' rating, three have a 'hold' rating, and one has an 'underperform' rating. TheStreet rated Southwest Airlines a buy as of February 22.
A tiny fraction of Southwest's shares are held by insiders. The top five institutional holders are Primecap (11.6%), FMR/Fidelity (7.8%), Vanguard (5.9%), State Street (3.5%), and Black Rock (2.8%).
Southwest's annual dividend is $0.30 per share, or about 0.7%.
Potential investors should dig deep into the factors they consider most likely to affect airline companies generally and Southwest Airlines specifically. Oil prices, and jet fuel costs, are important but not completely inversely correlated or determinative. Growth in the travel market, capacity and route management, new labor contracts, employee productivity, and other factors will also be key.
Disclosure: I am/we are long LUV.
I wrote this article myself, and it expresses my own opinions. I am not receiving compensation for it (other than from Seeking Alpha). I have no business relationship with any company whose stock is mentioned in this article.