Stellus's (NYSE:SCM) assertion in its Q3-2015 Investor Presentation (published 12/14/15, see page 13) that it has no energy exposure is simply not credible.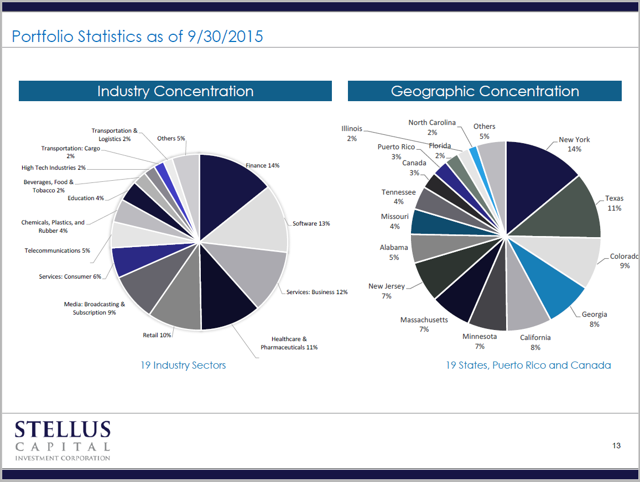 Click to enlarge
The claim is clearly at odds with Stellus's own statement of its intentions made prior to going public. Todd Overbergen, Stellus's Head of Energy Investing, commented in the "Oil & Gas Journal (January 2014)" that he was "… excited about the current trends and opportunities for investment within the energy industry," and stated that Stellus has a long history of "… being good partners in the energy industry."
Stellus, in fact, has material investments in energy, despite its comments to the contrary.
At the time of the Stellus IPO, SCM had virtually no energy holdings. However, continued research indicates, that Stellus's energy holdings ballooned to nearly 10.0% (to $24.4 million of exposure) of its portfolio less than a year after its public debut (i.e. by June 30, 2013).
Current analysis has found significant discrepancies in how Stellus assigns industry classifications to its holdings. One may speculate whether this could be characterized as an attempt to misguide investors that these holdings are not related to the energy sector.
Blackhawk Mining
Blackhawk Mining is a coal producer that Stellus classifies as a "Metals and Mining" business, avoiding classification as an energy holding. Blackhawk's own finances could be in peril, as President Obama's "War on Coal" has recently escalated with his January 2016 ban on new coal leases on federal land.
Sen. John Barrasso (R-Wyo.) told reporters that the recent coal mining ban is "going to just be sending pink slips to thousands of people who earn their living and their livelihood with coal." In fact, Blackhawk Mining has announced plans to idle some coal operations in southern West Virginia and permanently lay off 146 workers. As has been widely published in Seeking Alpha, the coal industry is going through a wave of recent restructurings and bankruptcies, including industry giants Arch Coal (ACI), Peabody (NYSE:BTU) and Alpha Natural Resources (OTCPK:ANRZQ)
Glori Energy
Stellus holds a first lien term loan to speculative energy producer Glori Energy Production, Inc. The company's parent is Glori Energy (NASDAQ:GLRI). Glori's stock has collapsed by 98% from its peak of $12/share in mid-2014. Houston-based Glori has a history of operating losses; it now trades at about $.25/share and risks being de-listed by NASDAQ. Like with many upstream energy producers, its continued survival is in question.
Stellus has yet to write-down its debt holdings in Glori, despite the fact that Glori recently defaulted on material loan covenants (at September 2015). Stellus's loan to Glori matures in March of 2017, yet the prospects for repayment early next year are highly doubtful. Stellus has yet to disclose this technical default on Glori's debt in its financials. By contrast, Glori's own public filings clearly disclose the default on its loan from Stellus and include (as an exhibit) the amended (Nov 2015) Stellus credit agreement.
Investors' risk of covert investment activity by Stellus is magnified when considering energy investments that were recently made - but fortunately no longer remain - on Stellus's balance sheet.
ProPetro
In the second quarter of 2013, Stellus made a risky $10 million loan to ProPetro Services, Inc. a private oil field services company that provides a broad range of drilling and production-related services to oil and natural gas exploration and production companies. The Stellus loan to ProPetro was realized within only a few months of its extension, but in hindsight, this appears to be a very lucky mistake. This is clearly an anomaly; Stellus holds most of its loans for two to five years.
Varel International
Another recent energy investment by Stellus could have proved disastrous for the company. In 2013, Stellus made a $10 million loan to Varel International Energy Funding Corp., which makes drill bits for oil & gas exploration; fortunately, Varel was acquired in May 2014 by the Swedish energy services giant Sandvik AB. Had this fortuitous acquisition not occurred, Varel could have been another energy-related impairment stuck on Stellus's books.
There is also some indirect risk of exposure in the energy sector related to several Stellus investments.
Stellus's investments in industrial and transportation businesses with potential exposure to the energy sector are also concerning. Vandelay Industries, another Stellus holding, makes industrial tools for heavy industry, including the energy services sector. Stellus considers this holding to be in the "Construction & Building" sector. Yet other investors in Vandelay debt, including Fifth Street Finance Corp. (NYSE: FSC), more accurately deem Vandelay to be an "Industrial Machinery" business. The more accurate classification by FSC would alert investors to potential connections to energy.
Abrasive Products and Equipment, another Stellus holding, is deemed to be in the "Chemicals, Plastics and Rubber" industry. Yet this business has an "oilfield" division and has most of its operations in Texas and other Gulf energy locations.
Livingston International, a "Transportation and Cargo" business located in Toronto, Ontario, has a portion of its business devoted to the oil & gas industry, and has been looking to take advantage of the construction of the Keystone Pipeline. Livingston recently elaborated in the "Pipeline & Gas Journal" on the relative compliance benefits of pipeline transmission of crude versus traditional transportation modes such as truck and rail. Livingston recently moved its US headquarters to Chicago to in part help take advantage of its location as a key rail hub that connects Canada and the U.S.
Stellus's shares have already dropped 30% since media articles began to explore the lack of transparency at Stellus back in the summer of 2015. They risk being "shafted" again if Stellus's luck runs out and these hidden energy investments turn sour. Upon digging further into SCM's financials, it's apparent that Stellus has already gone deep in Coal (Blackhawk Mining) and is directly exposed to Oil Exploration (Glori Energy), despite management's claims to the contrary. Investors may be rightly concerned about Stellus's exposure in these energy-related industries.
Disclosure: I/we have no positions in any stocks mentioned, and no plans to initiate any positions within the next 72 hours.
I wrote this article myself, and it expresses my own opinions. I am not receiving compensation for it (other than from Seeking Alpha). I have no business relationship with any company whose stock is mentioned in this article.