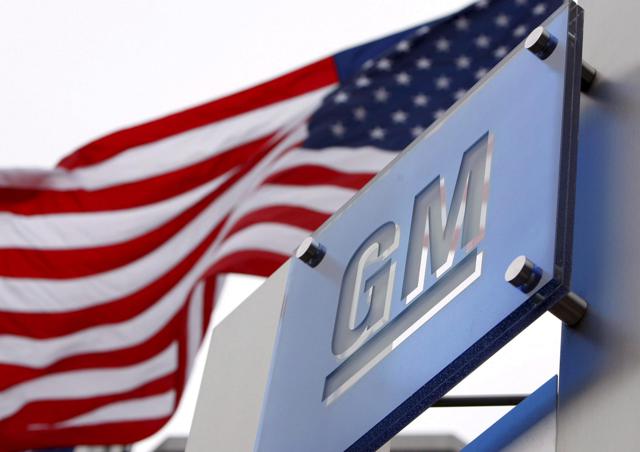 Click to enlarge
General Motors (NYSE:GM) made three major announcements in the first 45 days of this year.
In January 2016, GM registered its best sales performance in eight years as the company moved 203,745 vehicles. Retail sales increased by 9% year over year
The company raised its earnings guidance by $0.25
The Board of Directors increased the share buyback program by $4 billion - to $9 billion.
Let's cover each of these - as well as one more external factor - to form a more holistic view of GM's financial condition against its current stock price level.
Retail Sales Increase
A 9% increase in U.S. retail sales in January is a significant quantum. At a time when the consensus seems to be 'peak auto' after record sales in December, this is a significant milestone. Moreover, if you look at the state of their inventory, you'll see that as of January 2016, GM had 74 days of supply in inventory compared to 94 days of supply a year ago. Though this number swings wildly from month to month, it's a good enough indication that vehicles are moving off the lot faster than last year.
With sales figures like this, it's hard to imagine why the stock would be beaten down to such levels not seen since 2013.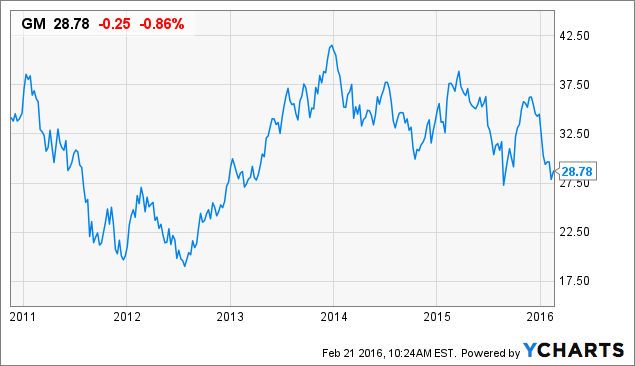 From an investor standpoint, it's a good indication that the company's sales performance in its biggest market - the United States - has little to do with its current stock performance.

Click to enlarge
Source: GM
Guidance Increase
General Motors Co. (NYSE: ) announced an increase to its 2016 earnings per share adjusted outlook to between $5.25 and $5.75, up from the prior outlook of $5.00 to $5.50 provided on Oct. 1, 2015.
The second sign of good health is the guidance increase they announced. Whenever a company revises its guidance upwards, stocks tend to jump - but not in the case of GM. This is not something that happens that often. The stock has continued its downward movement, though its showing some signs of stability in the past few weeks. But, as an investor, I think the opportunity has been presented to us on a platter so that we can load up on a stock with an attractive value.
Share Repurchase Increase
A quote from the Oracle of Omaha:
"Charlie and I favor repurchases when two conditions are met: first, a company has ample funds to take care of the operational and liquidity needs of its business; second, its stock is selling at a material discount to the company's intrinsic business value, conservatively calculated.
We have witnessed many bouts of repurchasing that failed our second test. Sometimes, of course, infractions-even serious ones-are innocent; many CEOs never stop believing their stock is cheap. In other instances, a less benign conclusion seems warranted. It doesn't suffice to say that repurchases are being made to offset the dilution from stock issuances or simply because a company has excess cash. Continuing shareholders are hurt unless shares are purchased below intrinsic value.
The first law of capital allocation-whether the money is slated for acquisitions or share repurchases-is that what is smart at one price is dumb at another."
Source: Forbes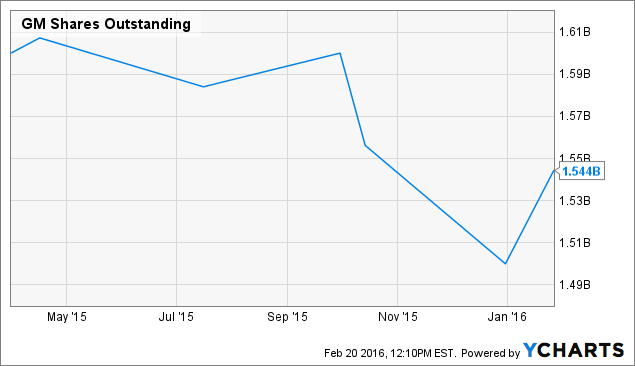 GM's Board of Directors increased the company's share repurchase program by $4 billion, taking the total authorized amount to $9 billion. Though I am not a great fan of share-repurchase programs that are debt-fueled, but I think in GM's case the share price has been so low that a share repurchase increase can benefit shareholders in the longer run.
But the announcement that came in January this year had no effect on the stock, as it continued its downward plunge, wiping billions month after month since October last year. Nearly $20 billion of value has been destroyed since April 2015, and I expect this to continue at least until the next quarter's earnings release. If you look at it from Buffett's point of view for long-term investors, that's a good thing. However, not many investors can see value in waiting years for a repurchase to be truly profitable.

Click to enlarge
If GM's stock lingers around the $30 level then the company should be able to buy back nearly 165 million shares outstanding. GM should be ideally looking forward to reduce their share footprint by 200 to 250 million shares in two years.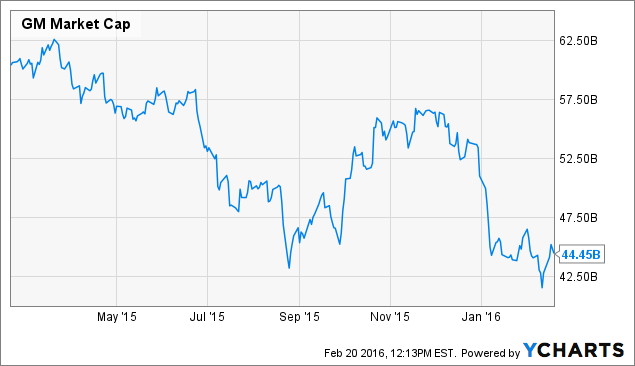 Ratings Stability
Fitch rates the company's proposed issuance of $2 billion in senior secured notes 'BBB-', with rating outlook stable:
GM's ratings reflect the fundamental improvement in the company's core business over the past several years. In addition, the ratings recognize progress the company has made in resolving many of the lawsuits and other claims that arose in the wake of its ignition switch recalls in 2014. Fitch believes the company has sufficient financial flexibility to manage the remaining outstanding recall-related issues while maintaining its investment-grade credit profile. Although GM's plans to deploy virtually all of its post-dividend free cash flow (FCF; as calculated by Fitch) toward share repurchases is a concern, we are comfortable that the company is committed to its minimum cash liquidity target of $20 billion, a level that should allow the company to withstand a severe economic downturn.
Investor-speak: The Signs Say Buy
So now we've seen multiple indicators that the company is on solid financial footing to support its upward-revised guidance.
In summary, here are the indicators:
A good start to the sales year despite market expectations that they had reached a peak and would nosedive this year.
The company has adequate free cash flow to support dividend increase
Despite the step-up in share repurchase, the company is confident of maintaining its liquidity target commitment
External factors such as low auto loan interest rates, increasing average age of vehicles on the road and growing household median incomes are also aligned with the outlook
Greg McBride, chief financial analyst for Bankrate.com, on why interest rates are expected to stay low for 2016:
"We've had so many economic fits and starts that have really helped keep rates low and keep them from going up. I think we've got a similar path ahead. Even though the economy is doing better, I don't expect rates are going to be zooming higher anytime soon. Any increases are going to be gradual and pretty uneven."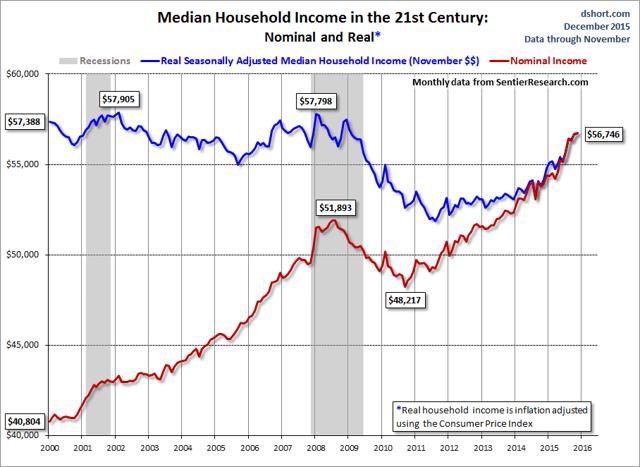 Click to enlarge
Source: Advisor Perspectives
In my recent article, GM: A Solid Dividend Play, I spoke about why I think their dividend-related metrics were strong as well.
In short, now is the right time to load up on GM stock. All the signs point to this, and investors getting in at this cheap price with solid yields for at least the next two years.
If you think this article had any merit, I invite you to follow me as I explore the internal workings and external results of major consumer companies in the automobile, retail, e-commerce and other industries.
Disclosure: I/we have no positions in any stocks mentioned, and no plans to initiate any positions within the next 72 hours.
I wrote this article myself, and it expresses my own opinions. I am not receiving compensation for it (other than from Seeking Alpha). I have no business relationship with any company whose stock is mentioned in this article.