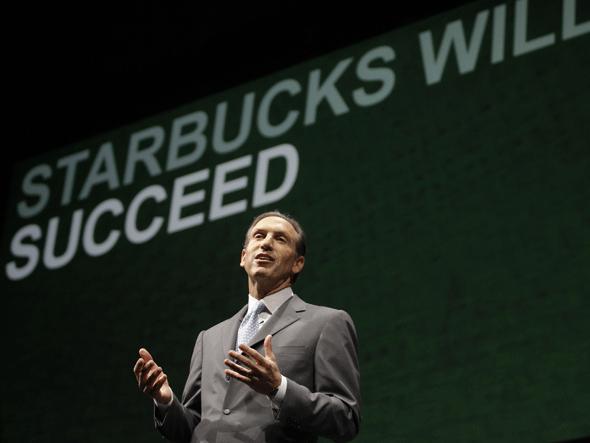 Starbucks (NASDAQ:SBUX) would have been a fifteen bagger for you, had you got in at the peak of recession. A series of missteps during the pre-2008 period saw the company scale down its ambitious growth plans, close down a number of stores and take a lean approach to strengthening its prospects. It was also a period that saw the return of their iconic CEO Howard D. Schultz.
Since that time, the stock has moved from near $4 levels to the current $60 levels.
Those are some eye-popping returns for any investor who had the strength to hold on to the stock during the worst crisis in its history. I'm sure many of you are richer because of it.
But the real question is: is Starbucks's growth story over? Should we now start looking at the company as a mature one in an age-old industry? Should we expect Starbucks's valuation multiples to be readjusted to levels that's worthy of the giant?
The biggest question I see is...
How Can a Company of This Size Grow Its Revenue Even Further?
Increasing store count - either by increasing its penetration in its best markets or by expanding into new countries
Keep Improving comparable store sales by adjusting prices to reflect the cost, and continually improving and expanding their product portfolio
These are the two things any restaurant chain can do to keep its top line growth steadily ticking up, but I'd like to focus on the first two. Both those strategies need to be implemented on an ongoing basis for the top line to keep moving up.
Things like better cost control, increasing efficiency and margin expansion will help the company save money for reinvesting in itself, but are only capable of being booster shots to profitability - not top line contributors.
Store count and comp sales, however, are critical to whether the company needs a valuation readjustment or if the company indeed commands such a valuation as its right.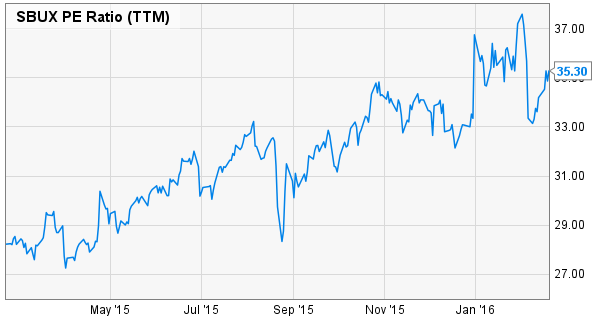 Store Growth: Days of the Future Past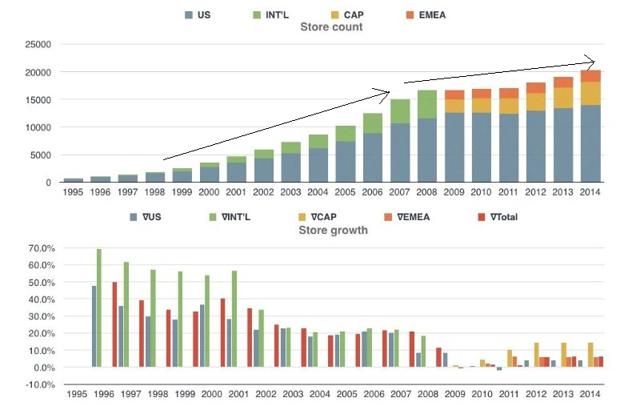 Click to enlarge
Source: LinkedIn
Starbucks grew its store footprint at a fast clip during the 1999-2008 period, took a breather and slowed things down on its own in 2008-2010, and has started growing again since 2012.
But pictures do say a thousand words: look at the slope of the growth during 1999-2008 and the slope after 2009. There's nothing wrong with the company or its strategy, but there is a huge difference with respect to store growth when you are a company with 1,000 stores and when you're at 24,000 stores.
At this point, I wanted to thank fellow SA author Vivek Bhardwaj, whose extensive coverage of 20-year data points of Starbucks helped me immensely.
Has Starbucks Maxed Out its Home Market?
In the Americas segment, which includes their home market, Starbucks went from 5,452 stores in 2004 to 11,168 stores in 2008 - doubling its size in six years. In FY 2016, the store count reached 14,974. It took them nearly eight years for a 34% growth. If they were to double their 2008 numbers at the current rate, it'll be 2026 before they get there.
Realistically speaking, few hundred net additions every year in the Americas is the best bet for the next five to ten years - anything more than that would be an anomaly, not an expectation.

Click to enlarge
*Store count at the end of first quarter for each fiscal.
How much more can Starbucks grow its footprint in the Americas segment is a big question that we can only guesstimate an answer to, but Starbucks's past is a good indicator of what the company could do in the future.
They already have a sizable presence in the United States, with the company growing from 11,091 stores by the end of 1Q 2013 to 12,653 stores at the end of 1Q 2016. So the bulk of the growth in the Americas segment is still coming from its home market, but expecting them to grow faster than the current rate is unreasonable.
Of significance here is the growth of the Starbucks Reserve ® Roastery and Tasting Room - an innovation that takes the company back to its roots to celebrate their love of everything coffee. With 1500 stores to be added over the five-year period from 2015, it will be interesting to watch how this new super-premium segmentation plays out for SBUX's top line. It has already given them a 10% boost in beverage spend per customer in fiscal 2015 despite a drop in traffic for the year. Now, we just have to wait and see if they meet their target of 500 new stores under the Roastery banner in key markets this year - something that will significantly contribute to their top line in the years to come.
International Store Growth

Though store growth within the Americas segment - especially in the United States - is showing signs of plateauing, Starbucks has been growing its international presence at a faster clip in the last five years. They have added nearly 6,500 stores in various markets since 2011. The company plans to keep their growth rate up, and has identified China and Japan to lead their footprint expansion.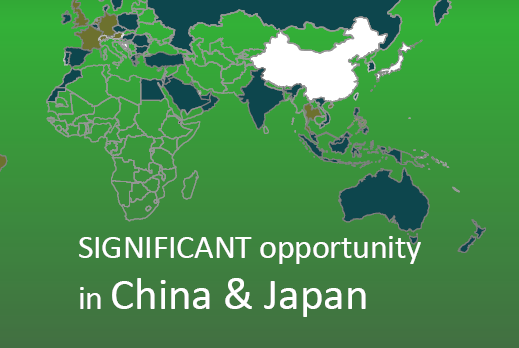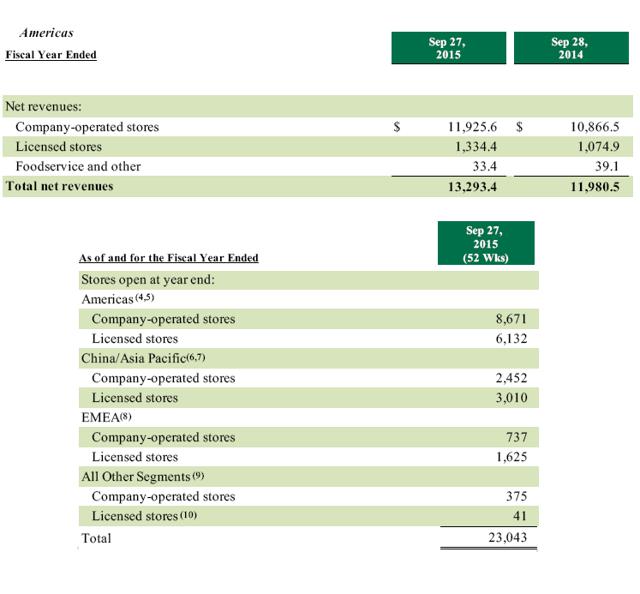 Click to enlarge
Source: Starbucks
Of the $19.16 billion Starbucks made in net revenues, $13.29 billion - or 69% - was from the Americas segment. Also of note is the fact that their company operated stores in this region are doing most of the heavy lifting for the company - especially the stores in the home market, which Starbucks refers to as a mature market where they have reached scale.
On the store growth front, the company is doing as much as it can in its home market, but the truth remains that addition to the top line from store growth will slow down over the next ten years. There's nothing wrong with that; the company is merely entering the next phase of its growth story, much like any other mature company would.
Overseas, the growth is more aggressive, but those units are never going to make the kind of revenue contribution that a company-operated store in the U.S. would, for example.
For international markets to add significantly to their top and bottom lines, it will take years of focused effort. That's what we're seeing in China and Japan - two of the markets they've identified as promising. However, don't expect a rocket-style lift off in those regions as far as revenue contribution goes. Growth may be aggressive, but we've seen time and time again that the Americas are the most profitable region for the restaurant industry.
That brings an end to the first metric for growth. The second one holds far greater opportunity for Starbucks to boost their top line even within the United States.
Comparable Store Sales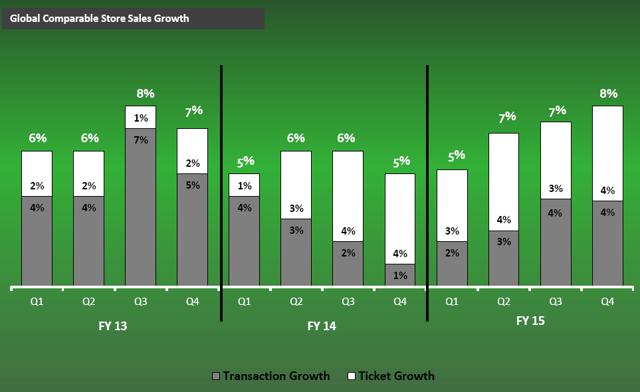 Click to enlarge
What we're seeing in the chart above is a strong indication that comps are growing the way they should. It's apparent that there's no seasonal pattern here, but you wouldn't expect to see one in this kind of business.
However, a comp growth of between 5% and 8% is a healthy sign that the company is running the right kind of offers and specials, and gradually increasing their check size per customer.
As you can see from the table below, they're right at the top of their category.
| | | |
| --- | --- | --- |
| Restaurant | Period, End Date | % Change |
| Starbucks Coffee, Americas | Q4, 9/27 | 8 |
| Baskin-Robbins, U.S. | Q3, 9/26 | 7.5 |
| Jamba Juice (NASDAQ:JMBA) | Q3, 9/29 | 5.6 |
| Krispy Kreme Doughnuts (KKD) (corporate) | Q2, 8/2 | 5.5 |
| Tim Hortons, Canada | Q3, 9/30 | 5.4 |
| Tim Hortons, U.S. | Q3, 9/30 | 4.3 |
| Dunkin' Donuts, U.S. (NASDAQ:DNKN) | Q3, 9/26 | 1.1 |
Source: Nation's Restaurant News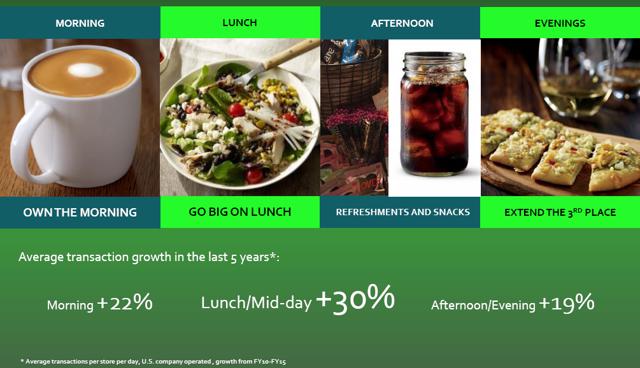 Click to enlarge
Source: Starbucks Coffee
Again, it's the U.S. company-operated stores that are leading the field here, and there's still a lot more room to grow.
The introduction of the Teavana range of teas in their exclusive roasteries is also geared towards increasing comp sales, and the concept itself was largely responsible for the comps growth that we saw for 2015. Adding more such stores, therefore, will not only help bring in more top line income, but also grow their comps and average unit volume over time.
Investor-speak: An Expensive Buy-in
Starbucks has been growing steadily for the past five years, but at 36 times earnings, the market still seems to be expecting it to grow like it did when it was a much smaller company. If you're already in, hold on to it like your life depended on it. If you want to get in, I'd suggest waiting for a better price point because at this valuation, there's barely any margin for safety.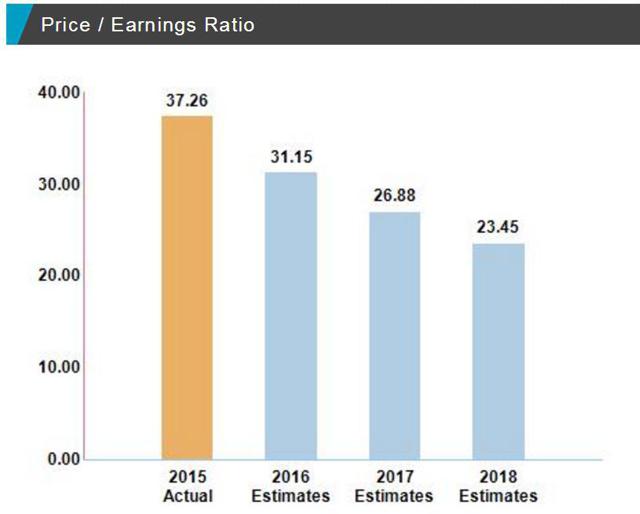 Click to enlarge
But at its current level of 36 times earnings, the market is demanding the company to keep growing at the same rate as it did when it was a much smaller company. It's a great company to buy into, but at the current valuation, there isn't any margin for safety. I would wait for a better price point to enter.
If this article was worth your time, I humbly request that you follow me and comment on my previous and upcoming articles on major consumer companies that are revolutionizing the world of business.
Disclosure: I/we have no positions in any stocks mentioned, and no plans to initiate any positions within the next 72 hours.
I wrote this article myself, and it expresses my own opinions. I am not receiving compensation for it (other than from Seeking Alpha). I have no business relationship with any company whose stock is mentioned in this article.