In my previous analysis of Pentair (NYSE:PNR), I had argued that the company can expect significant upside as a result of the "water wars" phenomenon, based on the premise that water will become increasingly scarce through to 2020, and demand for transportation of water supplies to countries of need will grow.
In this particular article, I wish to follow up on my original premise, in addition to Pentair's financial valuation, earnings and free cash flow performance to determine if the company still makes a worthy investment prospect.
Pentair has seen a significant drop in price, which I believe to be unjustified and puts the company at a significant discount.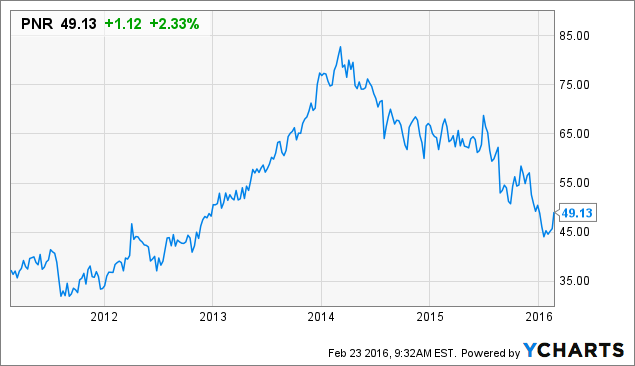 According to PNR's 2016 Outlook Press Release, the company estimates an adjusted earnings per diluted share of $4.05 to $4.25, representing an increase of 5 to 10 percent from that of 2015. It is anticipated that while Flow & Filtration Solutions, Water Quality Systems, and the Technical Solutions business lines will see growth in 2016, the Valves & Controls segment will face challenges as the cost structure continues to be rightsized.
According to a report by the 2030 Water Resources Group, demand for water by this period will be 40 percent higher than that of today, and over 50 percent higher across the developing countries. As argued previously, water transportation and purification will continue to be the primary technologies demand by such countries, in order to transport water from water-rich to water-scarce regions. Moreover, we see that on the basis of improvement in water productivity on a historical basis, there is still a gap of 60% in improving water productivity so as to meet demand.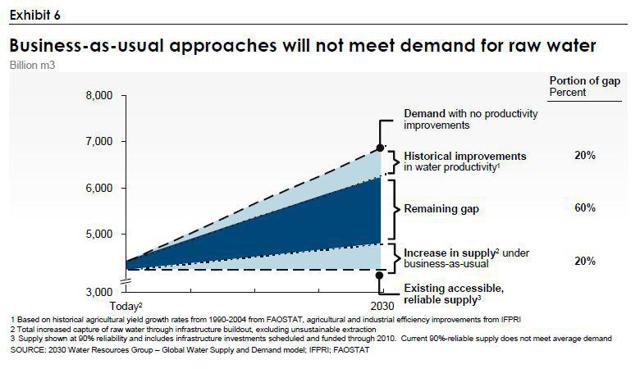 Click to enlarge
In this context, I still see demand for water efficient solutions across the industry remaining vibrant, and Pentair should be able to continue its robust growth.
From a financial standpoint, PNR is in a good place when compared to its peers. For instance, we see that when compared to A. O. Smith Corporation (NYSE:AOS) and Emerson Electric (NYSE:EMR), while Pentair has the highest free cash flow per share of the three companies, it also has the lowest price to free cash flow ratio, making it undervalued on a cash flow basis.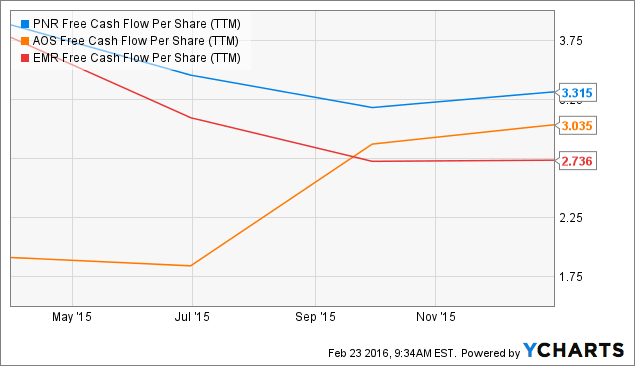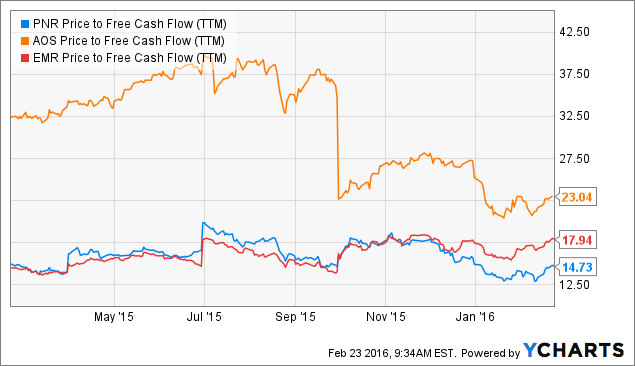 In this context, while Pentair has been declining in price, I see the drop as unjustified given that free cash flow growth has continued to remain vibrant. Moreover, while the company's diluted EPS is technically trailing below its peers, we see that the company has also shown the fastest cumulative rate of growth.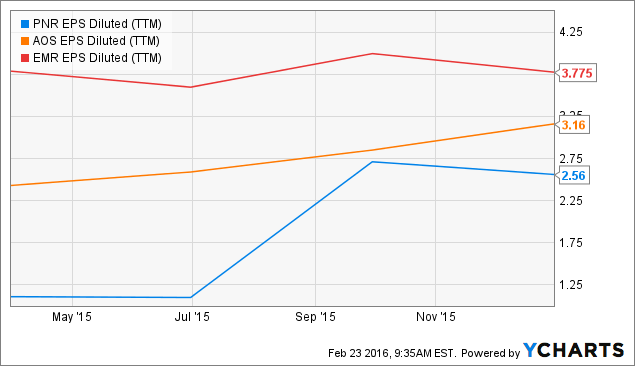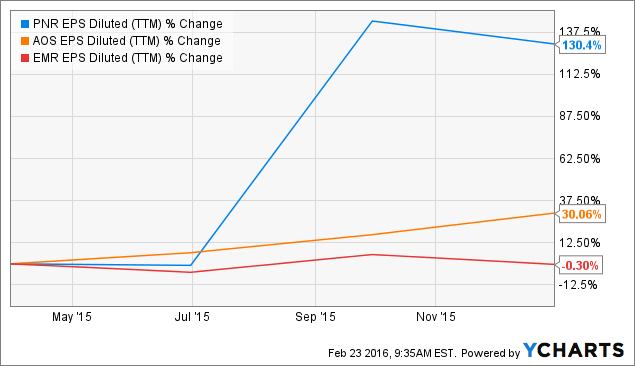 To conclude, I see Pentair as being undervalued on a free cash flow and earnings basis, and see the price drop as a potential opportunity to capture value.
Disclosure: I/we have no positions in any stocks mentioned, and no plans to initiate any positions within the next 72 hours.
I wrote this article myself, and it expresses my own opinions. I am not receiving compensation for it (other than from Seeking Alpha). I have no business relationship with any company whose stock is mentioned in this article.