By Parke Shall
Tesla (NASDAQ:TSLA) is going to have a whole new expense to deal with, which may come at the worst possible time. Even worse is that the addition of the Model 3 may actually worsen the company's product mix in terms of margin moving forward. In this article, we're going to look at these two "common sense" key points that help make our bear case on the company and its cash flows moving forward.
We have written about Tesla several times, the latest of which, we questioned the company's ability to generate cash. This article questions how the company plans on raising cash in the future and meeting the guidance they set for themselves of being cash flow positive by the end of 2016. Tesla doesn't seem to have any operating leverage from selling their vehicles and they are burning cash at a clip of about $200M per quarter. Despite this, CEO Elon Musk has come out and said that he expects the company to be cash flow positive by the end of the year this year.
Advertising is going to sneak up on the company as a major expense, just like it is for all automakers,
The automotive industry is one of the biggest spenders when it comes to advertising. General Motors (NYSE:GM) paid out $928 million during the first half of 2014. In 2013, General Motor's global advertising expenditure was $5.5billion. It represented 3.54% of its revenue.

In 2013, Ford (NYSE:F) spent $4.4 billion for automotive revenue of $139.37 billion. The same year, Fiat Chrysler (NYSE:FCAU) spent $2.76 billion. It represented 3.82% of its revenue.
As Tesla moves forward and loses "cult" status, it's going to need to spend. $5.5 billion is a massive advertising budget for GM. Think about if Tesla were to spend just $500M per annum on advertising; that would represent about 12% of total annual sales, versus a GM or Ford spending under 5% of sales on ads. This is just money Tesla cannot afford to lose. In finding a happy medium with advertising, it once again plays to our thesis that the company is going to eventually need to raise cash. We continue to believe an equity offering will be on its way.
And so, as we will find out, the problem with having a perfect first couple years as a start up is that you must face reality eventually and real tangible problems rear their ugly heads at the worst time. We believe this is the period of transition that Tesla is in. Since they're past idea, inception, and first few years, it will likely mean reality for both the stock price and the ability to recruit customers without advertising. We even made a non-scientific chart,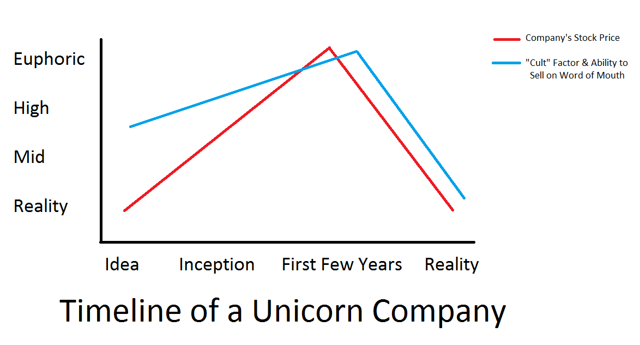 Click to enlarge
The next real tangible problem for Tesla is going to be changing themselves from an electric car unicorn into a broad scale US auto manufacturer, akin to Ford or General Motors. This is much easier said than done, for a couple of reasons. The company already trades with the market cap that will soon be putting them up against some of the best and longest running automakers in the United States. But we all know that the company's saturation isn't anywhere near where it needs to be in order for the company to be wide scale. We also think Tesla's product mix isn't going to allow them to be a wide-scale success like Ford or General Motors.
F Market Cap data by YCharts
The company is set to address these product mix issues in their coming Model 3, which is supposed to be for the "every man" consumer. What we think is glaringly obvious and what the company has failed to realize, is that a starting price of $39,000 for a vehicle is not going to be the best way to tap into the "middle-class". When I think about the middle class that I've worked with in jobs working my way to up my current job, I don't think about people trying to spend $39,000 on a vehicle. For many people, that is simply considered luxury car pricing.
And this is why the product mix is going to be an issue for Tesla moving forward. They're going to be selling even lower margin vehicles, potentially without momentum continuing in the high margin sales they're going to need to offset it. Plus, they're already losing thousands of dollars per vehicle on their high margin offerings. Many of the cheapest vehicles for the major automakers are money-losing endeavors that are made up only by the margins on their trucks and SUVs. As Tesla grows, it is not going to have this same luxury and we think it's actually going to lose more cash.
In addition, the cult-like status of the company seems to be wearing off. It was a fantastic ride on the way up and Tesla hit a lot of milestones that it needed to hit to show people that it was a serious company. It went from a start up company to a company that is producing tens of thousands of their once conceptual electric vehicles with some authority.
But now Tesla sits on another pedestal; one where the company faces the bold expectation to be able to "jump off" from money losing startup company to that of a consistently profitable and disruptive automaker. Do we think Tesla can make the jump? Well, let's just say that we're short Tesla.
For proof of the "cult" effect rubbing off, where better to look than one of Elon's other companies?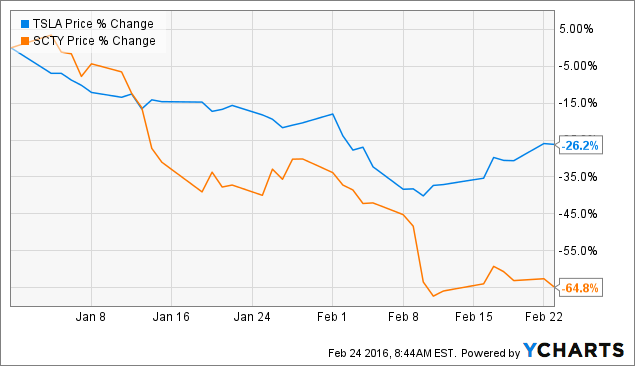 TSLA data by YCharts
Solar City (NASDAQ:SCTY) has since collapsed and as we have noted, ever since Elon Musk was late to his conference call for Tesla a few quarters ago, it just doesn't seem that the same passion and culture for Tesla that was there in the beginning is still pushing the company forward. Of course, that's all subjective, as it's tough to measure the psychology behind a company. We certainly think that sentiment has changed and that for Elon it is now more about results, rather than ideas.
You can call this an intangible, you can call it meaningless, but there is a good argument for making sure the psychology of a start up company is in the right place, since you cannot value it on fundamentals. We think the psychology has turned on Tesla, and we think advertising costs and product mix will continue to put pressure on the company as it grows.
So now Tesla faces its greatest challenges in both trying to become cash flow positive and trying to become "mainstream".
This article should serve as an addendum to our previous article. If TSLA's profitability is heading in the wrong direction and the company's cash flows are heading in the wrong direction, how are they going to be expected to turn things around now that the company has admitted that they are going to need to start advertising? How will they protect the poor margin they already have?
We continue to think that Tesla is a poor investment opportunity that will eventually be brought down to reality. We also think an equity offering, despite the company saying otherwise, will probably be in the cards for 2016. We are short.
Disclosure: I am/we are short TSLA.
I wrote this article myself, and it expresses my own opinions. I am not receiving compensation for it (other than from Seeking Alpha). I have no business relationship with any company whose stock is mentioned in this article.