Is there a clear answer to what will happen to the US economy when the next recession comes? There is no question, there will be a recession, sooner or later. Nobody argues with the cyclical behavior of economic activity, and that growth cycles are always followed by recessions, mild or harsh. As I argued in a previous article, the US government (and many other governments) will have to deploy fiscal stimulus, most probably (because it is by far the easiest and fastest) by cutting taxes. This in turn, as I also argued, will lead to currency depreciations for countries with greater needs for fiscal stimulus. However, there are cases when such an option of an independent currency does not exist - the Eurozone countries. As I believe the US is pretty much the best positioned, its currency will end up, eventually, remaining strong.
But what about Europe? As central bankers are already almost out of ammo in Europe and Japan, how will they deal with the next recession? Japan can easily do as much fiscal easing as it desires - it has a united national government, and it is not unfamiliar at all with all kinds of monetary and fiscal tactics fighting (though not necessarily successfully) deflation and recessions for decades. What will the Eurozone do? Europe doesn't have a central government, it does not have a centralized budget, and it doesn't even have a common debt. There is some kind of a symbolic EU budget, used for all kinds of utopian projects and often ill-conceived ideas, representing roughly 1% of the union's Gross National Income (GNI).
Not only that, Europe does not have any kind of central fiscal authority (like the US federal government), it also has very diverse political paths in its various national governments. While Germany is center-right at this moment, the rest of the monetary union is either already in the left (or far left, in Greece) or working towards it - Spain is still working to come up with a unified leftist government.
How will all these governments work out to do massive fiscal stimulus when next recession hits? And assuming that they do, and allow individual governments to run much larger budget deficits, and much higher national debts, how will the market react? Southern Europe is doing very poorly already, and their public debt levels are already either unsustainably high (Greece) or simply uncomfortably high. Take a look at the two charts below (The Economist). The first one shows public debt levels - and as it can be seen, all southern European countries (Greece, Italy, Spain and Portugal) are in deep red (over 100%), while Germany is doing OK. The second chart shows budget balance forecasts for 2016 (and forecasts are usually more optimistic than the reality turns out to be), where Germany is going to have a budget surplus, while all of southern Europe are going to have deep budget deficits, again. Germany has had budgetary surplus for the last two years as well.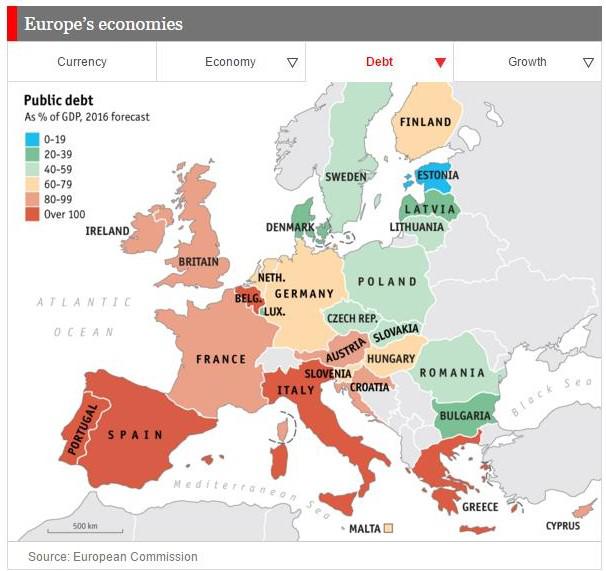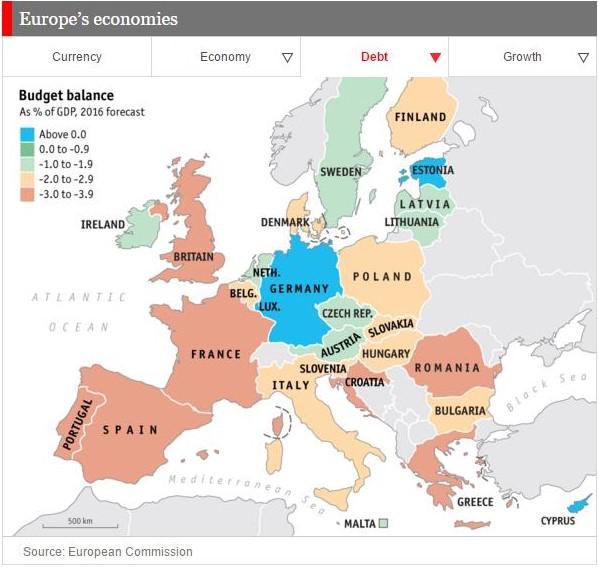 The question that comes to my mind is this - when next recession will hit, and the ECB which is already pretty much out of ammo, will be completely impotent in dealing with it, how will southern Europe deploy fiscal stimulus successfully? How can they take on much more debt in a much worse economic situation? How will they convince bond investors (who got burnt twice with Greece recently) that their governments will stay solvent? In case southern Europe will not be able to convince investors that their governments will not default (like Greece) their debt yields will soar, making their fiscal stimulus plans impossible. While southern Europe is having a hard time now, when Germany and Britain are doing OK (UK is having pretty good economic growth, while Germany is enjoying excellent fiscal conditions, the best among world's major economies) what will they do when the situation will get even tougher? Finding willing investors to finance their euro denominated debts will be next to impossible.
At this moment the ECB is buying southern European debt (and other Eurozone countries' debts), keeping the euro low, and southern European debt yields very low so that they can finance their deficits easily. Both, having a cheaper euro and low debt yields, are helping southern European countries. When a recession hits (everybody is praying it won't, and at the same time everybody knows it will), assuming that things will stay somewhat similar to the current situation, the ECB will find it very difficult to keep buying crashing southern European bonds, just like it got scared when Greek debt yields soared, and it is not buying Greek debt (officially you cannot find it in the data) even now. Can the ECB buy so much of southern European debt that it prevents them from soaring? That is of course theoretically possible, as the ECB can print as many euros as it wishes. However, the ECB is supposed to keep all European countries (their leaders and their electorates) happy, and cannot only decide to buy southern European debt. It has to buy debt from all other Eurozone member countries as well. However in the case of a recession Germany will not need to issue a lot of debt - it has already had budget surplus for two consecutive years. But southern Europe will need to add to their debt issuances significantly. The ECB, therefore, will not be able to buy all the debt issued in southern Europe, while also buying proportionally similar debt from other Eurozone countries. Some debts will have to be bought by others, and these 'others' will demand very high yields for their risk-taking (reminder: Greece). But can all Eurozone countries come to a consensus and let the ECB buy almost all the debt issued by southern European countries? This is not only political suicide, but it can easily end up bankrupting (or seriously undermining) the ECB if a significant amount of the debt defaults.
Southern European countries are finding it almost impossible to be as competitive as Germany within a currency union. In case they had a common debt and a common budget, things would have been rather simple, and workable, like the American states. But a currency union with completely different budgetary conditions should theoretically mean that once in a while some members of the currency union shall default, as Greece has already set a precedence within the Eurozone. But if you look at southern European debt markets of today, Italy 10-year bond yielding almost 1.50%, Spain 1.60% and Portugal 3.40%, the market seems to assume that Greece was a one-off, and thanks to ECB bond purchases, through its massive QE (Quantitative Easing), there will not be another default. These historically low yields are indeed an indication of very low inflation expectations, but what the market is missing out, probably because of the QE, is the real risk of a future debt crisis, involving not only Greece but also other southern European sovereigns.
I am amazed by often hearing/reading about major international investors flocking in to European assets simply because the ECB is doing QE and keeping the euro cheap. The risks are still very real in Europe, waiting to resurface (after the last major euro crisis in 2011-2012) with much greater vengeance. A cheap euro can easily stay cheap with continued investor apprehension about another (much bigger) euro crisis, but in the case of a recession European assets can take huge hits, by far exceeding their current apparent attractiveness. And it's not only southern Europe who face a potential currency problem, but also Germany and other Eurozone members. Although Germany seems to have very healthy fiscal numbers at the moment, with relatively low public debt (and shrinking) and also budget surplus, it is in a much worse shape if you count in its share of the ECB's asset purchases and other implicit obligations within the Eurozone. ECB's debt purchases pose a major risk to German public finances, as it stands as the only country who can, theoretically, save the ECB from a potential collapse in case it can no longer handle southern European debt yields. ECB's balance sheet can, at a moment of crisis, easily be seen as a massive liability for all Eurozone countries (especially the relatively healthy ones).
The Eurozone will be unable to gracefully handle the next recession, when different governments will have completely different possibilities to use their budgets to help (or stimulate) the economy. It will be impossible to save all of southern Europe without ruining the remaining parts - Germany, Austria, France etc. The easiest way to deal with it will, probably, be to come up with some kind of a national currency for each country, maybe running in parallel with the euro, or pegged to the euro. These things take many years to implement, but the fastest and easiest outcome will be a major crisis in all of Europe. Just when everybody thought China was going to cause the next financial crisis, it may actually end up to be Europe!
Disclosure: I/we have no positions in any stocks mentioned, and no plans to initiate any positions within the next 72 hours.
I wrote this article myself, and it expresses my own opinions. I am not receiving compensation for it (other than from Seeking Alpha). I have no business relationship with any company whose stock is mentioned in this article.
Additional disclosure: I am short Spanish 10-year bonds.