While Prospect Capital (NASDAQ:PSEC) has seen a rather tumultuous start to 2016, the BDC has been in the news because of major insider buying. The company's CEO John F. Barry has been active in purchasing shares and has brought his total stake in Prospect Capital up to nearly 19.8 million shares as of February 19th of this year. This represents nearly 5.6% of the BDC's outstanding shares and is certainly welcomed by shareholders.
Many point to Prospect Capital's sizable 14.3% dividend yield that is paid to shareholders monthly in addition to the fact that the firm is currently trading for a 27.4% discount to its NAV. Nevertheless, these unique and optimistic factors neglect to take into account the substantial management and incentive fees that are paid to Prospect Capital's investment adviser, Prospect Capital Management. Investment adviser fees and recent weak portfolio performance create additional risk to the BDC's returns and as such, investors should avoid Prospect Capital.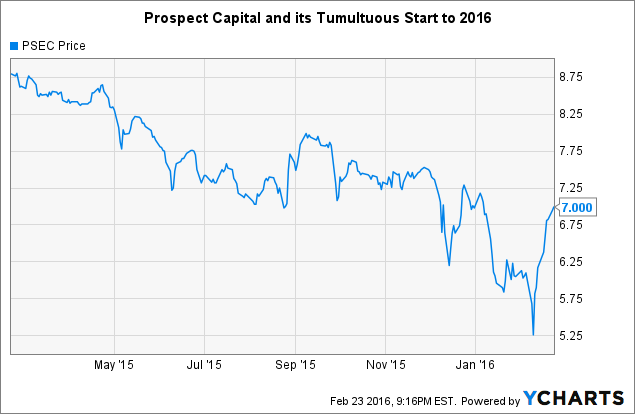 PSEC data by YCharts
Prospect Capital's Fee Structure & Performance
As an externally managed BDC, Prospect Capital has engaged Prospect Capital Management to act as its investment adviser. This, however, comes with a hefty fee arrangement that is in excess of many investment vehicles. The agreement charges two separate fees: the management fee and the incentive fee. The management fee is a flat annual 2% of gross assets and the incentive fee is based upon the BDC's net investment income. There is no incentive fee if net investment income does not exceed the annual hurdle rate of 7%. However, for returns above that hurdle rate, the investment adviser receives 100% of the net investment income up to 8.25% and 20% of income thereafter in excess of 8.25%.
In Q4 of 2015, Prospect Capital had investment income of just of $209 million. Investment advisory fees totaled over $57 million for the quarter, constituting roughly 27.3% of the BDC's investment income. This is of course before accounting for company interest expense and other expenses such as legal fees. This brought net investment income to just shy of $101 million for the quarter which is a sizable figure, but obviously Prospect Capital paid a lot of fees to get there.
In Q4, Prospect Capital had a total of nearly $196 million in realized and unrealized losses, which contributed to a meaningful decline in NAV. As a result of all investment operations including investment income, fees and losses, Prospect Capital actually lost roughly $0.27 per share of NAV and also paid out dividends amounting to a further $0.25 per share. These are concerning statistics and as the high-yield debt market remains weak, it will be important to monitor the performance of Prospect Capital's portfolio in the coming quarters for a further deterioration.
Prospect Capital As A Comparison to Fifth Street BDCs
I recently published an article on Seeking Alpha titled, "Fifth Street Asset Management: Greenmail Paves Way For Upside" that outlined a similar situation in which an external BDC manager received (and continues to receive) substantial fees from its two publicly traded BDCs. The concerns were brought about by an activist investor who sought to remove the manager from one of the BDCs, but agreed to a buyout of the fund's stake by a combination of the manager and its CEO.
The article discusses a unique factor of incentives and the issues that it creates. While share buybacks would make sense for a BDC trading at a meaningful discount to NAV, managers are disincentivized to do so because it would lower the assets and therefore the fee opportunity. Since Prospect Capital Management is also compensated by investment income figures, the adviser is incentivized to invest in high-yielding debt with less weight placed upon credit quality in a search for income.
While insider buying is undoubtedly an encouraging sign at Prospect Capital, the fees and investment advisor incentives create risk to the BDC's future performance. There is certainly yield opportunity at Prospect Capital and the fact that shares trade for a 27.4% discount to NAV could entice value investors. Despite this, the recent jump in shares of Prospect Capital gives investors an ample exit opportunity and those holding shares should reevaluate this investment.
Disclosure: I/we have no positions in any stocks mentioned, and no plans to initiate any positions within the next 72 hours.
I wrote this article myself, and it expresses my own opinions. I am not receiving compensation for it (other than from Seeking Alpha). I have no business relationship with any company whose stock is mentioned in this article.