Triumph Group (NYSE:TGI) specializes in the aerostructures, aerospace systems, and aftermarket services. It provides its services to a wide range of companies in almost all areas of aerospace business. It is almost entirely vertically integrated, providing components, small and large, for commercial, regional, military, air cargo, and business travel.
Stock Movement
Although its core business lies in a fast-growing sector, TGI's stock has depreciated heavily compared to its peer Boeing (NYSE:BA).
Triumph Group, Inc. Price (5 year)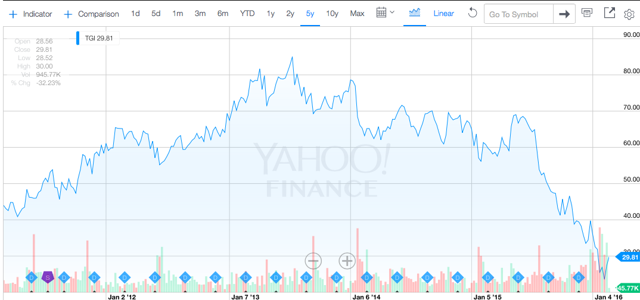 Click to enlarge
Boeing Price (5 year)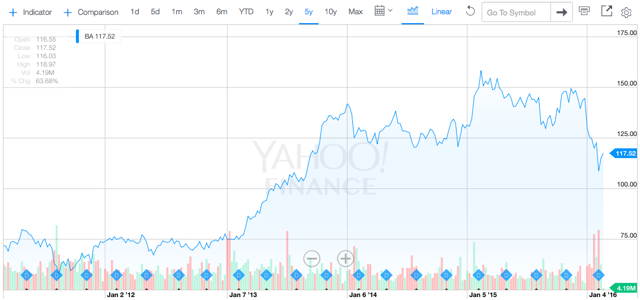 Click to enlarge
Although TGI is trading at lower levels, its core business remains intact and seems quite undervalued.
Positives
Expanding operations in newly constructed facility in Red Oak, Texas. The technologically advanced facility enhances the aerostructures division and will drive performance going forward.
A huge milestone for aerostructures division: on-time delivery of Triumph's first shipment of the fully joined fuselage for Embraer's E2 program.
Last month's bill to increase military expenditure could positively impact Triumph Group and the aerospace and defense industry as a whole. Just last year Triumph saw its military division increase from 8% to 16% of its sales. As elections get underway, government spending picks up, and GDP rises, Triumph could see an even greater boost to its defense division.
Financials (Vs. Industry Averages)
P/E Ratio: 8.72 (Industry: 19.02)
P/B Ratio: 0.66 (Industry: 1.63)
Current Ratio: 2.70 (Industry: 1.53)
Return on Equity: 5.37% (Industry: 4.97%)
Valuations
The Peter Lynch chart indicates roughly 17% upside: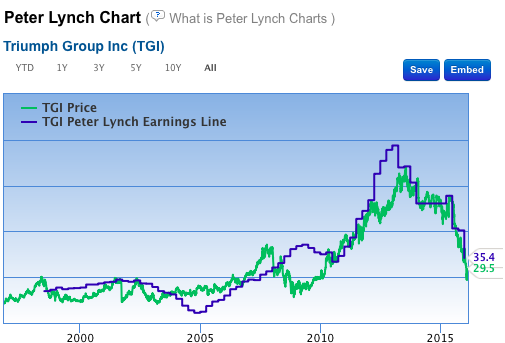 Using GuruFocus's DCF model with a modest 12% growth rate, TGI should be trading at $39.66:

Click to enlarge
Insider Buying
Generally, when insiders purchase company stock, shares tend to outperform the market. Because TGI has depreciated close to 52% over the past 12 months, CEO Daniel J. Crowley and Director Dawne S. Hickton have both purchased large chunks of stock. A few weeks ago, Crowley purchased 250,000 shares and Hickton purchased 5,000 shares, both at a price of approximately $25 a share. Although TGI is trading in the range of $28.50 to $30, having company insiders put some "skin in the game" at $25 indicates they believe TGI is trading at a discount. Triumph's total insider ownership is now up to 2.90%, whereas competitor Boeing is roughly 0.50%.
Risk
Alongside the many reasons to purchase TGI, there are a few concerns. From a financial standpoint, although many of its metrics are healthier than its peers, relative to TGI's history, a few seem less than impressive:
Operating Margin: 5.95% (vs. industry average of 4.35% and Triumph's historical median of 11.08%)
ROA: 1.94% (vs. industry average of 1.93% and Triumph's historical median of 4.57%)
Additionally, Boeing announced news that will potentially impact Triumph's sales going forward. In September, Boeing stated that it will slightly reduce the 747-8 program, lowering production to one plane every two months. Instead, Boeing will shift a portion of its production internally and reduce the amount of business done with Triumph. Business with Boeing accounts for roughly 38% of Triump's total net sales and a cutback could severely hurt Triumph.
Bottom Line
After suffering a severe drop in price, TGI at $30 could be a solid entry point. Financials remain healthy, valuations indicate upside, and business looks bright for the military and aerospace sectors. However, Boeing reducing business could hurt Triumph in the long run. Although you should remain cautious, TGI could see some upwards movement over the near term. I would love to hear your thoughts in the comments below.
Disclosure: I/we have no positions in any stocks mentioned, but may initiate a long position in TGI over the next 72 hours.
I wrote this article myself, and it expresses my own opinions. I am not receiving compensation for it (other than from Seeking Alpha). I have no business relationship with any company whose stock is mentioned in this article.