Phillips 66 (NYSE:PSX) made the most of a decline in crude oil prices last year. The company's feedstock costs fell due to a decline in oil prices, while an increase in gasoline demand acted as another tailwind and allowed it to pocket fat refining margins. This was one of the reasons why Phillips 66 posted better-than-expected fourth-quarter results recently and beat Wall Street's earnings estimates by comfortable margins. But, it cannot be ignored that its earnings fell in almost half year-over-year due to a drop in refining margins.
This is a key reason why Phillips 66 has had a mixed time on the stock market so far this year. The stock is down around 2%, which can be attributed to the fact that gasoline inventories have risen rapidly in the past few months, which is forcing refiners to cut output. In this post, we will examine whether or not will the refining market improve once again, and whether Phillips 66 can make a comeback or not.
What's wrong with the refining market?
In the fourth quarter of 2015, Phillips 66 saw its gasoline spread drop to just $12.72 per barrel from $21.44 a barrel in the preceding quarter. This is a result of a spike in gasoline inventories in the U.S., which have led to narrower crack spreads. For instance, in the week that ended on February 16, the price of gasoline in the U.S. fell by 4 cents as compared to the preceding week. Moreover, on a year-over-year basis, gasoline prices were down 55 cents during the week.
The drop in gasoline prices is the result of a seasonal drop in demand for gasoline during the final quarter of 2015 and in the beginning of 2016. This was the result of a drop in demand that was perpetrated by lower vehicle sales. According to the latest report, gasoline inventories in the week that ended on February 12 increased by 3 million barrels from the preceding week. However, there are certain positives emerging in the gasoline market. For instance, motor gasoline consumption in the past four weeks has increased 3% to an average of 8.9 million bpd.
Things will get better
Going forward, I believe that the trend of improving gasoline consumption will continue on the back of an increase in miles driven. Last year, gasoline consumption in the U.S. had increased as Americans drove the highest number of miles in history, clocking 2.88 trillion miles by the end of November. The increase in distance traveled was driven by low gasoline prices and strong growth in auto sales, a trend that will continue this year.
Last year, auto sales in the U.S. had increased 5.7% from the preceding year, clocking 17.5 million units. This year, it looks like the strength in U.S. auto sales will continue as despite a weak January on account of the winter season, the seasonally-adjusted annual rate came in at 17.58 million units. In fact, this year, it is expected that auto sales in the U.S. will range between 17.5 million and 18 million units, exceeding last year's count.
Thus, an increase in vehicle sales, along with low gasoline prices in the earlier part of the year, will lead to an increase in miles driven once again this year. Hence, it is not surprising to see why gasoline consumption in the U.S. is expected to increase by 70,000 bpd this year. As a result, gasoline inventories in the U.S. will come down, and this will lead to an improvement in gasoline pricing and refining margins.
How Phillips 66 will benefit?
Phillips 66 has made the most of positive refining margins in the past year, recording impressive growth in its gross profit margin and operating cash flow. This can be seen from the chart given below: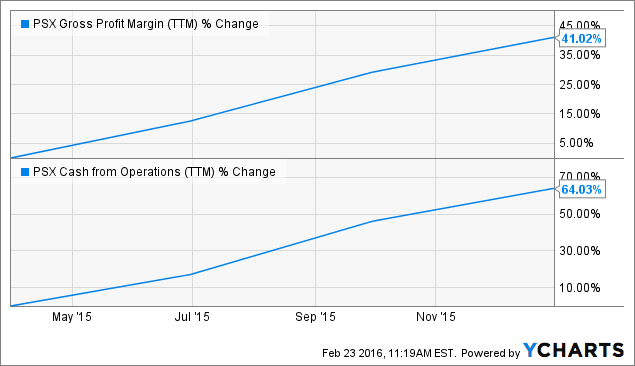 PSX Gross Profit Margin (NYSE:TTM) data by YCharts
However, as seen above, a slight flattening of the curve can be seen for both the operating cash flow and gross margin performance. The reason behind this can be seen clearly in the following chart: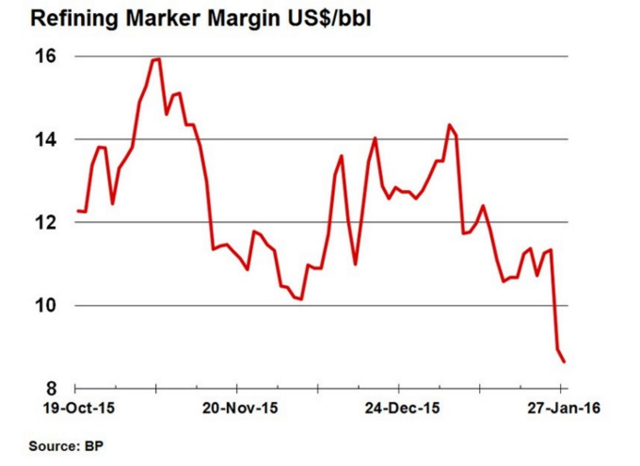 Click to enlarge
Source: BP
As seen above, from the end of October, refining margins have started declining. This is the reason why Phillips 66's margins and cash flow saw a hint of weakness in the fourth quarter. Now, as the negative trend has continued in the first quarter of 2016 as well, it is likely that Phillips 66's margin and cash flow performance will get weaker, at least in the short run.
But, as pointed out above, a gradual improvement in refining margins can be expected going forward as demand increases and inventories fall. This will allow Phillips 66 to bring its margin and cash flow performance back in shape and post better financial results going forward.
Why you should remain invested
Phillips 66 might not have put up a strong performance on the stock market so far this year, but I think that investors should remain invested in the stock. This is because Phillips 66 looks pretty cheap at just 10 times last year's earnings, especially considering the fact that the company has a lot of cash on the balance sheet.
Phillips 66 has generated operating cash flow of $5.7 billion in the past year, while it has a cash position of $4.8 billion. In comparison, the company's debt is lower at less than $9 billion, indicating that Phillips 66 can easily service its debt. Going forward, Phillips 66's cash pile will get better as refining margins improve. Thus, considering the company's attractive fundamentals and a possible improvement in refining margins, investors should continue holding Phillips 66 shares.
Disclosure: I/we have no positions in any stocks mentioned, and no plans to initiate any positions within the next 72 hours.
I wrote this article myself, and it expresses my own opinions. I am not receiving compensation for it (other than from Seeking Alpha). I have no business relationship with any company whose stock is mentioned in this article.