MetroPCS Communications (PCS) announced a strong set of figures on Thursday (see conference call transcript here), sending shares 14% higher to close at $11.70. Investors are pleased with comforting net subscriber additions for the final quarter. Just half a year ago, shares lost 37% in one single day as the company warned for slower revenue and customer addition growth. But it was not just MetroPCS who had a good day on Thursday. On the back of the report, its competitors Sprint Nextel (NYSE:S) and Level3 (NASDAQ:LVLT) also rose, 13% and 12% respectively.
Fourth quarter results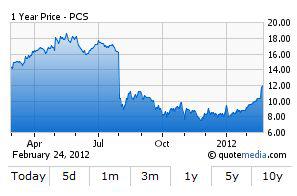 The wireless pre-paid telecommunication provider, which has a focus on metropolitan areas, has expanded its customer base by roughly 200k for the quarter (and 1.2 million for the year) to 9.3 million. Those customers spend roughly 2% more per month to over $40 per user. Consequently net revenues for the final quarter of 2011 rose 16% to $1.24 billion. Net income rose an astonishing 570% to $91 million or $0.25 per share, which exceeded the $0.16 expected by analysts. Profit margins exceeded analyst expectations as acquisition cost per new user came in at $166, up 3% year-on-year. Acquisition costs for the whole of 2011 come in at $173, indicating a slowdown in marketing efforts for the final quarter for 2011. Despite lower marketing efforts, the churn rate remained stable at 3.7%
Uncertain competitive landscape
The wireless domain is dominated by AT&T (NYSE:T) and Verizon Wireless (NYSE:VZ), who have 99 and 90 million wireless customers, respectively.
Over the last year there have been quite some developments in the industry. First,there is the failed attempt of AT&T to acquire T-Mobile's US division. AT&T was prepared to pay $39 billion in an attempt to increase coverage and add 34 million subscribers to its network. So far the deal has failed to get regulatory approval. Second there was the announcement of Verizon Wireless in December to buy airwaves from Comcast (NASDAQ:CMCSA) and Time Warner Cable (TWC) for $3.6 billion in an attempt to increase national coverage to 80%. Both deals came under a lot of scrutiny as smaller wireless competitors and consumer watchdog agencies heavily protested against a possible duopoly of the industry. AT&T and Verizon Wireless are giants compared to MetroPCS as they have much wider coverage and each of them has a customer base roughly ten times that of MetroPCS, which covers roughly a third of the country.
Valuation
MetroPCS has been growing steadily during the last 5 years. Revenues in the period 2007-2011 rose 118% to $4.8 billion. Net income rose 93% to $193 million. Earnings per share rose 74% to $0.54 The company is valued at 22 times 2011 earnings despite a decent growth record and a steady market share in some highly populated areas. Shares are valued at 0.8 times revenues, which compares to a multiple of 1.0 times for Verizon Wireless and 1.4 times for AT&T.
Shares seem to be fairly cheap in an industry which will see further consolidation in years to come and MetroPCS could definitely be part of that. AT&T's failed bid for T-Mobile valued the carrier at 1.9 times annual revenue or roughly $1100 per customer. Applying similar ratios to MetroPCS would indicate a takeout value of $9-$11 billion ($22-$27 per share), reason enough to pick up some shares for the long haul.
Disclosure: I have no positions in any stocks mentioned, and no plans to initiate any positions within the next 72 hours.