Screening For Outperforming Stocks Undervalued By PEG
In looking for undervalued stocks outperforming their industry peers, I used Fidelity's screener to search for optionable stocks with high price performance in their respective industries that were also undervalued relative to analyst estimates of their earnings per share growth rates over the next 3-to-5 years. Specifically, I searched for stocks meeting these criteria:
52-week price performance in the top 20% of their industry
13-week price performance in the top 20% of their industry
Positive PEG (Price/Earnings/Growth) Ratio of 1 or below.
Eleven stocks made that screen. To narrow the list down further, I sorted the stocks by their 13-week price performance. The stock that came up at the top after that was Solutia, Inc, (NYSE:SOA), with a 13-week price increase of 97.8%, and it exemplifies a reason why mechanical screens such as this one should only be used as a starting point when searching for investing ideas: there may be other information more relevant to a stock's future performance potential. That happens to be the case with Solutia. If you look at Solutia's 3-month chart below, you'll notice that much of its 13-week performance (about 41% of it) occurred on one day in late January, on a huge spike in volume.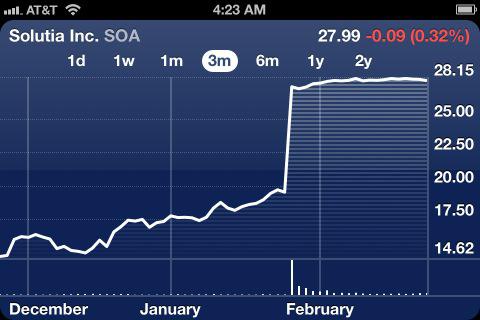 That was January 27th, when news broke that Solutia would be acquired by Eastman Chemical (NYSE:EMN) for $22.00 in cash and 0.12 shares of Eastman Chemical stock for each share of Solutia stock. That acquisition is expected to close this summer, and if you consider the current price of EMN ($53.80, as of Friday's close), you'll see that SOA is trading at a slight discount to its announced acquisition value [(0.12 x $53.80) + $22 = $28.46, which is about 1.7% above SOA's closing price on Friday of $27.99.]. As long as the transaction appears likely to close, that pattern should continue until it does.
I've included Solutia in the table below, along with the four other stocks that topped this screen. The table also shows the costs, as of Friday's close, of hedging each of them against greater-than-20% declines over the next several months, using optimal puts.
A Comparison
For comparison purposes, I've added the PowerShares QQQ Trust ETF (NASDAQ:QQQ) to the table. First, a reminder about what optimal puts are, and a note about decline thresholds. Then, a screen capture showing the optimal puts to hedge the stock we discussed above, Solutia, Inc.
About Optimal Puts
Optimal puts are the ones that will give you the level of protection you want at the lowest possible cost. Portfolio Armor uses an algorithm developed by a finance Ph.D. to sort through and analyze all of the available puts for your position, scanning for the optimal ones.
Decline Thresholds
In this context, "threshold" refers to the maximum decline you are willing to risk in the value of your position in a security. You can enter any percentage you like for a decline threshold when scanning for optimal puts (the higher the percentage though, the greater the chance you will find optimal puts for your position). I have used 20% decline thresholds for all of the names here.
The Optimal Puts For SOA
Below is a screen capture showing the optimal put option contract to buy to hedge 100 shares of Solutia, Inc. against a greater-than-20% drop between now and September 21st. Bear in mind that a 20% drop from Friday's closing price of $27.99 would take SOA down to $22.39, and recall that, under the terms of the acquisition, EMN is to pay $22 in cash, plus 0.12 shares of EMN, for each share of SOA. So, for SOA to fall more than 20% between now and September would essentially require this acquisition to fall through. A note about these optimal put options and their cost: To be conservative, the app calculated the cost based on the ask price of the optimal puts. In practice, an investor can often purchase puts for a lower price, i.e., some price between the bid and the ask (the same is true of the other names in the table below).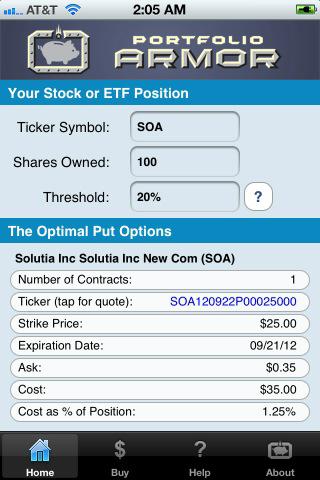 Hedging Costs As Of Friday's Close
The hedging costs below are as of Friday's close, and are presented as percentages of position values. The stocks are listed in descending order of their price performance over the last 13 weeks.
| | | | |
| --- | --- | --- | --- |
| Symbol | Name | 13 Week Price Performance | Hedging Cost |
| SOA | Solutia, Inc. | 97.8% | 1.25%** |
| STX | Seagate Tech. | 81.3% | 10.0%** |
| CVI | CVR Energy | 75.1% | 8.40%** |
| HFC | HollyFrontier Corp. | 55.9% | 9.74%** |
| CSTR | Coinstar, Inc. | 52.0% | 5.82%* |
| QQQ | PowerShares QQQ Trust ETF | 17.3% | 2.11%** |
*Based on optimal puts expiring in July
**Based on optimal puts expiring in September
Disclosure: I have no positions in any stocks mentioned, and no plans to initiate any positions within the next 72 hours.