Given the exponential increase of natural gas production in the United States over the last five years, the pipeline space looks increasing interesting. This is especially true, given the sector's high yields and the dearth of income opportunities in traditional vehicles (for example, U.S. Treasuries, CDs, etc..). One stock that I like that has solid valuations, rapidly growing revenues and a 6% yield is Atlas Pipeline Partners (APL).
Atlas Pipeline Partners - "Atlas Pipeline Partners, L.P., through its subsidiaries, provides natural gas gathering, processing, and treating services in the Anadarko and Permian Basins located in the southwestern and mid-continent regions of the United States; and in the Appalachian Basin in the northeastern region of the United States". (Business Description from Yahoo Finance)
6 reasons Atlas is a solid buy at $37 a share:
It has a robust 6% yield, and its overall debt is less than 20% of its market capitalization.
The median price target on APL for the three analysts the cover this firm is $42 a share.
The stock shows good technical strength and remains solidly over its 200 day moving average (See Chart)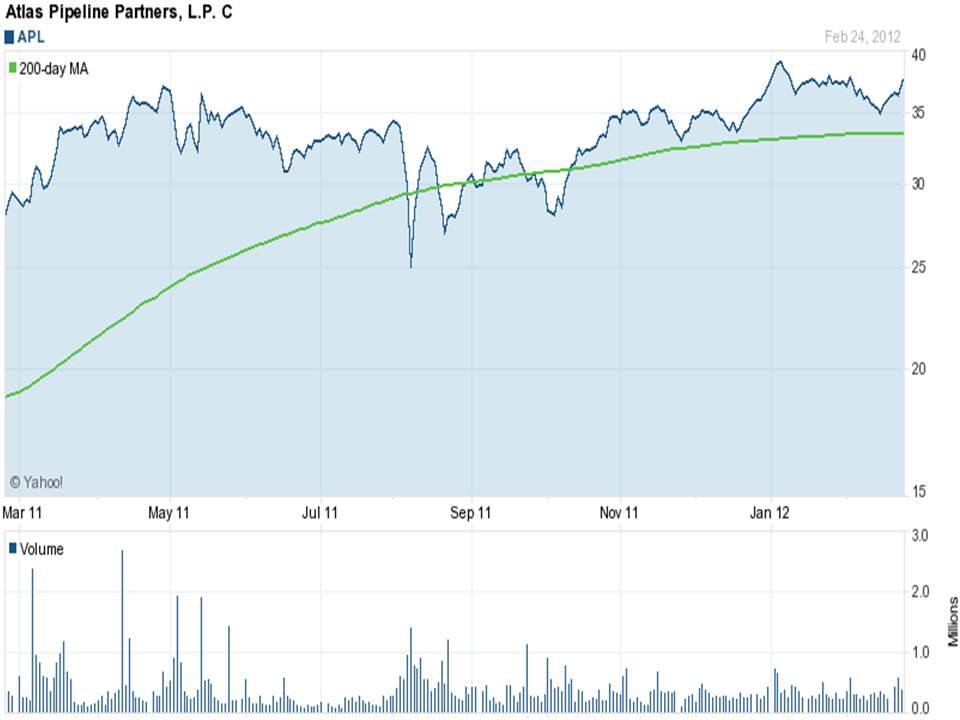 Leon Cooperman of Omega Advisors has a $200mm position in the company.
The stock sells for just over 14 times forward earnings and has a very reasonable five year projected PEG (1.25), given its generous payout.
The company has grown revenues at a 14% annual clip over the past five years. It is projected to grow sales over 20% in FY2012 and more than 40% in FY2013.
Disclosure: I have no positions in any stocks mentioned, but may initiate a long position in APL over the next 72 hours.