We have written before that Southern Company would make a good long term investment. Because of its strong bullish trend, we also believe that an option strategy can also add to one's income. In this article we take a look at one example of a strategy to consider.
Southern Company, (SO) through its subsidiaries, operates as a utility company that provides electric service in the southeastern United States. The company generates, transmits, and distributes electricity through coal, nuclear, oil and gas, and hydro resources. It offers electric services primarily in Alabama, Georgia, Florida, and Mississippi; and serves approximately 4.4 million retail customers with approximately 42,000 megawatts of generating capacity. Southern Company also constructs, acquires, owns, and manages generation assets and sells electricity in the wholesale market. Its transmission assets include 27,000 miles of transmission lines and 3,700 substations.
In SO's earnings call on January 25th for the fourth quarter of 2011, CEO Thomas Fanning shares some key points about Southern's operations that were important for 2012:
Price of products remain well below national average
Southern was named Power Company of the year in 2011 at global energy awards
Two major construction projects of plants are on schedule and in budget
R&D has been focused upon promoting clean, efficient electro technologies to grow its energy sales
Southern Company has been a solid long term investment for people. We would also like to add that we believe SO will continue to move up in 2012 as we look at its long term pattern. We have seen that SO has a steady pattern of moving up and then moving sideways in a trading zone for a period of time. Because of this, option trading may also be a viable way for an investor to make money. Unlike the "peak to valley" format, we have a "step" formation in our long term chart. If Southern Company continues in this pattern, we would suggest exploring a Bull Call Spread Option Strategy.
The Bull Call Spread
This is an option strategy designed to work when the prevailing trend is higher. It does a great job of allowing you to take part in a bullish move by reducing your risk and breakeven points, while at the same time, possibly providing great returns. The bullish call spread can be created by buying lower strike calls and selling, or shorting, the same number of higher strike calls with the same expiration.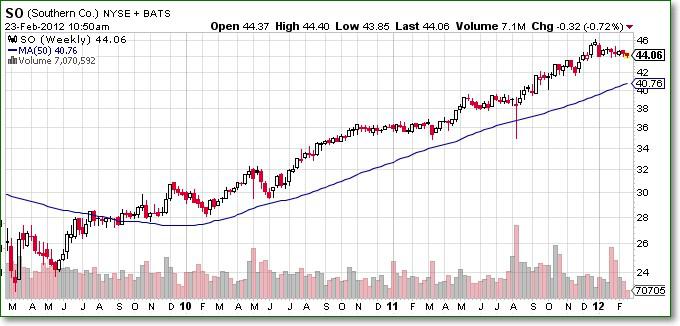 If Southern Company continues in its sideways channel, it may last another 4 to 6 weeks. Because of this, we are going to buy time by moving out into August to buy options. Here is the play we will look at making:
Buy an August '46' 2012 call option (presently priced at $0.53)
Sell an August '47' 2012 call option (presently priced at $0.26)
Net Debit to Start: $0.27
From here we want Southern Company to move up 6.7% by August, not a great move and trading with momentum.
Net Debit to Start: $0.27
Max Risk: $0.27
Max Profit: $0.73
Break Even: $46.27
The August lead time gives us plenty of opportunity without time decay playing havoc upon our trade, especially if Southern continues to move in this pattern.