Introduction
This is the third in a series of articles analyzing the intersection of Healthcare and Big Data (HCBD). We suggest reading the previous articles to ensure continuity and context: Healthcare and the Internet of Things; Can Big Data Fix Healthcare, Part I; Can Big Data Fix Healthcare, Part II and Long Term Healthcare : an Introduction. Each of the articles can be read by following the embedded links.
Introduction
Tremendous publicity has been recently devoted to a potential multi-billion dollar opportunity that has been dubbed the "Smart Wearable Technology market". Substantial attention is certainly justified as this market sits at the nexus of the ongoing convergence between consumer and healthcare devices, applications and technology. Applicable sensors/devices already come in a multitude of forms ranging from smartphones, prosthetics, fitness bands/trackers and "smart" clothing to watches, glasses/headgear, contact lenses, jewelry, tattoos, patches, pills and swallowable gadgets (a few examples are depicted below).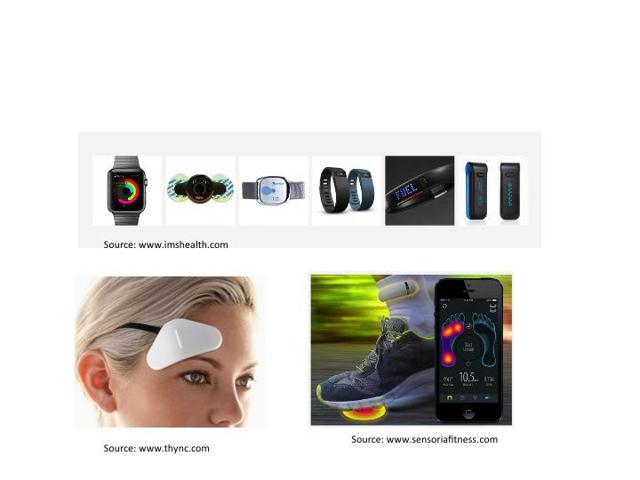 Hunn has written an insightful market analysis wherein he divides this market into the following segments: Sports and Fitness; Hearables; Personal Medical and Assisted Living; Kids and Pets; Fashion; Augmented Reality and Smart Watches. Obviously, one of the difficulties of this type of segmentation is the high probability that a number of devices will fall into multiple segments or that the segments will begin to "morph" together. That issue aside, the purpose of this article is to focus on a smaller subset, the "Personal medical" segment and the closely related concept known as mobile Health ("mHealth)". In particular, we will [a] explore the relationship of these concepts to Healthcare Big Data (HCBD); [b] determine the potential impact of these rapidly evolving technologies on consumer healthcare with particular focus on the handling of chronic disease and [c] examine the activities and positioning of publically traded (and a few non-public) companies likely to play a key role in this dynamic evolution.
Definitions
Definitions of mHealth vary - three examples should suffice: (1) according to the National Institutes of Health - "mHealth is the use of mobile and wireless devices to improve health outcomes, healthcare services and health research"; (2) according to the mHealth Alliance - "mHealth stands for mobile-based or mobile-enhanced solutions that deliver health. The ubiquity of mobile devices presents the opportunity to improve health outcomes through the delivery of innovative medical and health services with information and communication technologies" and (3) according to HIMSS - "mHealth is the generation, aggregation, and dissemination of health information via mobile and wireless devices and the sharing of that information between patients and providers".
mHealth is unusual in that it is ostensibly supported by a wide variety of players including Providers, Payors, Patients, Politicians and Policymakers alike - players that often take strongly oppositional stances. The suggested benefits seem pervasive. They include: major cost reductions for healthcare services; potentially improving or saving millions of lives; substantially improving the quality/timeliness of care and changing the fundamental relationship between patients and providers by "democratizing" access to key health related data and information. Some argue that mHealth will "transform the ways in which we deliver, consume, measure and pay for care, disrupting our sclerotic healthcare system" [Cortez, The Mobile Health Revolution?].
The mHealth Explosion
Needless to say, the potential for a massive mHealth market has not escaped the attention of many companies and entrepreneurs. They have responded with a large number of ideas and a strong flow of product offerings. One recent estimate of the bodily distribution of these sensors/devices from IMS Health is depicted below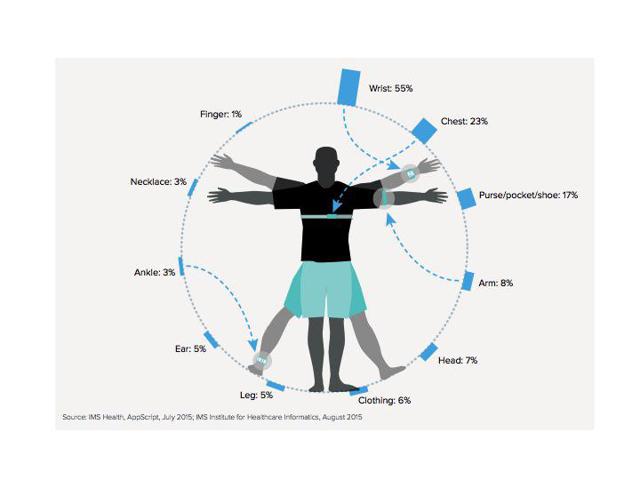 On the software side, we have the emergence of mHealth apps - some associated with particular devices/sensors but many more that use the ubiquitous mobile phone as their hardware platform. One way to get a handle on the scale and scope of these offerings is to examine an excellent study originally done by the IMS Institute for Healthcare Informatics in 2013 and updated in 2015 entitled Patient Adoption of mHealth : Use, Evidence and Remaining Barriers to Mainstream Acceptance. This study suggests that the number of mhealth apps available on the iOS (Apple) platform increased from approximately 43K in the year 2013 to approximately 90K in the 2015 snapshot. The same study suggests that if we also considered the Google Play store then the number would grow to approximately 165K total apps in the 2015 snapshot. Even after the further analysis and filtering described in the paper reduced the universe, it still left an estimated 26K apps!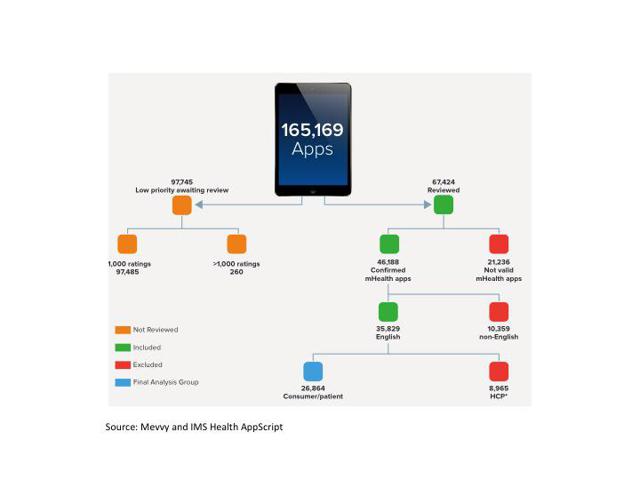 Now for patients, providers and Payors alike this raises a rather complex set of inter-related questions such as which of the apps and devices actually "work" and which is the best to use for a particular condition/purpose. An obvious method to answering these questions would be to rely on a "crowd sourced" approach - i.e. which app/device is the most "popular" for a particular situation. We could utilize the information provided by AppAnnie ["delivers data and insights to succeed in the App economy"]. For example, using the base functionality, we can determine the top iPhone iOS apps in the USA in the category "Health and Fitness" sorted into the columns "Free" and "Paid". (Interestingly there is also a separate "Medical" category).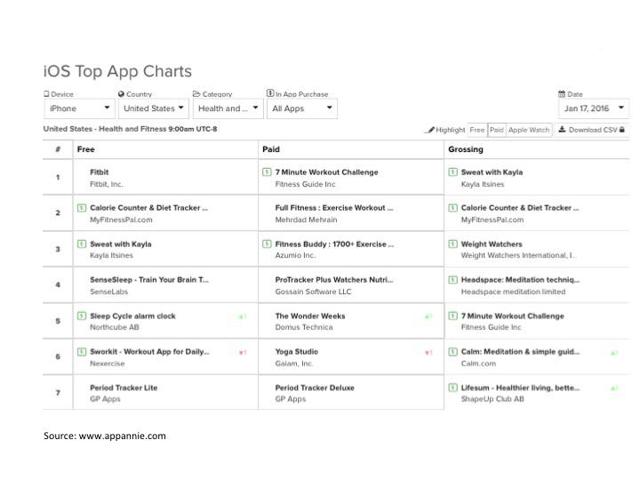 Now the question becomes - is the popularity of an app closely related to its accuracy, reliability or some other set of key quality parameters? Fortunately, a number of well designed studies have been recently conducted that give us some insight into this matter. There are really three cases to consider and we provide an example of each below.
Evaluating the Evidence
The first case which we will call the murky middleground is well exemplified by Sleep. An excellent recent review was done by Ko, et. al. in their paper Consumer Sleep Technologies : A Review of the Landscape. They divided the available solutions into five categories of platforms and provided examples in each category: Mobile Device (e.g. SleepCycle), Wearables (e.g. FitBit, Jawbone and various Smart watches, SleepImage), Embedded (e.g. SleepNumber x12), Desktop/Website (e.g. SleepyHead) and Accessory Appliance (e.g. Withings Aura). They carefully delineated those that had received FDA clearance - interestingly there is only one, the SleepImage, and it requires a prescription. Finally, they reached the key conclusions that: (1) these are important platforms due to high levels of media coverage and consumer awareness and interest; (2) there is a substantial lack of underlying scientific studies to evaluate, let alone support the claims made by the various platforms either about the accuracy or usefulness of their measurements and calculations; and (3) the lack of supporting studies may be no accident, but part of the strategic plan of various vendors to avoid careful evaluation (and thus perhaps debunking) of their claims. Therefore, they suggest that the overall picture is quite muddled. On the one hand "these technologies have the potential to help raise awareness and promote education of sleep disorders and healthy sleep habits". On the other hand, the lack of real data/evidence leaves providers in the position of being unable to offer reliable advice to patients and may lead to situations where "patients with serious sleep disorders are convinced otherwise by information from an unvalidated sleep device, or when healthy sleepers are falsely informed by their sleep app that they have a sleep problem". We label this type of situation as murky middle ground because sleep measurement is important but not critical (in the short term) and there is sufficient uncertainty in the underlying sleep science that one or more of the techniques adopted by uncertified devices/apps may later be proved to make an important contribution to sleep science.
The second case which we will label as the critical calculator is exemplified by diabetes and insulin dosage control. A recent review was done by Huckvale et. al. in their paper Smartphone Apps for Calculating Insulin Dose: a Systematic Assessment. In this paper the authors studied 46 dosage calculator apps and found that as many as 67% of the apps returned faulty dosage recommendations and that only one of the apps was "issue free" according to the criteria of the study. The overall conclusions were potentially quite serious - "The majority of insulin dose calculator apps provide no protection against, and may actively contribute to, incorrect or inappropriate dose recommendations that put current users at risk of both catastrophic overdose and more subtle harms resulting from suboptimal glucose control. Healthcare professionals should exercise substantial caution in recommending unregulated dose calculators to patients".
The third case we will label the recovery assistant. In this case, a number of studies have been done by well known medical providers concerning using mHealth devices/apps to both understand post-surgical recovery processes and to implement procedures that optimized recovery. We examined two of these studies - one conducted by the Mayo Clinic and the other by Northwestern University. In the first case (Mayo), post-surgical cardiac patients were equipped with Fitbits (NYSE:FIT) to measure motion and activity. In the second case, post-operative spine surgery patients were also equipped with Fitbits. In both cases, the more active patients had the shortest hospital stays and the best post-surgical outcomes. The key difference between this example and the other two examples detailed above are the circumstances - it wasn't critical that the Fitbit measurements were "correct", only that they showed aggregate results and overall direction concerning total motion/activity.
As we can see from this evidence, what we need is a more systematic procedure with well understood criterion and algorithms to establish even a basic ranking and rating system for the flood of new apps. The idea of actually providing recommendations (especially by healthcare providers) would obviously entail a significant additional set of processes and procedures.
The App Evaluation/Curation Players
A cottage industry of sorts has sprung up to address this need. It currently consists of five players:
From these five companies, as usual we "cherry pick". The first selection is IMS Health, a driver for many important HCBD related activities that we have discussed in previous articles. From the other four (all startups) we selected SocialWellth for two reasons: (1) they have generated highly interesting and innovative ideas and (2) they acquired Happtique which provides an excellent example of the potential difficulties and pitfalls in this emerging arena and therefore is well worth covering.
IMS Health - IMS kicked off much of the activity in this arena by conducting the Patient Adoption of mHealth study mentioned above and then by subsequently forming an organization and creating a set of products, processes and procedures that are explicitly focused on this area. IMS invented and advocates a metric which they call the AppScript score. The AppScript score is a composite score which combines information from six different measures:
Professional - provider scripts sent, ratings and formulary inclusions
Endorsement - number and type of endorsing institutions
Patient - app store ratings and reviews (i.e. from Apple and Google stores) and patient use metrics such as script fill and retention rates
Developer - development techniques (e.g. sensor included?) and app update pace
Functional - comprehensiveness of apps functionality in multiple categories
Clinical - number, type and outcome of clinical studies - i.e. the evidence
Note that the overall model adopted by AppScript is quite analogous to that used in the IMS core business - namely the idea of providers generating scripts and prescribing solutions. In this case the "solution" is more than the usual pills and procedures but instead is composed of a combination of apps, devices and content.
SocialWellth has taken an alternative approach to this problem - namely by defining the notion of mHealth curation. Instead of claiming the ability to exhaustively evaluate, rate and rank the ever-growing sea of apps; the idea is that the market is seeking a provider of "mhealth curation as a service". This provider must be a trusted entity; have the capabilities to separate the "wheat from the chaff" in terms of determining the best apps/device/content/social network choice (or choices) for a well defined problem and provide ongoing post-evaluation monitoring to ensure continuous quality. SocialWellth has defined an evaluation process (mwellth™ certified) and has created a set of "walled gardens" with a much smaller set of certified entities aimed at specific specialties and conditions. [note that they have also created a set of chargeable services to help payors and providers with their selections].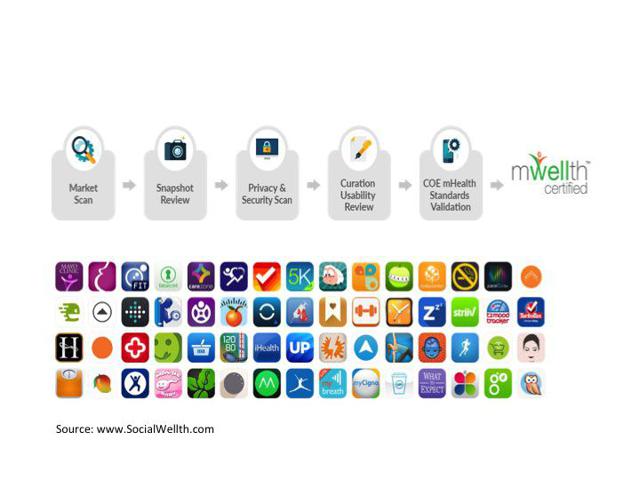 This also generates a cautionary tale that's worthy of careful thought. SocialWellth acquired Happtique, one of the pioneers of this area. Happtique had suspended its own app certification program in late 2013/early 2014 after 3rd party disclosure of various security flaws in the "certified" apps. Interestingly (under the SocialWellth umbrella), Happtique operates today with the following slogan - "platform that helps health professionals discover and distribute the best apps to their patients, then seamlessly review the patient generated data from the apps".
The Rise of Patient Generated Health Data
The rapid evolution and of mHealth apps and devices opens the door for a huge new source of HCBD, namely Patient Generated Health Data (BATS:PGHD). PGHD is defined by the Office of the National Coordinator as " health related data including health history, symptoms, biometric data, treatment history, lifestyle choices and other information created, recorded, gathered or inferred from patients or those who assist them". PGHD collection potentially offers substantial benefits - after all, the vast majority of patient's lives are spent in between visits to their provider(s). If handled correctly, PGHD would provide a continuous data source (instead of the current periodic snapshot) of vital statistics and with deep analysis (think HCBD analytics) will help provide great insights into the transition between health and sickness (and vice-versa) as well as provide the means for optimal chronic care management and preventative approaches. This could also be part of the trend mentioned above concerning the drive for democratization as the patient may now be able to control sharing of a segment of highly valuable healthcare data. Although now a bit dated, a whitepaper prepared in 2012 for the ONC entitled Patient Generated Health Data still offers considerable insight into the benefits, risks and data flows associated with PGHD as depicted below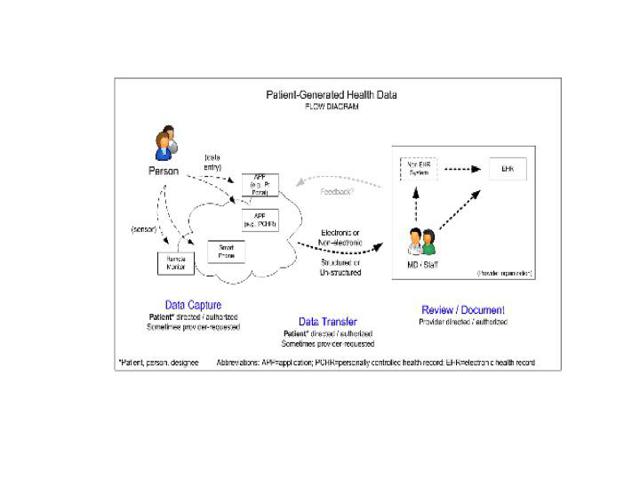 The whitepaper provides us with insightful warnings that just because data is being generated and collected, it doesn't necessarily follow that the data is accurate, secure/private, or that it is being correctly stored and actually utilized by the provider. The key recurring themes on the provider side are workflow integration and appropriate reimbursement and we will return to these issues later in this article. This diagram also leads us to the next major issue at hand for PGHD - namely integration with the now ubiquitous Electronic Health/Medical Record (EHR/EMR) systems.
The EHR/EMR Players
As discussed in the articles Healthcare and the Internet of Things and Will Big Data Fix Healthcare, Part I - the EHR/EMR system should be viewed as the ultimate repository of the "masterkey" data. In order to move forward with PGHD initiatives we need to be able to seamlessly integrate data from a multitude of trusted App sources as well as enable open App portability and data exchange between EHR/EMR systems. We strongly suggest that the reader peruse the recent article by Mandl, et. al. entitled Driving Innovation in Health Systems Through an Apps-Based Information Economy to gain additional insight.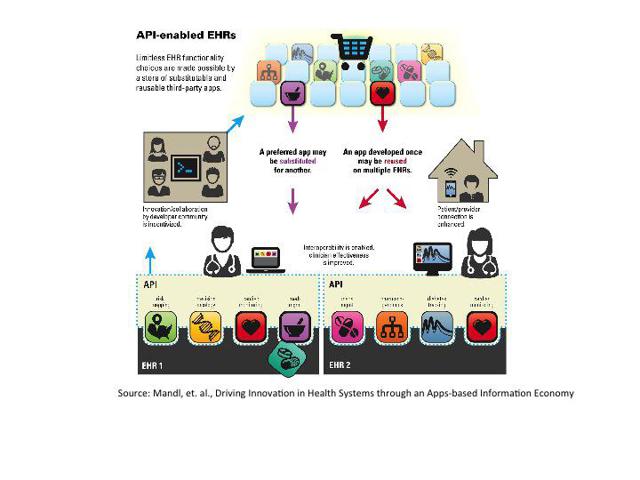 The number of players in this space is quite large and we want to acknowledge that key work is ongoing among the likes of athenahealth (NASDAQ:ATHN), Allscripts (NASDAQ:MDRX), McKesson (NYSE:MCK) and others. However, as usual, we "cherry pick" and thus we focus on two vendors for further discussion - EPIC and Cerner.
Epic - as noted before, Epic is privately held, notorious for closed architecture and rather secretive about their plans. That said, Epic has also been the source/target of many of the most "epic" press releases and rumors in this arena including the partnership with Apple, the rumors of the so-called Epic App exchange and of course the previous (and ongoing) Open Epic activities that now claim FHIR support. Note that a number of insightful whitepapers and journal articles such as Escaping the EHR Trap - The Future of Health IT are arguable aimed directly at Epic.
Cerner (NASDAQ:CERN) - Cerner has taken a much more supportive stance towards Open App frameworks, APIs, data exchange and related matters. Cerner aggressively supported early implementations of SMART and FHIR and plays an important and supportive role in the Argonaut project.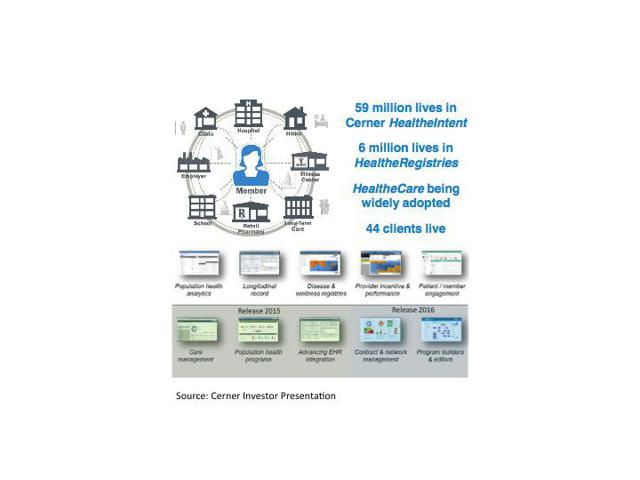 It's notable that Cerner prominently features SMART + FHIR progress in it's Investor Presentations (see the diagram above) and in its most recent press releases. The Cerner open sandbox for SMART + FHIR tools is readily accessible for 3rd party developer usage.
The Payor Perspective - Insurance Company Players
It comes as no surprise that Payors such as Insurance Companies have taken a keen interest in mHealth from several different perspectives including encouraging preventive behavior, ensuring compliance and reducing the costs associated with ongoing chronic disease and recovery from surgical procedures. Several health insurance companies and numerous corporate wellness programs have created initiatives based on the idea of providing incentives and rewards for wearing mHealth devices and meeting specified fitness goals. For example, Target has generated considerable publicity by providing FitBits devices to a large employee base, measuring activity and providing rewards via price discounts and (perhaps more interestingly) creating Human resources programs linking fitness goals to "career growth" opportunities.
Perhaps the most creative health insurance company example is the approach taken by Oscar instead of the usual suspects i.e. UnitedHealthcare (NYSE:UNH) and Aetna (NYSE:AET)). Oscar's story is best told in its own words - "We believe that health insurance should be simple, smart, and friendly. Oscar was the first health insurance company created for consumers. That means plans and benefits you understand, tools that save you time and money, and people who want to help you along the way. We're on a mission to bring quality and value back together in American healthcare. We don't just pay the bill-members trust Oscar to guide them to better doctors, better care, and lower costs. Oscar's team of world-class data scientists and healthcare experts is reinventing how to manage care, process medical claims, control healthcare costs, and provide transparency". Oscar is backed by a stellar group of investors including Google, Khosla Ventures and Goldman Sachs. Oscar is providing customers with mHealth devices for free and giving them rewards of up to $20/month for achieving fitness goals.
A very different approach is being taken by other insurance companies, namely the idea of negative reinforcement. A primary example would be CSS, a large Swiss Health insurance company that is planning to penalize those who fail to adopt fitness trackers and meet goals. CSS proposes to impose a penalty, namely higher insurance rates, on this sub-population.
Another approach is exemplified by the Blue365 subsidiary of Blue Cross/Blue Shield which offers "access to health and wellness deals exclusive to Blue members". In this case, instead of modifying your health insurance premium due to usage of mHealth devices, Blue365 offers discounts on the purchase of the devices themselves. Currently available deals include: discounts on devices from FitBit, Mio and Polar; discounts of up to 30% on various models of Jawbone Activity Trackers and discounts of up to 25% on various Garmin (NASDAQ:GRMN) products.
Then, we have the case of Life Insurance companies looking to extend healthy lifespans and (perhaps more importantly to them) potentially put new life in somewhat moribund products. John Hancock (NYSE:MFC) has taken the lead by offering both insurance premium discounts and other rewards to policy holders who adopt fitness trackers and provide their data to John Hancock. The level of the discount is based on accumulating "vitality points" and additional rewards/benefits in the form of travel and shopping discounts are part of the program.
Consumer Product Mega-Brander Players
The convergence of consumer products branding and marketing activities and healthcare products marketing is a process that preceded mHealth by several decades - e.g. the FDA's 1997 guideline change entitled "Guidance for Industry: Consumer-Directed Broadcast Advertisements" which opened the door to large scale pharmaceutical Direct-to-consumer advertising; the 1981 release of the first Merck Pneumovax ad or the 1983 Boots Rufen (i.e. prescription strength Ibuprofen) television ads. Thus, we might expect that consumer product branding giants with extensive healthcare experience (who are currently facing stagnant revenue growth) to be taking an active/aggressive role in pursuing mHealth opportunities. The key players to consider are the largest branding powerhouse, Procter and Gamble (NYSE:PG); the largest hybrid branding/Pharmaceutical powerhouse, Johnson and Johnson (NYSE:JNJ) and a smaller but powerfully focused consumer branding company, Church and Dwight (NYSE:CHD). We will then contrast the strategies pursued by these giants with those of "model", pure-play mHealth startups, namely Withings and Biovotion.
Procter and Gamble - provides us with a key example of upgrading a seemingly mundane consumer brand towards the "stickier" mHealth future. The Vicks thermometer is undergoing a digital renaissance as Vicks has created a family of SmartTemps™ which connect the thermometer to a Smartphone via a Bluetooth interface. Vicks provides an app that lets you take temperatures, establish multiple individual profiles (e.g. for each family member) and display temperature trends and fever curves. The app also provides a medication reminder feature that may prove quite useful for those having trouble remembering times and dosages for medication adherence.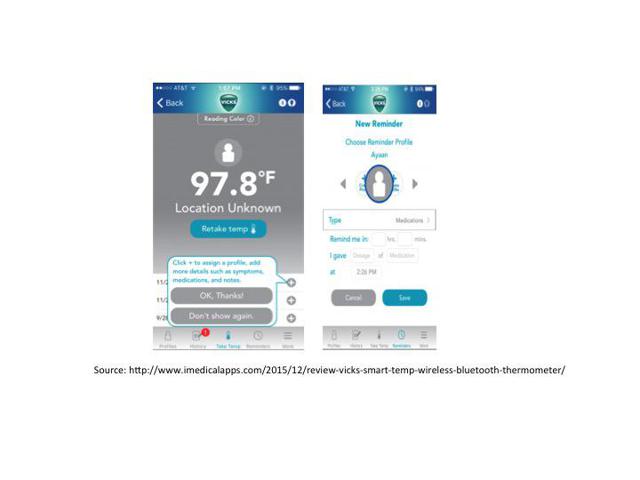 Johnson and Johnson - The most prominent hybrid consumer product/healthcare mega-brander is of course Johnson & Johnson . JNJ is in a potentially unique position as it is a power player in both consumer products and healthcare. However, there is little evidence that JNJ is leveraging this unique position to construct a broad and competitive mHealth-enabled consumer product portfolio. JNJ is taking the expected approach with medical device subsidiaries such as LifeScan. LifeScan has delivered the OneTouch product suite which includes the OneTouch Verio Sync meter for blood sugar testing and a mobile app called the OneTouch Reveal to show results and trends and enable a persistent logbook for storage, analysis and sharing with friends, family and providers.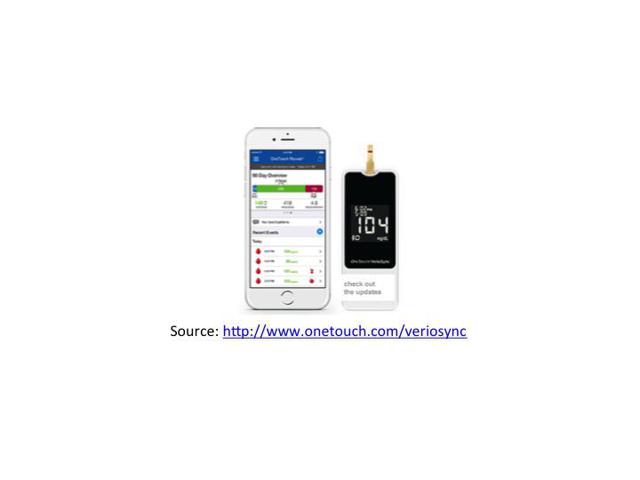 But JNJ appears to be more focused on a different path - e.g. trying to break new ground via its Health and Wellness Solutions division which "serves as the center of excellence for Johnson & Johnson's capabilities in behavior modification, patient/consumer experience, health care analytics and coaching platforms. It offers an integrated portfolio of solutions to cover a broad spectrum of health management - from wellness and prevention, to behavioral health, to chronic disease support". Early examples include the TrackYourHealth app which can leverage data from a variety of different consumer devices including FitBit and Jawbone.
Notably, instead of consumer brand building and brand extensions, top level messaging has focused on the likes of the IBM partnership and a highly publicized partnership with Google in the area of Big Data-enabled surgical robotics and Operating room environments.
Church and Dwight - CHD has a stable of famous brands including Arm & Hammer, Trojan, Oxiclean and (most importantly for our purposes) FIRST RESPONSE™ for pregnancy testing. Church and Dwight has upgraded the product line to include the Pregnancy Pro product which they advertise as "the first pregnancy test that syncs with your smartphone and provides access to an app that offers information and support personalized to you"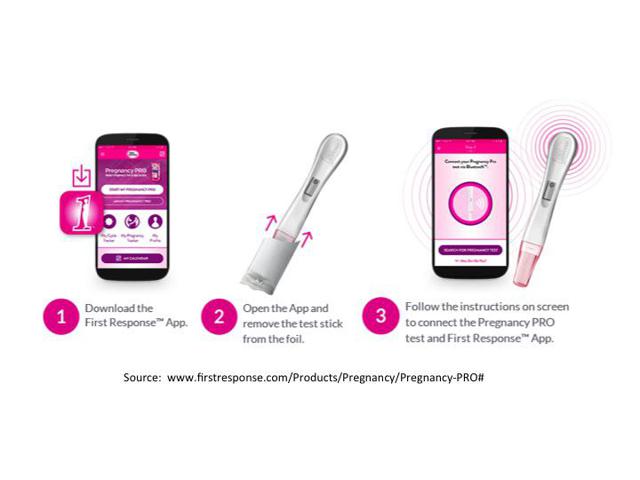 HD touts the key benefits of the product as: earlier detection of pregnancy, superior accuracy of test result and "24/7 cycle & pregnancy support from your phone" with Bluetooth access and secure synchronization. The Pregnancy Pro app offers an impressive set of capabilities including cycle tracking, pregnancy tracking and support, data exchange and communication with the Doctor and Appointment reminders.
Pure Play mHealth Branders Example - Withings
A good way to understand the differences in approach between the branded giants and potentially important pure-play startups is to examine the strategy and activities of Withings. Withings has created an mHealth thermometer which they call Thermo along with an associated app. However, unlike Vicks, the Thermo is a new style of thermometer with a distinctly different look and feel and a unique set of capabilities based on the so-called HotSpot sensor technology (temperature gets read by a swipe at the temple).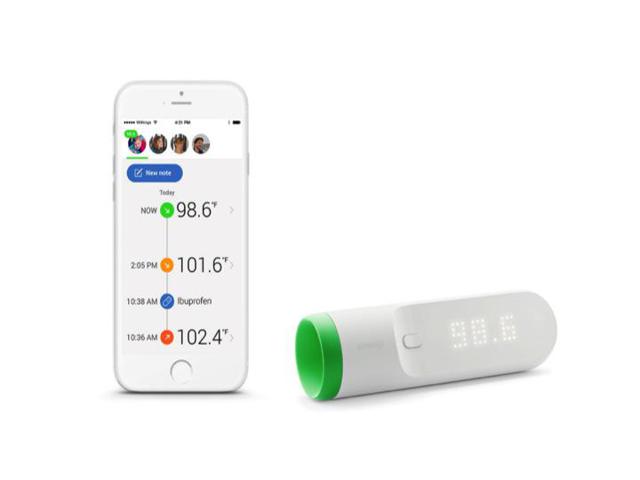 There are 3 important differences from the Vicks approach above - (1) Unlike P&G above, Withings has created a new style of thermometer - it has a distinctive look and feel; (2) it claims to have a unique sensor technology (12 HotSpot™ sensors) and a unique mode of operation where temperature is read via a "light touch at the temple" and (3) Withings has a family of branded devices and is pursuing an extensive research effort with a key set of partners (as depicted below).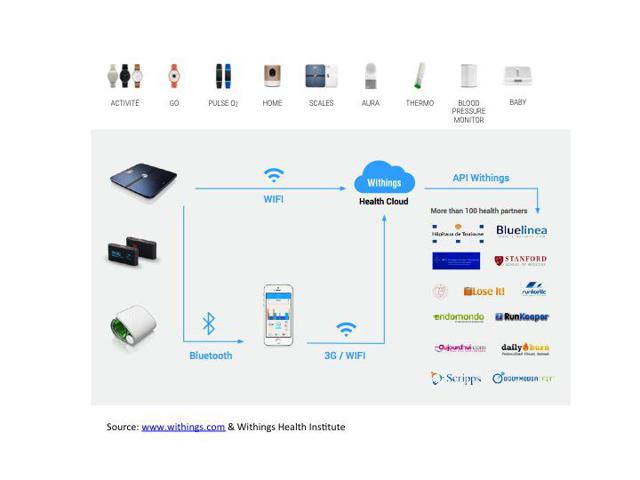 Another much less well known player in this category would be Biovotion. Biovotion positions it coming products in two categories which they refer to as Medical monitoring (connecting patients and providers) and Health monitoring (sustaining a healthy lifestyle). Biovotion's selling point is "clinical grade vital signs data - signals you can trust"; thus FDA certification is a critical part of the business plan. They claim to be able to accurately measure a large and growing set of signals on the same device and the device itself has a sleek, clean consumer look with "no buttons, no calibration, no tape, no cables". Biovotion also plans to offer a unique look-and-feel for the display and interpretation of vital sign information and they also claim healthcare analytics expertise that will enable predictive health monitoring of various disease states.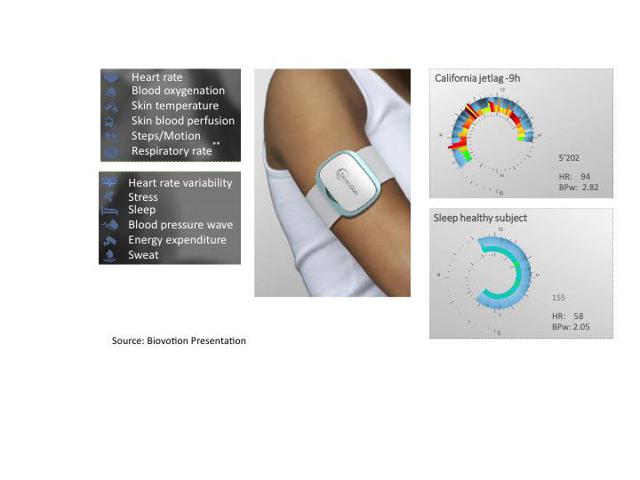 Integrating mHealth, HCBD and Chronic Disease
Now lets turn our attention to the intersection between mHealth, chronic disease and HCBD. In theory, mHealth provides an excellent fit for the pervasive and growing problems associated with chronic disease (we are not suggesting that it will be a solution or a cure). mHealth can certainly provide a replacement for the commonplace yet archaic approach of encouraging patients to keep written diaries of signs, symptoms, triggers, medication usage and measurement data concerning the likes of asthma, diabetes, hypertension and many pain-related conditions (e.g. migraines). mHealth is designed with the recognition that automated and continuous vital sign measurement will provide a fundamental upgrade to occasional scheduled measurement at the provider's facility. mHealth encourages active participation, management and adherence on the part of the patient. mHealth also encourages active participation and management of the patient's condition by the provider as a rich stream of continuous data becomes available and the provider (presumably) takes action to structure their teams and processes to parse the data and run intelligent analytics to optimize the patient's treatment program. mHealth potentially empowers the patient to share the data according to prioritized choices and to begin to understand the conditions which either ameliorate or trigger the condition.
The overall topic of chronic disease incidence, prevalence and costs have received considerable recent attention including in our own previous article on Long Term Healthcare, so we won't repeat the details here. We would also note that many discussions of chronic disease focus on conditions such as diabetes and various cardio-vascular conditions (e.g. Congestive Heart Failure) which we have also covered in our previous articles Healthcare and the Internet of Things and Will Big Data Fix Healthcare - Part I. These articles included discussions of the likes of Medtronic (NYSE:MDT) [including Cardiocom), Boston Scientific (NYSE:BSX) and Dexcom (DXCM). For the purposes of this article, we will focus on chronic conditions such as Asthma, Chronic Obstructive Pulmonary Disease (COPD), chronic pain, smoking cessation and Mental Health - conditions which have very high prevalence yet seem to get very little discussion vis-à-vis their relationship to highly creative HCBD initiatives.
Smoking Cessation - the Case of Pfizer (NYSE:PFE)
One of the most important but often overlooked chronic conditions is smoking. Despite years of publicity and public health efforts, a recent CDC estimate puts the number of adult smokers in the USA at 14.8% of the adult population - i.e. approximately 40M people. The annual cost of direct healthcare spending for smoking related conditions is estimated at $170B. Pfizer markets the leading smoking cessation drug, under the name Chantix®. Public health recommendations suggest that pharmaceutical solutions alone are not optimal for cessation and should be combined with various social support programs. Putting aside the controversial history of side effects and black box warnings associated with Chantix®, Pfizer has been highly creative at leveraging an mHealth approach to cessation. Pfizer partnered with the American Lung Association to create an app called the Quitter's Circle.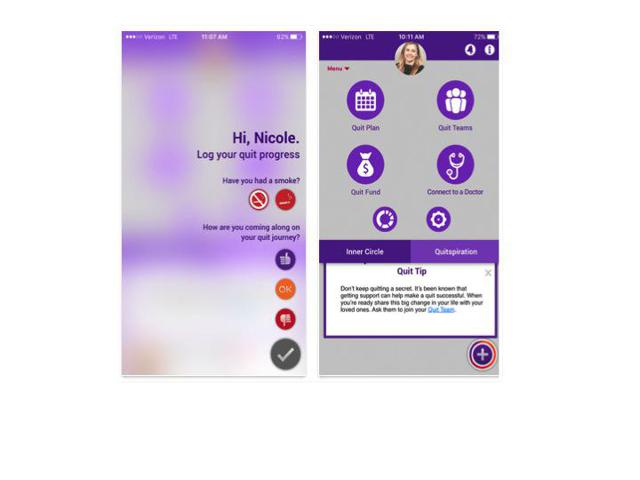 The Quitter's circle works on the premise that the involvement of friends, family and medical providers will provide critical support during the difficult process of quitting smoking. The app allows smokers to create a "quit team"; invite friends and family to join; create quit plans with quit milestones; track progress in terms of cigarettes avoided and money saved; and receive advice in the form of quit tips.
The Asthma/COPD Players
The prevalence of asthma in the USA is estimated to be on the order of 26M people (8% of adults and 10% of children). The prevalence of COPD is estimated to be 24M in the USA. Due to these large numbers and the stubborn persistence of these conditions, Asthma and COPD have received considerable attention from numerous large pharmaceutical companies. Large pharma has adopted several different strategies for pursuing this market in terms of leverage of Big Data and mhealth technology. We will summarize these strategies and contrast them with some highly innovative approaches being pursued by small startup companies.
Propeller Health - The case of Propeller Health raises several important themes that will become familiar to mHealth observers. Propeller is a highly regarded startup that has both: (1) brought important new technology to the Asthma and COPD marketplace, and (2) actively driven the big picture forward by partnering with key constituents on big-data enabled research that may shed considerable light on the underlying conditions which trigger Asthma and insights into patient management and behavior that may allow avoidance of these triggers. Propeller designed a sophisticated sensor that attaches to existing inhalers. The Propeller sensor tracks medication use by automatically recording usage and the time and place when the inhaler was used. The sensor syncs with a Bluetooth-enabled Smartphone running the Propeller app to upload relevant data.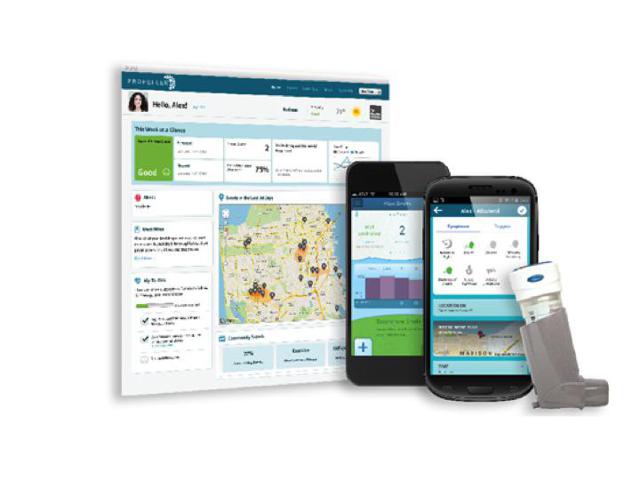 Propeller provides the option for the patient to share the collected data with providers and/or friends and family. Propeller also provides a shared community trending service wherein the patient can anonymously share their data with the community and in turn receive community-wide trending information concerning the most prevalent locations of symptom occurrence as well as analysis of common triggers in the local area. Propeller has received FDA clearance for its sensor device, its app and its usage as a technology platform for several of its big pharma partners including GlaxoSmithKline's Diskus Inhaler and Boehringer Ingelheim's Respimat inhaler. Propeller also has an important R&D agreement to extend the technology for use with GlaxoSmithKline's (NYSE:GSK) new Ellipta Inhaler family.
Propeller has been very active and creative in forming research partnerships with the likes of Air Louisville and even national-scale activities such as the ongoing work on National Asthma risk maps done in conjunction with massive data sets from the Environmental Protection Agency, the National Oceanic and Atmospheric Administration and Climate data.gov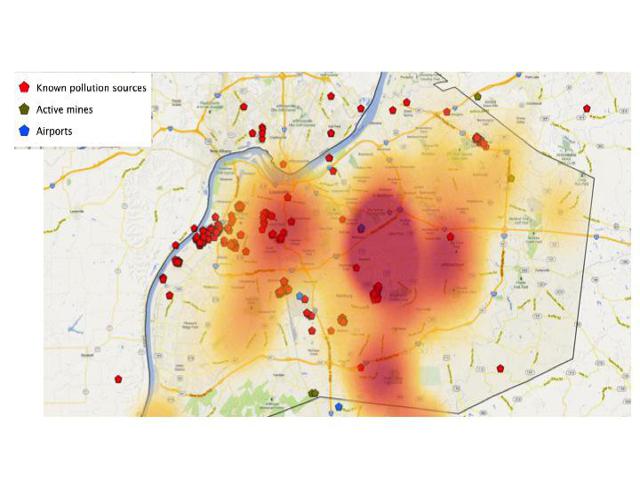 Roche (OTCQX:RHHBY) - Roche has taken an alternate approach which we believe will be increasingly commonly used by Big Pharma. They are sponsoring a Phase III clinical trial known as ACOUSTICS with the goal of "assessing the Efficacy, Safety and Tolerability of Lebrikizumab in pediatric asthmatics". They have designed and deployed an innovative App known as the AsthmApp as a key component of the clinical trial. This App is particularly interesting because it seems as much aimed (to maximize instruction compliance) at involving the parents and providers as at the patients themselves.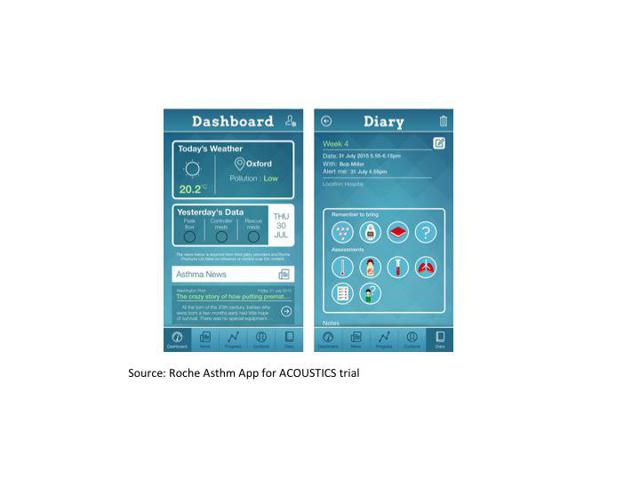 Novartis (NYSE:NVS) - Novartis appears to be adopting a strategy similar to GSK by pursuing a partnership model in conjunction with Qualcomm (NASDAQ:QCOM) Life 2Net in order to enable a sensor tracking inhaler usage and duration in its Breezhaler devices for COPD treatment. Novartis recently "launched" a press release with the following headline "Novartis Pharmaceuticals collaborates with Qualcomm in digital innovation with the Breezhaler inhaler device to treat COPD".
Teva Pharma (NYSE:TEVA) - finally there is the case of Teva. Teva acquired a startup company called Gecko Health Innovations in September, 2015. Gecko's offerings are somewhat analogous to Propeller Health and they have most recently delivered a rather comprehensive platform called CareTRx.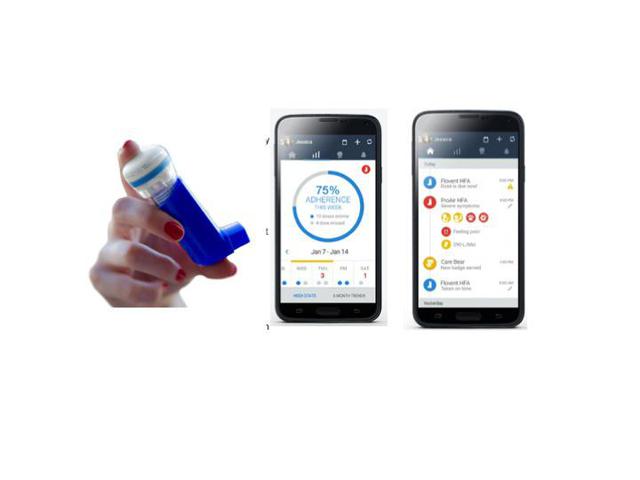 The CareTRx platform includes a sensor for inhalers, the CareTRx Journal App for patients and a Population Monitoring Dashboard application for providers to monitor, track and for HCBD analytics on the patient and environmental data pool. [note to reader - the Gecko/CareTRx story is quite a compelling read that we lack space to adequately cover in this article. We strongly suggest that the reader peruse a well written blog entry from the Gecko team].
Readers should carefully note the difference in strategic approaches - Big Pharma or Medical Device players who are serious about the value-add of mHealth and HCBD should be actively pursuing internal development and acquisition of these technologies in order to "push the envelope".
Chronic Pain Players
The Chronic Pain player landscape is somewhat analogous to the Asthma/COPD landscape discussed above. The prevalence of chronic pain among adults in the USA has recently been estimated at an amazing 100M with annual costs estimated in the $600B range. A number of relatively new startup players have invented new technologies, approaches and form factors and make use of mHealth apps as a base part of their product concept. Established players have adopted a variety of strategies. They range from device/sensor upgrades and apps (most often aimed at the provider) to more aggressive strategies (perhaps best embodied by St. Jude Medical) which include acquisitions and substantial ongoing internal development. [note to reader - Medtronic is also making substantial contributions in this area but we have already noted them as a key player in HCBD so we'll focus elsewhere in this article]
An excellent chart from St. Jude Medical below depicts the long and winding road often experienced by patients suffering from various forms of chronic pain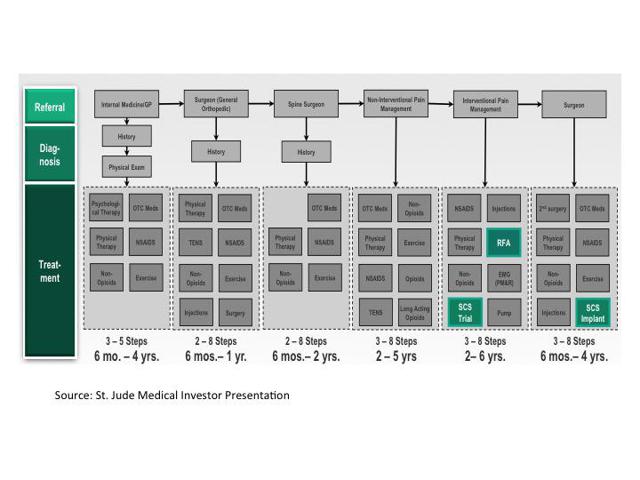 Many of these patients are put on pain medications at various times during their journey and one of the unfortunate results is that this has at least been a contributor to the huge spike in opioid drug abuse and addiction. Some recent statistics from the CDC provide a snapshot of the scope of the problem: in 2012 approximately 259M prescriptions were written for opioid pain relievers "enough for every American adult to have a bottle of pain pills" and prescription opioid sales have increased on the order of 300% since 1999 but little overall increase in pain has been reported in various public health surveys during a similar time period.
NEUROMetrix (NASDAQ:NURO) - NEUROMetrix is a small (revenue $2.7M in latest quarter), publically traded company that designs and markets chronic pain test, assessment and relief solutions. In particular, they have brought to market a wearable Pain relief device called Quell(NYSE:TM) and an associated mHealth app known as Quell Relief.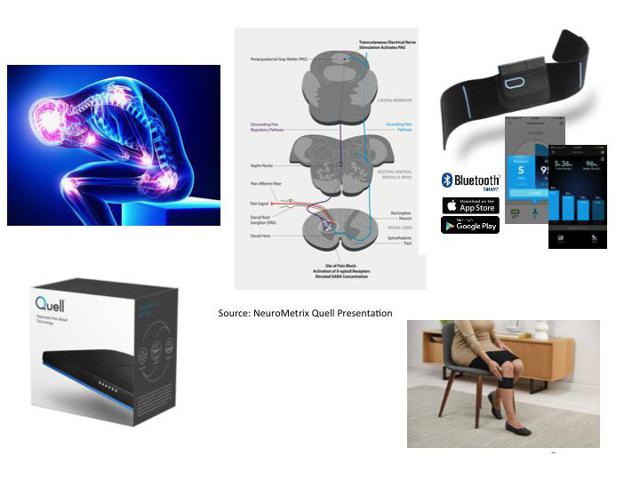 Quell utilizes an intensive nerve stimulation technology which stimulates nerve clusters in the upper calf to activate descending pain inhibition pathways in the brain stem and claims relief for lower back and leg pain, diabetic neuropathy and Fibromyalgia. NEUROMetrix has adopted a very savvy consumer marketing and branding approach in terms of their packaging, pricing, distribution and advertising - something we might have expected to have seen more of from the consumer mega-branders discussed in the section above. Thus, they have not merely pursued technological innovation in terms of their pain control inventions and mHealth app development and Big Data usage but have focused heavily on market research which has generated slogans such as "reclaim your life with Quell" and "100% drug free, wearable pain relief technology". NURO's usage of online marketing via Amazon, a company sponsored marketing website at QuellRelief.com, TV advertising on the QVC shopping channel and leverage of retail sales via chain drug stores would make the mega-branders proud.
St. Jude Medical (NYSE:STJ) - STJ has been a traditional medical device player in the chronic pain market (which they refer to as the Neuromodulation market) via its Spinal Cord Stimulation [SCS] solution. STJ came to realize that new opportunities driven both by new approaches to Neuromodulation as well as mHealth apps and HCBD analytics will substantially grow the market. STJ has responded with a strategy somewhat analogous to TEVA whereby in early 2015 they acquired a highly innovative startup called Spinal Modulation. Spinal Modulation brought an entirely new approach known as Dorsal Root Ganglion (DRG) pain control and mHealth app and HCBD capabilities and experience. STJ has taken the opportunity to broaden the product line via new DRG as well as Deep Brain Stimulation [DBS] technology as well as improvements known as Burst therapy to substantially upgrade its SCS offering. Also note the STJ has done substantial work to integrate the mHealth/HCBD efforts with leading EHR/EMR vendors.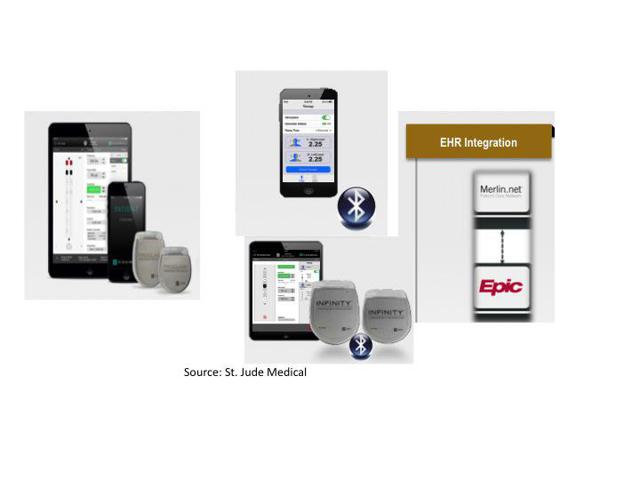 Social Networking Aspects
It comes as no surprise that patient self-help and use of cooperative social networking sites and tools are key methods for dealing with chronic disease. Indeed, Social networking connectivity is an important and increasingly frequent feature of mHealth apps. However, what we would like to cover here is a different aspect of this social networking explosion based on an approach that is perhaps best exemplified by PatientsLikeMe. Three key aspects of the PatientsLikeMe experience are: (1) Learning from others - "compare treatments, symptoms and experiences with people like you and take control of your health" and (2) connecting with people like yourself - "share your experience, give and get support to improve your life and the lives of others" and (3) track your health - "chart your health over time and contribute to research that can advance medicine for all". What is unique is the emphasis on sharing health data with fellow patients and the healthcare industry alike; the lead slogan of a recent campaign is "The Gift of Health Data can help others and advance research" and one of their common logos is depicted below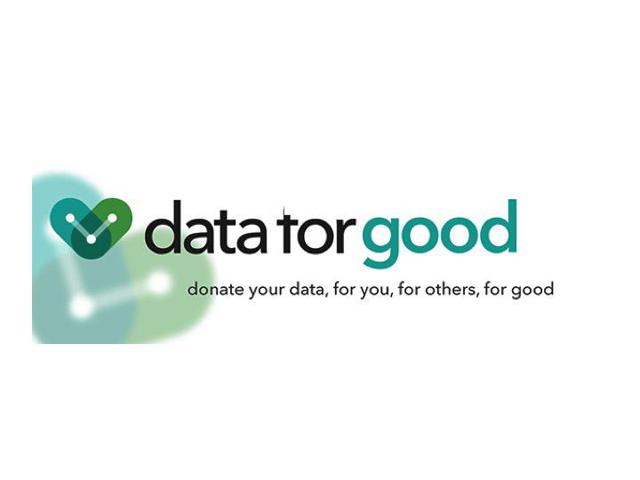 Ironically, much discussion about Patient health information (such as the PGHD discussion in this article), tends to focus on various aspects and implications of the lack of privacy and security. PatientsLikeMe has taken a uniquely different approach based on their Openness Philosophy - "we believe data belongs to you the patient to share with other patients, caregivers, physicians, researchers, pharmaceutical and medical device companies, and anyone else that can help make patients' lives better". Interestingly, PatientsLikeMe makes it abundantly clear that they are a profit seeking company - "We take the information patients like you share about your experience with the disease and sell it to our partners. Except for the restricted personal information you entered when registering for the site, you should expect that every piece of information you submit may be shared with our partners and any member of PatientsLikeMe, including other patients. We do not rent, sell or share personally identifiable information for marketing purposes. Because we believe in transparency, we tell our members exactly what we do and do not do with their data" .
PatientsLikeMe has been recently ramping-up participating in a variety of significant joint research efforts including:
A recent look (2/22/16) at the PatientsLikeMe website indicates 17.8K current public (open profile) patients and 388.7K current members (who share their data only with other members). Interested readers should peruse the open patient data to get a crisp understanding of the granularity of the information that is shared even by public patients.
Obstacles to mHealth and HCBD?
As discussed above, a multitude of players seems supportive of mHealth and HCBD and there are a compelling set of potential benefits - so what can go wrong? We would point to three problem areas:
the first area is what Cortez refers to as "Technological Solutionism" in his paper The Mobile Health Revolution?. It is already clear that the FTC is applying a "light touch" regulatory approach and that companies and entrepreneurs can create and bring to market various devices/sensors and especially Apps at a very fast pace. It seems equally clear that many of these solutions make claims and/or utilize approaches that are at best unproven and at worst ineffective or even potentially dangerous. One possible outcome of this approach would be a series of failures/scandals that leave a key set of patients disillusioned
the second area is the nature of reimbursement for mHealth solutions which of course has several aspects - patients are already burdened with high costs; providers need appropriate incentives to invest the time and effort and the device/app makers are looking to monetize. As we have discussed in previous articles, many questions about reimbursement and associated regulation remain unsettled
the third area can perhaps be consolidated under the heading Provider Organizational Environment. In order for mHealth and HCBD to really take hold, providers (and payors) need to be sufficiently onboard that they recommend preferred solutions to their patients and act to integrate the resulting data and workflows into their standard Healthcare Information Technology environments. Just as importantly, there needs to be an organizational imperative to act on the data and patient healthcare teams need to be structured accordingly
Note that the IMS study Patient Adoption of mHealth provides insight into these issues as depicted in their diagram below: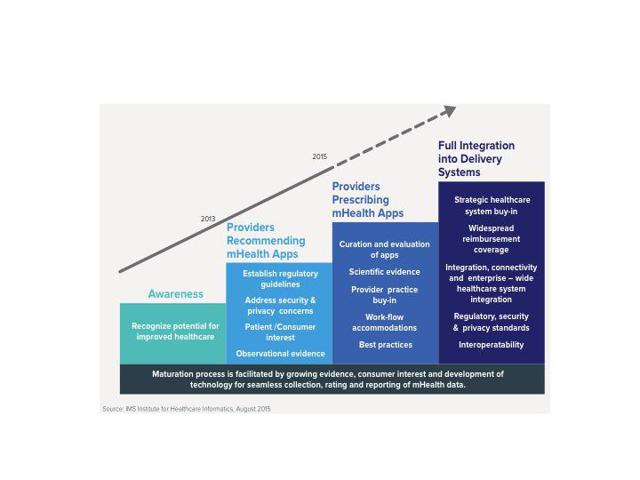 They divided the evolution and maturity of this process into four stages and suggested the key set of issues and considerations associated with each of these stages. Although their timeline is quite open-ended, we suggest that the difficulties associated with "strategic system buy-in", workflow integration, adequate security/privacy and best practices discovery and adoption aren't going to be resolved in the near term.
Odds and Ends
Ginger.io - although we don't have room in this article to give the topic the space it deserves, another key and extraordinarily prevalent chronic disease condition in the USA is the broad topic of mental health. One recent estimate suggests that on the order of 60M people are impacted each year. Ginger.io has spent a number of years working together with various health providers to screen on the order of 500K patients and collect 1.3B datapoints in order to construct HCBD analytics that enables data passively collected via mHealth apps on mobile phones to "understand how mental health behavior changes are reflected in everyday behavior". In other words, because the mobile phone is nearby most people for the vast majority of their day - then passive collection of key data points such as calling patterns, texting patterns, sleep patterns, mobility patterns, etc. can be used as indicators of their current mental health status.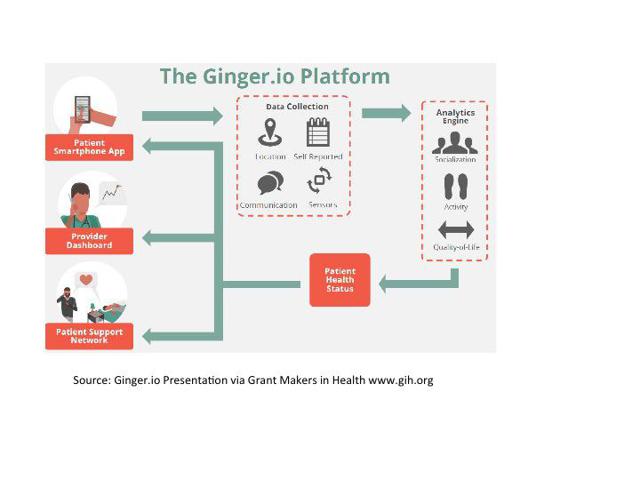 Another fascinating example is provided by the work of a "quasi-research" organization called The Institute for Systems Biology (ISB) is doing potential "moonshot" work in the HCBD arena that is worth examining and keeping track of. ISB is pursuing a concept known as "P4 Medicine" (Personalized, Predictive, Preventative, Participatory) which in their words has the following characteristics:
· It is proactive rather than reactive, addressing underlying issues that affect health before symptoms arise
· It focuses on parameters specific to individuals rather than relying on averages based on unstratified populations of patients.
· It focuses on the importance of addressing wellness and disease rather than primarily disease.
· It generates dense (billions of data points) and dynamical (repeated measurements over time) individual data clouds (high-dimensional "big" data, i.e., genomes, proteomes, metabolomes, gut microbiomes, clinical chemistry and quantified-self measurements). These dense and dynamical data clouds capture the key elements of health: genetics and environment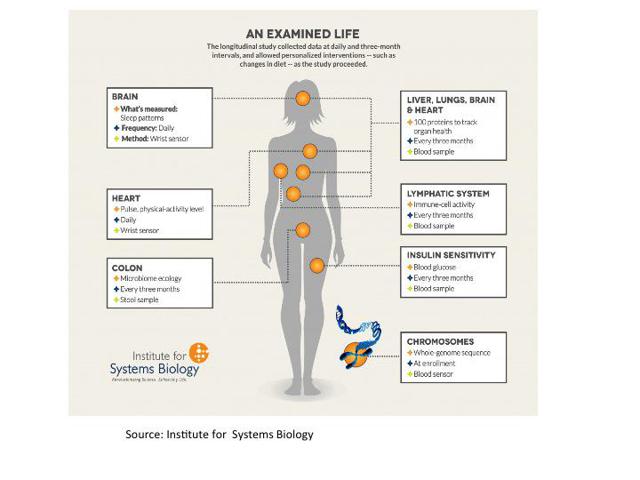 ISB suggests that this approach will ultimately turn Healthcare as we know it "upside down" by resulting in the launch of a new industry which they dub "Scientific Wellness". They have created a spinout company called Arivale to pursue this line of thinking.
HCBD/mHealth Stocks and Stock Performance
The bad news is that late 2015 and early 2016 brought on a substantial downdraft for many healthcare related stocks including those in the universe that has been discussed in our series of articles. The good news is that this downdraft has resulted in the potential creation of some interesting values e.g. Cerner looks a lot more interesting in the low 50s then the low 70s. Our next article will discuss valuation metrics in some detail but meanwhile we summarize the players of particular interest based on their potential usage of/impact on HCBD/mHealth and valuation - in particular, our initial focus will be on Kindred (NYSE:KND), Amedisys (NASDAQ:AMED), CVS (NYSE:CVS), Mednax (NYSE:MD), IMS Health (NYSE:IMS), Walgreens (NASDAQ:WBA), Cardinal Health (NYSE:CAH), Mckesson (NYSE:MCK), United Healthcare (NYSE:UNH), Aetna (NYSE:AET), Analog Devices (NYSE:ADI), Medtronic (NYSE:MDT), Varian (NYSE:VAR), IBM (NYSE:IBM), Qualcomm (NASDAQ:QCOM), Novartis(NYSE:NVS), Teva (NYSE:TEVA), St. Jude (NYSE:STJ) and Express Scripts (NASDAQ:ESRX).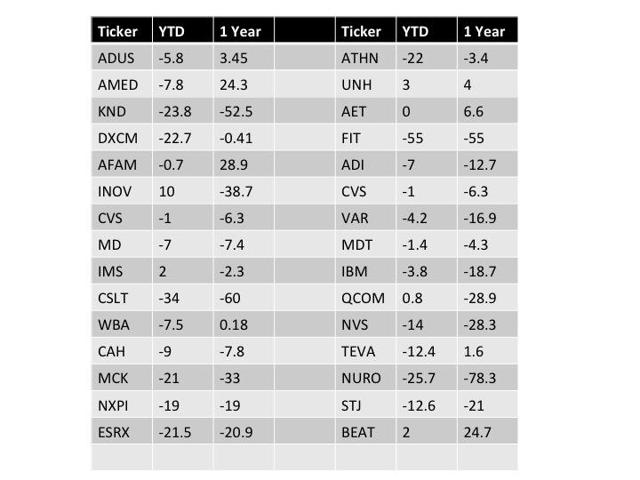 Disclosure: I am/we are long HQL, THQ, THW, GRX.
I wrote this article myself, and it expresses my own opinions. I am not receiving compensation for it (other than from Seeking Alpha). I have no business relationship with any company whose stock is mentioned in this article.
Additional disclosure: I am not an investment advisor, I am not giving you investment advice in this article.
Editor's Note: This article covers one or more stocks trading at less than $1 per share and/or with less than a $100 million market cap. Please be aware of the risks associated with these stocks.