As an avid golf fan, I have been eagerly awaiting the return of Tiger Woods as the world's number one golfer since he lost his top ranking on October 30, 2010 in the wake of his well-documented infidelity scandal. He revolutionized the sport of golf and subsequently held the number one spot in the world for a record 281 consecutive weeks. As much as it pains me to say this, Tiger Woods will never reclaim the title as the number one golfer on the planet. No arguments should be made about who's the better golfer Tiger Woods or Luke Donald. In fact this argument should not be made comparing Tiger with the likes of Rory McCillroy, Lee Westwood, and many other of today's top golfers. They're younger, healthier, have better swings, and have spent more time improving their game over the last few years. However, Tiger Woods should not retire just because he can never return to his previous form. There's still plenty of money to be made as the 20th ranked player in the world. I think you can see where I'm going with this…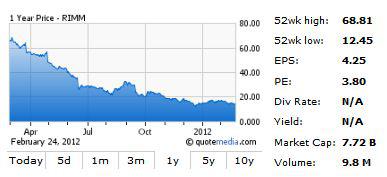 I chose to write this article because of the polarized nature of Research in Motion (RIMM) within the Seeking Alpha community. Any topic surrounding this Canadian company seems to send hoards of rabid investors foaming at the mouth as they argue their position in the company. Comments and articles on RIM range from views of RIM reclaiming the #1 spot in amartphone sales worldwide, or conversely, filing for bankruptcy as its shares settle at the nice round number of $0. If you have either of these opinions on the company, I urge you to consider investing strictly in the bond market from now on. I seek to mediate this frenzy and allow readers to understand a logical assessment to where this company is at, and in which direction it is going. I should mention parenthetically that I have two BlackBerry's which I rely heavily on but no position in the company. I will be analyzing RIM from the business side as my technological background is inferior to the many engineers and programmers who frequent Seeking Alpha. So in terms of analyzing the QNX platform, all I can say is I have heard very positive things about its capabilities. Please comment below if you have any fundamental input on the effect it will have, especially as it pertains to the upcoming Playbook 2 and BB10.
RIMM's Share Price Cannot Fall To $0
It's upsetting that I need to make this clear, but based on some of the articles I've seen lately, this needs to be made explicitly clear. RIM has no debt. Please stop proposing bankruptcy issues in the future for a company with no debt, and an Accounts Receivable which is 4x larger than its Accounts Payables.
Who are these big mean banks which go around taking all the assets from companies which owe them no money?
Furthermore, please stop discussing the possibilities of the Canadian Government bailing out Research In Motion. Profitable, growing companies with no debt on their balance sheet do not require bailing out.
RIM has a tremendous amount of cash on its balance sheet with $1.46 Billion. Year over year, quarter over quarter its assets and equity have increased, all while maintaining a position of not owing any bank a single dollar. Year over year, quarter over quarter RIM is making money. This company is healthy from an accounting perspective and can take periods of reduced sales with ease. For now.
Take a deep breath, bears.
RIM Will Never Reclaim The Top Spot In Its Industry
RIM simply will not be able to keep up with the giants in the industry; it does not have the capacity, or talent, which the top dogs have at this point. The best young professionals will go to Google (NASDAQ:GOOG), Apple (NASDAQ:AAPL), or Microsoft (NASDAQ:MSFT) where there's more room for growth and higher wages. This company has had a miserable year where it did everything possible to drive its shares into the ground. It worked, and is still working.
Apple is a better, larger, and more innovative company than RIM. This goes back to my Tiger Woods example. As one Seeking Alpha member aptly put; "RIM is RIM, Apple is Apple." There will always be room for a multitude of companies in a rapidly growing and changing technological industry.
Calm down, bulls.
There Is Still Value in RIM
RIM's profit margins and gross margins have plummeted over the past year, alongside shares in the company. This should not surprise anyone.
What happens with old products? They go on sale.
What happens when products are sold at a discount? Margins decrease.
Simple consumer lessons for all the folks out there: Poor products and not enough new devices in the last year have produced awful margins for the company.
Does this indicate future margins? No. My "Vote for McCain" shirts may be worth nothing now, but it does not mean that my "Vote for Romney" or "Vote for Santorum" or "Vote for Chuck Norris" shirts will not be a success.
In a recent interview with Prem Watsa, often referred to as the Canadian Warren Buffett, he explained his reasoning for increasing his stake in RIM to 5.12% of the company. He sees value in the 75 million subscribers (and growing), over $700 million free cash flow in the last reported three months, $1.5 billion in cash, status as the No. 1 smartphone in many large, growing markets, and he has trust in the newly appointed CEO, Thorsten Heins. While RIM is trading at substantially less than book value, he wanted to further solidify his position in the company. Revenue has increased each year from $294 million in 2002, to $19.9 billion in 2011, while earnings reached $3.4 billion in 2011.
The upgrades to the Playbook will appease the current customers, and likely propel people like myself to buy one due to the cheap prices, but it's not enough to change the financial statements of the company. Customers can access built in email on their Playbook, and take advantage of the upgraded calendar use, among other functions.
One challenge RIM faces right now is attracting programmers to create apps on its platform. A recent report this week shows there is significant potential in accomplishing this goal. A report by TechnoBloom shows the BlackBerry App World reached 60,000 mobile apps and has become the second most profitable app store behind Apple. Furthermore, 13% of the developers creating apps in the BlackBerry App world are making over $100,000. This may still be peanuts in comparison to Apple, but it nevertheless provides another avenue from which programmers stand to make substantial amounts of money.
As "Fast Money" pro, Anthony Scaramucci, put it:
Again, this is a cheap stock, high potential upside in an acquisition. If it doesn't get an acquisition, they still have an installed base, so not a lot to lose here.
RIM Will Not Be Bought Out By A Large Company At An Extreme Discount
Some Seeking Alpha authors are predicting RIM will soon fall to the $3-5 range. At $3 per share owners would be receiving less than the cash RIM has in the bank... At this point it is proposed that one of the large technology companies will come by, hand over a handful of change and lint from its pockets and absorb this Little Canadian Engine That Could. I hate to break it to these hopefuls, but a company which is now trading at a discount of 4.24 EPS and 3.56 PE is not going to be interested in selling off its shares in the single digits. I'd be surprised if RIM sold for a number around where it currently sits, unless continuing catastrophic actions are taken in this fiscal year. This company has been profitable since 1996 and is committed to producing quality products after an abysmal year. The new upgrade to the Playbook will keep the company afloat for the time being, and the much anticipated launch of BB10 in the fall should revitalize the company.
There's Still Room For RIM Shares To Fall
RIM will not make a charge until the success of the BB10 is realized. The updates to correct the disastrous Playbook will help stop the bleeding, and the Playbook 2 should start to steer the ship in the right direction, but this company will live and die by the success of its smartphones for the time being. I would expect if the Playbook 2 is going to be the successful product RIM claims it will be, then a short squeeze could occur where bears run to get out of their short position and claim the profits they've accrued over the past year.
The bulls like to point out the growing number of subscribers towards a bright future for RIM. This is an important factor when judging a company, but one must also look at where this growth is coming from. Low margin emerging markets is where RIM is growing rapidly. RIM took advantage of the lack of interest there while the competition was focusing heavily on the more profitable American market. There's not as much money to be made in these markets and the competition will start to pick up more rapidly. For the time being, it has allowed the company to push out inventory and increase its subscriber base worldwide. BlackBerry is a leader in many regions including Latin America, South Africa and Indonesia. Conversely, its global market share has dropped to 8.8%.
Conclusion
RIM is performing very poorly, but in a rapidly growing industry. The smartphone segment grew by 61.3% in 2011, to a full 491.4 million devices, and is showing signs of accelerating in 2012. This company has done everything wrong in the past year, and its stock price is reflective of that. As a result, the market value has been free falling, and could potentially continue downwards. The bottom will be reached for RIM. I believe it is in a position where it can break through and send the stocks surging upwards on the momentum of a successful BB10 launch. That being said, there's no need to rush into this position given its recent history of poor management decisions and delayed products. Wait out this one, look for the bottom, and then I recommend entering a long position once the madness surrounding RIM has settled down. Cooler heads will prevail.
Disclosure: I have no positions in any stocks mentioned, and no plans to initiate any positions within the next 72 hours.