Liquidity is a very important consideration for biotech stocks. Because many biotech firms do not generate positive earnings until after launching a successful drug, many have to rely on their sources of liquidity to continue operations.
We ran a screen on the biotech industry for highly liquid stocks, with current ratios and quick ratios above 3. We then screened for those that appear to outperform during times of market volatility and uncertainty, with strongly positive correlations to VIX, the volatility index (or "fear gauge"), over the last two months.
This means these stocks have historically tended to perform well when market volatility rises. Keep in mind that past performance does not guarantee future returns.
‪Interactive Chart: Press Play to compare changes in analyst ratings over the last two years for the stocks mentioned below. Analyst ratings sourced from Zacks Investment Research.‬
We also created a price-weighted index of the stocks mentioned below, and monitored the performance of the list relative to the S&P 500 index over the last month. To access a complete analysis of this list's recent performance, click here.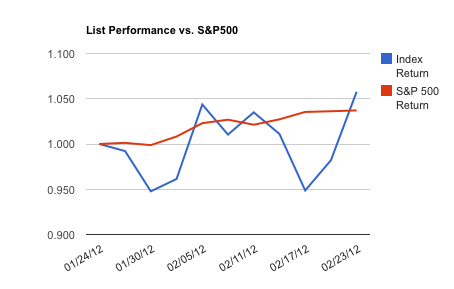 Do you think these stocks will do well even if the market turns volatile? Use this list as a starting point for your own analysis.
1. Complete Genomics, Inc. (NASDAQ:GNOM): Develops and commercializes a DNA sequencing platform for human genome sequencing and analysis. Current ratio at 5.11. Quick ratio at 4.96. Correlation with the VIX index at 0.501 over the last 60 days.
2. China Nuokang Bio-Pharmaceutical Inc. (NASDAQ:NKBP): Focuses on the research, development, manufacture, marketing, and sale of hospital-based medical products in China. Current ratio at 10.79. Quick ratio at 10.39. Correlation with the VIX index at 0.665 over the last 60 days.
3. Questcor Pharmaceuticals, Inc. (QCOR): Provides prescription drugs for central nervous system and inflammatory disorders. Current ratio at 4.51. Quick ratio at 4.4. Correlation with the VIX index at 0.698 over the last 60 days.
*Price data sourced from Yahoo! Finance, all other data sourced from Finviz.
Disclosure: I have no positions in any stocks mentioned, and no plans to initiate any positions within the next 72 hours.