Steven Cohen is manager and founder of Stamford, Connecticut-based hedge fund SAC Capital Advisors, with $15.8 billion in 13-F assets per its latest Q4 filing. He is among the most high-profile hedge fund managers, and has been dubbed as 'The Hedge Fund King' in a 2006 Wall Street Journal article and was ranked 94th on Time Magazine's annual list of the most influential people. His net worth is estimated by Forbes at $9.3 billion, ranking him as the 35th richest person in the U.S. He is also among the highest compensated hedge fund managers, with a $1 billion paycheck in 2005 and again in 2010.
His Hedge Fund, SAC Capital, is among the giants on Wall Street both in terms of assets under management as well as consistent long-term performance at about 30% annual returns over the last two decades. The hedge fund is incorporated offshore in Anguilla, British West Indies, and maintains trading offices in Stamford, CT and New York City, with satellite offices in San Francisco, Hong Kong, Boston and London. While the 2/20 compensation structure is fairly standard in the hedge fund industry, meaning 2% of AUM and 20%-30% of annual returns, SAC Capital is able to charge a premium of 3/50 to investors in its fund, the highest in the industry. The fund is well-diversified with over 1,800 positions, and about half of its holdings are in large-caps, another 35%-40% is in mid-caps and the remaining 10%-15% is in small-cap equities.
The following are SAC's major buys in Q4 based on that analysis, that are also trading under-valued compared to the peers in their group (see Table):
Freeport McMoran Copper & Gold (NYSE:FCX): FCX is engaged in the exploration and development of copper, gold, silver and molybdenum mines in Indonesia, North and South America. SAC added $107 million in Q4 to its $16 million prior quarter position. FCX is among the cheapest large-cap mining companies, trading at 8 forward P/E and 2.7 P/B compared to averages of 19.5 and 2.3 for its peers in the non-ferrous mining group, while earnings are projected to rise at a modest 6.2% annual rate from $4.89 in 2011 to $5.51 in 2013. The stock is a favorite pick among Wall Street analysts, with nineteen of twenty-two analysts that cover the stock rating it at buy/strong buy, with the remaining three rating it at hold; with a mean price target of $55, well above current prices near $44. In fact, just last month, on January 26th, research-driven investment bank focused on the natural resource sector rated FCX among their top four investment ideas for 2012, highlighting its ability to deliver earnings even under disruption at its flagship Grasberg, Indonesia mine, and indicated that it was the best way to gain copper exposure.
Gilead Sciences Inc. (NASDAQ:GILD): Gilead is a developer of therapeutics to treat viral, fungal, respiratory and cardiovascular diseases. SAC added a new $177 million position, its largest new buy and the second largest buy in its portfolio in Q4. GILD shares have been extremely volatile in February, in what amounted to a market-cap gain of $5 billion in the early part of February on new preliminary data on its lead hepatitis C drug that were encouraging, followed by a massive near $8 billion market-cap loss in the last five trading days when it announced that six of eight patients for which data was available experienced viral relapse within four weeks of completing the hepatitis C treatment. Its shares currently trade at a discount 10-11 forward P/E and 4.9 P/B, compared to averages of 22.2 and 11.3 for its peers in the biotech group.
Interpublic Group of Cos. Inc. (NYSE:IPG): IPG is a leading provider of advertising and marketing services worldwide. SAC added $48 million in Q4 to its $2 million prior quarter position. IPG just reported a strong Q4 on Friday, beating analyst earnings estimates (50c v/s 39c) and reporting revenues in-line ($2.07 billion v/s $2.08 billion); its shares were up 6% on Friday, and they currently trade at 12-13 forward P/E and 2.3 P/B compared to averages of 20.9 and 1.8 for its peers in the advertising and marketing group.
Other major buys by SAC in Q4 that are not under-valued based on a comparison to their peers, at least based on the typical earnings measure, include:
Other select Stocks that SAC is most bearish on based on its moves in Q4 (see Table) include:
Table
click to enlarge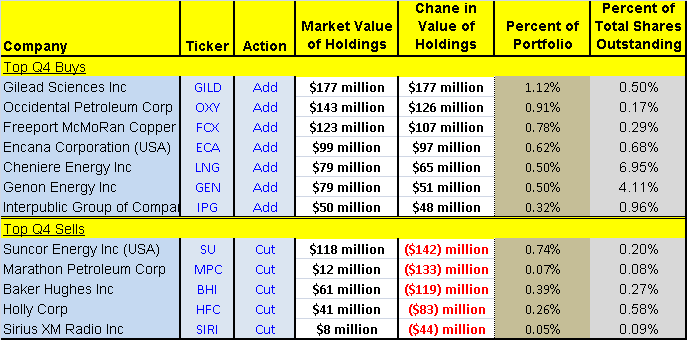 Credit: Historical fundamentals including operating metrics and stock ownership information were derived using SEC filings data, Zacks Investment Research, Thomson Reuters and Briefing.com. The information and data is believed to be accurate, but no guarantees or representations are made.
Disclosure: I have no positions in any stocks mentioned, and no plans to initiate any positions within the next 72 hours.
Disclaimer: Material presented here is for informational purposes only. Nothing in this article should be taken as a solicitation to purchase or sell securities. Before buying or selling any stock you should do your own research and reach your own conclusion. Further, these are our 'opinions' and we may be wrong. We may have positions in securities mentioned in this article. You should take this into consideration before acting on any advice given in this article. If this makes you uncomfortable, then do not listen to our thoughts and opinions. The contents of this article do not take into consideration your individual investment objectives so consult with your own financial adviser before making an investment decision. Investing includes certain risks including loss of principal.