"Look beneath the surface. Let not the quality of a thing nor its worth escape thee"
-Marcus Aurelius
Since the beginning of 2012, the stock market rally has been full of junk. Literally.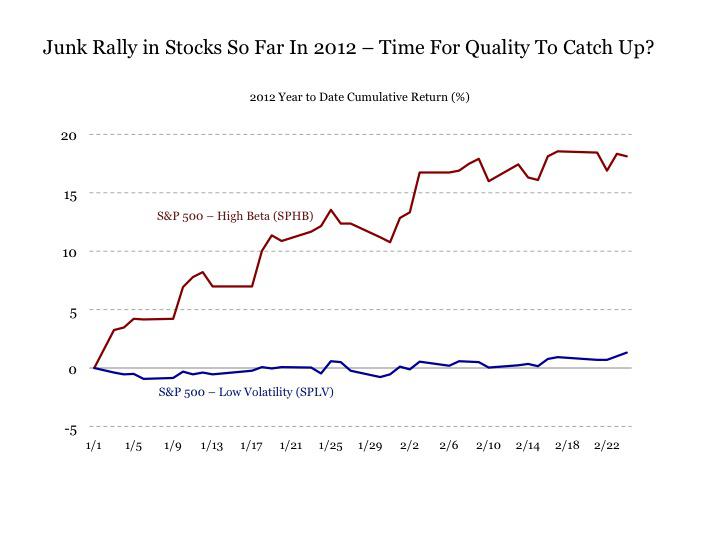 Click to enlarge
click to enlarge
Through Friday, the PowerShares S&P 500 High Beta ETF (NYSEARCA:SPHB) has skyrocketed over +18% year to date. As would be expected, this product consists largely of names from the S&P 500 Index (NYSEARCA:SPY) that rank among the lowest quality in terms of financial health.
Conversely, the PowerShares S&P 500 Low Volatility ETF (NYSEARCA:SPLV) has effectively flat lined so far this year. This product, of course, mostly consists of the names with the highest financial quality in the S&P 500 Index.
So why are lower quality, higher beta stocks outperforming their higher quality, low volatility counterparts so strongly thus far in 2012? Such low quality stock outperformance is actually the norm in the early stages of a stock market rally. This is due to the fact that it is often these very same low quality stocks that are beaten down most severely in the correction that precedes any sharp rally off of a bottom. And this low quality leadership has historically continued for several months before running out of steam.
After a strong run to start 2012, low quality stocks may struggle to continue this outperformance for much longer for the following reasons. First, the margin of low quality outperformance over high quality is running at extremes. Historically, the low quality performance advantage over a two to three month time horizon might reach as high as +5 to +7 percentage points at most during the most aggressive market moves. Thus, today's near +18 percentage point low quality lead over high quality is likely to be unsustainable for much longer, as a regression toward the mean now seems vastly overdue at this stage.
Also, while low quality stocks have been known to initially lead off of market bottoms, it has been high quality stocks that have outperformed over long-term periods of time. As a result, it is likely only a matter of time before high quality stocks begin moving to assume the long-term leadership mantle once again in the current cycle.
So regardless of whether you believe that the current stock market advance is likely to continue or if you think we could see a fairly sharp correction in the near-term, now may be an ideal time within your equity allocation to begin sifting through the high quality space. Not only might these positions offer attractive relative return opportunities at present, they are also likely to provide greater protection in the event of any market downturn in the coming months.
Particular high quality names that may warrant a closer look in this context are HJ Heinz (HNZ), PepsiCo (NYSE:PEP), JM Smuckers (NYSE:SJM), Johnson & Johnson (NYSE:JNJ) and CenterPoint Energy (NYSE:CNP) just to name a few. Each rank among the highest quality and lowest volatility names in the stock market universe, yet each has traded sideways to lower thus far in 2012.

Disclosure: I am long HNZ, SJM, CNP.
Disclaimer: This post is for information purposes only. There are risks involved with investing including loss of principal. Gerring Wealth Management (GWM) makes no explicit or implicit guarantee with respect to performance or the outcome of any investment or projections made by GWM. There is no guarantee that the goals of the strategies discussed by GWM will be met.