A couple of years ago Aubrey McClendon, CEO of Chesapeake Energy (NYSE:CHK), announced a new strategy for Chesapeake Energy. His plan was to switch more of CHK's development and production into oil instead of natural gas since oil prices were far above the historical oil to natural gas price ratio. With an already heavily indebted company, he proposed to do this by buying into new unconventional oil fields early on.
Then he planned to sell 25%-35% of each new acquisition to a joint venture partner to completely cover the acquisition and development costs to that point (and perhaps more). Chesapeake has been amazingly successful at this, although it still has large debts. It has built up a fantastic portfolio of oil and gas properties, while significantly paying down its debt.
Lucas Energy (NYSEMKT:LEI) seems to be taking a page from Aubrey McClendon's book. It is taking over properties. It is developing them slightly. Then it is reselling them for substantially more money. It could be argued that the buyers are getting great deals, and they probably are. However, Lucas Energy is also growing much more quickly than it could have otherwise. This micro cap company has a market cap of $59.13M and an enterprise value of $57.73M. It closed Friday Feb. 24, 2012 at $3.03 with 19.5M shares outstanding (Yahoo Finance).
It recently completed a deal in which it sold some New Mexico assets to Nordic 2 for $4 million for a net profit of 55% in less than one year. This year it plans to sell its Eagle Ford and some other properties for approximately $95 million. It has 5,144 net acres in the Eagle Ford Shale (and 3.745 net acres in the Eaglebine). This seems like an entirely believable statement, as previously large sales of Eagle Ford oil producing acreage have sold in the range of $15,000 to $20,000 per acre.
The above sale along with other Lucas Energy actions is supposed to generate $106.8 million in cash inflows in 2012. Since Marathon Oil (NYSE:MRO) is a JV partner with Lucas Oil in the Eagle Ford, it seems likely that MRO will be the company doing the buying. This makes the sale at a good price a virtual certainty. MRO has paid top dollar for large chunks of both the Eagle Ford and the Bakken in the recent past.
Is Lucas Oil then forgetting about development? It doesn't appear so. Lucas Oil does also have a JV with Seidler Oil & Gas and JVs with various foreign German groups. It is proceeding with Austin Chalk development. Plus it plans to raise $100-$300 million in a new large joint venture. This could be the action that finally puts Lucas Oil on the map, and it looks like it is already all but done. I am speculating. I do not have insider information, but anyone with a modicum of sense can read between the lines. If Lucas Energy does a Chesapeake like action, it could buy up leaseholds in an early stage unconventional field for one fifth to one tenth of their cost in one to two years. Then it could legitimately become a significant producer.
For example, Chesapeake bought more than 1.3M net acres in leaseholds in the Utica for approximately $2500/acre. It recently sold roughly 140,000+ of these acres for roughly $15,000/acre in a JV deal. If Lucas Oil already has a plan for a deal like this in place, it could turn the approximately $100 million it is raising this year into a $500 million stake in great oil field. To me, and to many others, it is sounding like Lucas Oil has just such a deal already planned. It might not be as successful as Chesapeake's Utica land grab. Still, if it is just half as successful, Lucas Energy will have suddenly become a significant oil company. This is admittedly speculation on my part, but it is educated speculation.
Plus, if a $59 million market cap company can raise approximately $100 million on sales of some of its assets, that tells you that the company is likely worth considerably more than its market cap. If Lucas Energy expects to be able to raise still more money from a new large JV, that indicates that it has a specific plan in mind. It most likely means that it already has detailed seismic data on the new planned acquisition(s). The new 3-D seismic has been extremely successful at predicting the success of the new unconventional oil shale drilling.
Admittedly, Lucas Energy is a risk, but I do not think I would term it completely speculative. As described above it does have significant assets that other oil companies are willing to pay well for. However, it does seem to be about to bet the farm on a new large JV. If it is as successful as CHK has been recently (the Eagle Ford and the Utica are just two of CHK's recent ventures), this stock could be a five bagger or more within two years. It will not have the same problem with analysts that CHK has had. It is a small company with an easily understood balance sheet. If this new deal works, it should be able to realize the benefits in its stock price quickly.
Lucas Energy is still losing money (about $5 million in FY2011), but it is clearly making good progress in development. The analysts' average one year price target is $5.50 (almost double the current price), and the analysts mean recommendation is 1.0 (the strongest BUY rating possible). I am not the only one who thinks this stock is a worth looking into.
The two year chart of Lucas Energy provides technical flavor for the trade.
click to enlarge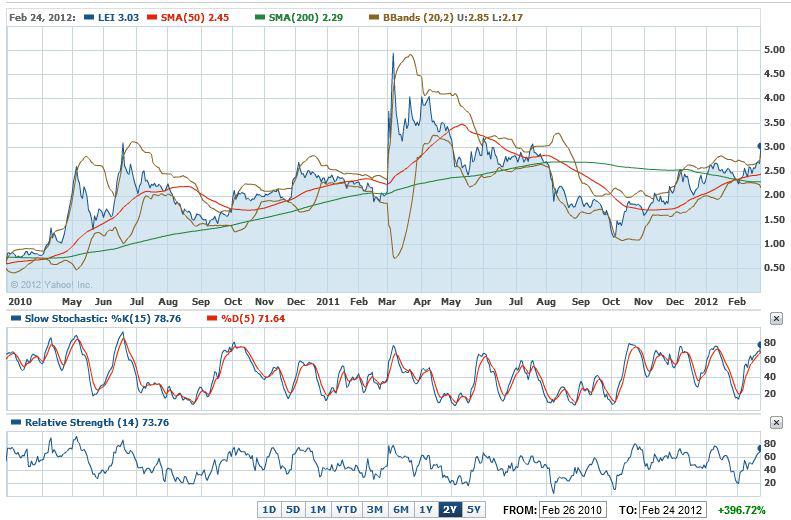 The slow stochastic sub chart indicates that Lucas Energy is over bought in the near term. Ditto the relative strength indicator. On the main chart the 50-day SMA has recently crossed the 200-day SMA moving upward. This is usually a buy signal. The stock itself has been in a mild uptrend over the last two years. This too is a good sign. On the bad side the overall market is over bought. If it decides to turn downward, Lucas Energy with a Beta of 1.68 is likely to follow it, especially if oil prices retrace at the same time.\
All that said, Lucas Energy does look like a good play for anyone who can think in a 2-5 year time frame. The stock price may climb before that time frame, but the fundamentals will likely take at least two years to develop. The investor should keep in mind that the new large JV that LEI is betting the farm on may not turn out as well as expected. I expect that it will be at least reasonably successful. Plus, the JV partner will probably be a lot bigger than LEI. This should offer further stability and money.
LEI is likely a great investment, but it is not one that you want to put all of your money in. This is more true when a US recession may be coming soon (predicted by ECRI). Averaging in is probably a good strategy given the overall market and economic dynamics.
Disclosure: I have no positions in any stocks mentioned, but may initiate a long position in LEI over the next 72 hours.