American Electric Power's (NYSE:AEP) stock price took quite a hit last Thursday (February 23, 2012), as a result of the Public Utilities Commission of Ohio rejecting the company's rate settlement agreement following some customer complaints of rate increases of more than 30%. The company's stock price is near its 200 day moving average, yet above a previous resistance level in the $37 range as shown below: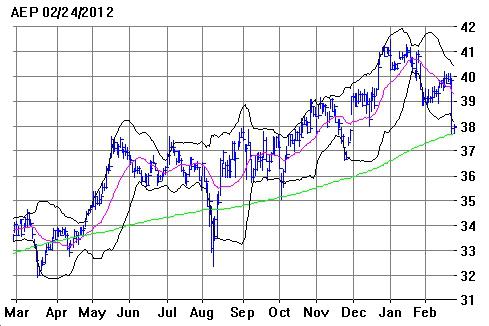 American Electric Power serves more than five million customers in eleven states. The company also owns the largest electrical transmission system in the U.S. American Electric Power's competitors include CenterPoint Energy (NYSE:CNP), Duke Energy (NYSE:DUK) and Entergy (NYSE:ETR).
With the company's annual dividend yield of 5%, further significant downside movement is unlikely and entering a bull-put credit spread will be considered. A bull-put credit spread may be entered by selling one put option and purchasing a second put option further out-of-the-money. The goal for an out-of-the-money bull-put credit spread is for both options to expire worthless, with the investor retaining the initial credit as profit.
Using PowerOptions tools, a bull-put credit spread was found for American Electric Power with a potential return of 6% (38.4% annualized) as shown below:
click to enlarge

The specific put option to sell is the 2012 April 35 at a midpoint price of $0.25, and the put option to purchase is the 2012 April 32 at a midpoint price of $0.08. The net credit for entering the position is the difference between the prices or $0.17 ($0.25-$0.08). A profit / loss graph for one contract of the position is shown below: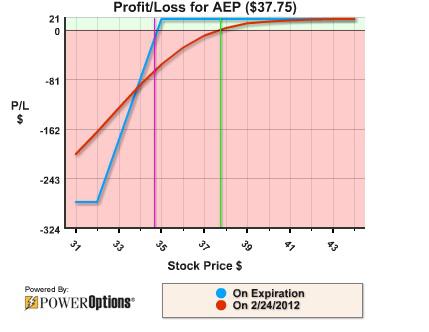 Consideration for managing the position for exit or roll should be given if the price of the stock drops below $36.50.
Disclosure: I have no positions in any stocks mentioned, and no plans to initiate any positions within the next 72 hours.