To revitalize America's manufacturing base, said speakers at a conference last week in Washington, D.C., the U.S. needs innovations in the way the products are made as much as innovations that create the next big thing.
The conference on 22 February at the Brookings Institution featured presentations and panels of academics and industry leaders, who discussed ways to get American manufacturing back on track. A presentation and paper by Susan Helper from Case Western Reserve University and Martin Wial, a Brookings Fellow, however, set much of the tone for the event, and offered some straightforward ideas for industry and policy makers.
There's little dispute that manufacturing is a good thing for the U.S. Manufacturing provides the engine for innovation in the economy, offers high-wage jobs, and produces exports that reduce trade deficits. And because some of the recent uptick in U.S. manufacturing involves clean energy, such as renewable power sources and biofuels, it helps reduce greenhouse gases and builds sustainability.
To make manufacturing a more powerful economic engine, say Helper and Wial, requires a change in the way we think about innovation. This country does a fine job in inventing new products. America's labs and workshops have created blockbuster new products from the light bulb to the computer chip, and many more since.
But companies seem to be less adept at improving the way these new inventions are made. In too many instances, U.S. firms create a new product, only to later find competitors making it less expensively elsewhere.
A high-road response to low-wage competition
And in too many instances, the reaction by companies is to cut costs, in a race-to-the bottom attempt to meet low-wage competition. Helper and Wial suggest an alternative "high-road" approach to competition. They say innovations that produce continuous improvements in manufacturing processes can meet the challenge of low-wage competition head on, and back up the idea with actual experience here and Germany.
Continuous process improvement in manufacturing is hardly new. The late American statistician and management guru W. Edwards Deming used these methods to help numerous U.S. manufacturers and even entire industries meet the challenge of Japanese competition in the 1980s and 90s. Deming was well-positioned for this task, since he was the same person who taught the Japanese about statistical process control to rebuild their shattered companies after World War II.
Helper and Wial (and Deming as well) say that among the best sources of process innovations are the workers themselves. Thus any strategy for process innovations should include lifelong worker training and sharing the benefits of those innovations with the workers.
The authors note that research labs can also provide ideas for better manufacturing methods, in addition to creating new products. Most government-funded R&D goes for basic research, designed to find new breakthroughs, rather than applied research that produces incremental improvements. Likewise, the decline in the U.S. of industrial research labs -- e.g. AT&T's (T) Bell Labs -- has added to this dearth of innovative ideas.
Helper and Wial point out that in high-wage, export-driven Germany, the Fraunhofer Institute provides much of this function for German manufacturers. Fraunhofer is a public-private-academic organization that conducts industrial R&D, with 57 institutes and 15,000 employees. Fraunhofer is also part of a larger national R&D network of 750 institutions that link business, government, and academia.
At least one major U.S. company may be getting the message about the value of research labs: Ford Motor Company (F) announced last month a new research facility in Silicon Valley to bolster electronics features on its cars.
Different directions for sales
The authors show that paying attention to manufacturing processes adds to companies' bottom lines, and sometimes in ways that may not seem obvious. Helper recently studied U.S. automotive stamping companies -- those that make a car's body parts -- and found high-road enterprises out-produced and had higher sales than competitors that took simply tried to cut costs.
The high-road businesses paid wages 70 percent higher than the low-wage companies in that industry, says Helper, yet they remain in business "because highly skilled workers help firms achieve high rates of innovation, quality, and fast response to unexpected situations."
Companies following a high-road strategy not only stayed in business, they saw their sales increase, while their competitors suffered sales declines. Helper finds between 2007 and 2011, stamping companies with formal programs called quality circles that identify ways to improve product quality had sales increases of 3.5 percent. Stamping companies without quality circles, on the other hand, had declines in sales of almost 10 percent.
Likewise, companies with preventive maintenance programs had sales increases of 5.1 percent, while those without preventive maintenance experienced a 31 percent drop in sales. (see chart)
Auto stamping companies with process innovations saw sales increase; those without processes improvements lost sales ...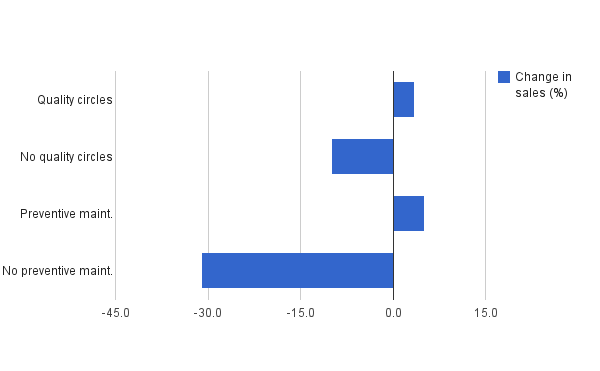 Source: Susan Helper and others, "The U.S. Auto Supply Chain at a Crossroads," report prepared for U.S. Department of Labor (Cleveland: Case Western Reserve University, n.d.)
Helper and Wial identified other conditions needed for the high-road strategy to work -- better worker training, new sources of finance, and supportive governmental policies. But companies do not need to wait for banks or governments to act to begin their process innovations. The good ideas needed to succeed may already reside in the brains of their workers.
Disclosure: I have no positions in any stocks mentioned, and no plans to initiate any positions within the next 72 hours.