In a unique approach, the State of Israel has put into plan a system that would lend transplant priority to patients who have agreed to donate their organs. It is thought that this is the first country in the world to incorporate "nonmedical" criteria into the priority system, although medical officials convey that medical necessity would still be the first priority. Dr. Jacob Lavee, a cardiothoracic surgeon, initialed the program.
The law states clearly and directly that if two patients have identical medical needs for an organ transplant, priority will be given to the patient who has signed a donor card. That priority is extended also to patients whose family members have donated an organ in the past. This system, and subsequent law, was developed in 2010 consultations with a host of parties, including rabbis, lawyers, ethicists, and medical expert teams. Reportedly, nearly 100,000 Israelis have registered for organ donation cards as a result of a public campaign to educate the public about the new law. Consent rates, and transplants, have reportedly increased significantly to date.
Also out of Israeli comes positive news for Type II Diabetes patients concerning human growth hormone treatments.
The market for human growth hormone is estimated at $3 billion annually, expected to grow at minimum 5%, and is currently shared by big bio and pharma giants Genentech, Pfizer (NYSE:PFE), Eli Lilly (NYSE:LLY), Novo Nordisk (NYSE:NVO), Merck-Serono (NYSE:MRK), and Novartis (NYSE:NVS). An estimate nearing 22 million of the European and US adult populations are candidates for human growth hormone therapy. Generally treatments consist of once-daily injection regimen. PROLOR Biotech (NYSEMKT:PBTH), which operates out of R&D facilities in Israel, believes it has a better mousetrap. According to some industry analysts, PROLOR could capture nearly $400 million of the market with a 3% penetration.
The company announced that a Phase II study of CTP-modified human growth hormone (hGH-CTP) administered once every two weeks, showed efficacy, tolerability and "the potential to replace 30 consecutive daily injections of currently marketed human growth hormone". Once-a-day injections could be a distant memory if the Israeli firm is successful in bringing its product to market. The design of the Phase II study was directed towards validating safety and tolerability, and Phase III trial dosing the range of hGH-CTP in growth hormone deficient adults.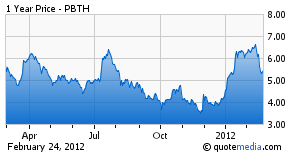 PROLOR's unique technology is based on a naturally-occurring amino acid sequence. Company officials offer that this naturally-occurring amino acid sequence "can be readily attached to a wide array of existing therapeutic proteins, stabilizing the therapeutic protein in the bloodstream and extending its life span without additional toxicity or loss of desired biological activity". A Phase II trial for children who are growth hormone deficient is also planned, in an effort to prove hGH formulation efficacious in the pediatric strand.
Factor VIIa-CTP. The company also recently announced positive results from a comparative study of a hemophilia drug called Factor VIIa-CTP. According to company officials, the study, utilizing genetically modified hemophilic mice, demonstrated Factor VIIa-CTP's superiority to commercially available Factor VIIa via a higher survivor rate in a bleeding test, longer pro-clotting thrombin generation, and significantly greater in vivo recovery.
To circle back to other bio and pharmas in the human growth hormone space, sales leaders include Novo Nordisk's Norditropin with $922M in sales, Pfizer's Genotropin at $850M. Others occupy average sales of nearly $700 million. If one firm does hold an advantage, it may be Merck (Merck-Serono). It reportedly owns the rights to the same CTP technology in four applications, including Follicle Stimulating Hormone (FSH). Merck will be filing an NDA for their CTP-modified FSH with the FDA in 2012-2013. PROLOR owns the rights to all other applications.
A new entry, that being PROLOR, with a superior dosing schedule - once weekly or twice monthly - could upset the applecart of sales in this space and prove to be profitable. PROLOR reportedly has a strong IP holding as well, an important strength should it consider being acquired by a larger concern. Considering the strength of its dosage regime and potential importance to market share to other players, this is reasonable to consider.
PROLOR Biotech, Inc. -AMEX, reported 17.6 million cash and equivalents (sufficient for funding 2012 operations) on hand at the closing of its last quarter. It is currently trading around $5.30, and has a 52 week range of 3.60 - 6.69 with a market cap of 289.05M. All eyes will be focused on the upcoming Phase III trial in 2012 for hGH-CTP and just where the results will take investors, stakeholders, and patients alike.
Disclosure: I have no positions in any stocks mentioned, and no plans to initiate any positions within the next 72 hours.