Capstone Turbine (NASDAQ:CPST) shares are trading at bargain levels and I expect them to trend much higher both in the near and long-term. The company helps its customers lower energy costs, capitalize on green subsidies and attain energy independence with lower downtime than conventional gas engine systems. The company has over 122 U.S. patents, industry leading reliability, award-winning systems and over 95 distribution partners. The market cap is approximately $320 million which is cheap, considering the market opportunity and growth for Capstone. According to a recent presentation, the company estimates that they have a $14.5B market opportunity and will capture $1.5B of it. This market is divided into 5 key segments:
Energy Efficiency for commercial and grid applications
Renewable energy - Last month, CPST extended its current original equipment manufacturer contract with General Electric (NYSE:GE) to sell GE's Clean Cycle waste heat recovery generator, which complements Capstone's microturbines. The agreement now runs through January 2016, with GE providing parts support through 2020.
Oil, Gas and other Natural Resource Applications - These applications allow oil and gas producers to produce electricity in remote locations. This market is experiencing tremendous growth, especially overseas.
Critical Power Supply for applications such as cell phone towers; another high growth market overseas.
Mobile products such as hybrid commercial vehicles and marine applications.
According to the company's last 10-Q filing, the company's performance indicators are extremely positive:
Record product revenue - A 34% increase on a year-over-year basis.
Increase in average selling prices - Average revenue per unit increased for the third quarter of Fiscal 2012 to $161,000 compared to $110,000 for the third quarter of Fiscal 2011.
Improving margins - Gross margins more than doubled to 8.5% in 3Q2012 versus 3.8% in 3Q2011. Additionally, margins improved from the 6.1% achieved in the prior quarter of 2Q2012.
Decreased Expense s- There was less than $3 million cash burn in Q3, which is very healthy considering the $48 million in cash and receivables on the balance sheet as of 3Q12.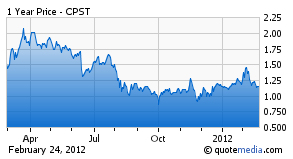 The market is starting to observe the impressive direction that Capstone is heading. As an example, Ardour Capital increased their price target to $2 and upgraded Capstone Turbine to buy based on higher ASPs and cost reductions on February 10, 2012. Also, Rodman and Renshaw rates Capstone as an outperform with a $2.50 price target. On December 21, 2011, JMP Securities started coverage on CPST at Outperform with a $2 target.
CPST's management team has produced impressive results since they joined in 2008. They have increased revenues from $31 million per year to nearly $82 million or nearly 160%; all of which was accomplished while keeping production overhead nearly flat. I expect that management will continue to deliver strong top line growth and will continue to make progress on its margins primarily through pricing and cost reduction. Last year was the first in which Capstone made a profit, which is a significant turning point for the company. With 34% year-over-year revenue growth and improving margins, I believe the stock should be trading north of $2 per share.
Considering the current short interest of 40 million shares or 18% of the float, any news of new deals could drive this stock significantly higher in the very near-term. Since clean energy is in strong focus within Congress, Capstone could be a prime takeover target by companies such as GE. We believe the stock will be over $5 within the next 3 years and recently sold our long positions in First Solar (NASDAQ:FSLR), JA Solar (NASDAQ:JASO), LDK Solar (NYSE:LDK), Suntech Power (NYSE:STP) and FuelCell Energy (NASDAQ:FCEL) with impressive gains. Based upon the foregoing, we see that Capstone is one of few alternative energy plays that is extremely undervalued.