The Industrial Internet of Things, or IIoT, is a topic that continues to be discussed when it comes to General Electric's (NYSE:GE) future growth prospects, and rightfully so, as the company's cloud-based operating system, Predix, is projected to be a major contributor to future revenues/earnings.
In "GE: If You Build It, They Will Come", which was written in July 2015, I highlighted the launch of Predix and the long-term benefits that the Industrial Internet will have on General Electric's future operating results --software & services revenue is projected to grow 20% annually through 2017.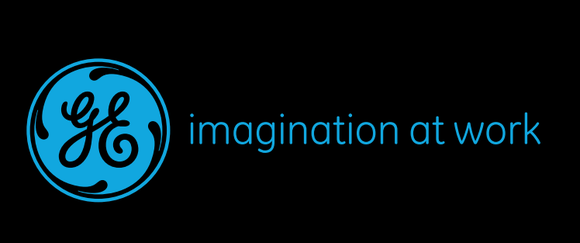 Now, management of the companies that are using Predix have been providing testimonies that show the significance of not only the ever-changing IIoT industry but also General Electric's dominant role in the shift towards a more-connected industrial world.
The Power of Predix --What Customers Are Saying
General Electric released a report that explained how a current customer, Pitney Bowes (NYSE:PBI), was using the Predix platform. The entire report was insightful, but I wanted to highlight two specific quotes from Pitney Bowes' management team:
Here's another way of looking at it. There's descriptive analytics, which allows you to describe and visualize what's happening; there's prescriptive analytics, which is based on what's happening - the root causes behind it - and gives you the prescriptions for remediating it; and then there is predictive analytics, which allows you to use data to be able to foresee what will happen and to be able to act in advance of it to optimize outcomes even further.
This hits home exactly what General Electric, and other companies, are trying to create with sensor-based monitoring. In the current environment, especially the oil and gas industry, operating efficiency has never been so important and Predix is allowing customers to use big data to improve operating results by cutting out unnecessary costs.
We are now using Predix to develop apps around those services and offer them to customers through the Predix app store....Any Predix customer can use these capabilities, from fleet management businesses to drilling companies. Location management is a fundamental enabler. I'm sure other companies will be writing apps leveraging these capabilities as well. This is the power of the Predix ecosystem.
It's hard not to compare what General Electric is doing with Predix to what Apple (NASDAQ:AAPL) did with its iOS software. Since General Electric is on the leading edge of the creation of the Industrial Internet, the Predix platform is allowing for the company to established itself as the go-to service and equipment provider, which will pay huge dividends if other companies become dependent on the Predix ecosystem.
Market Opportunity
The long-term prospects of the Internet of Things, or more specifically the Industrial Internet of Things, are tremendous and almost every source that is available shows the significant impact that this shift will have on industrial companies' future spending and cost savings efforts.
Accenture (NYSE:ACN) released a report, "Driving Unconventional Growth through the Industrial Internet of Things", that provided the following estimates:
On the conservative side, independent estimates are that worldwide IIoT spending will reach $500b by 2020 (page 4)
Manufacturers could boost productivity by as much as 30% with the adoption of IIoT (page 4)
As a case study, Caterpillar (NYSE:CAT) estimates that with the use of sensors --transitioning its customers from fixing a machine whenever it fails to predictive maintenance, its dealers can capture between $9b-$18b in additional annual revenue (page 11)
Another independent firm, McKinsey & Company, provided the following chart in an article that was published in December 2014.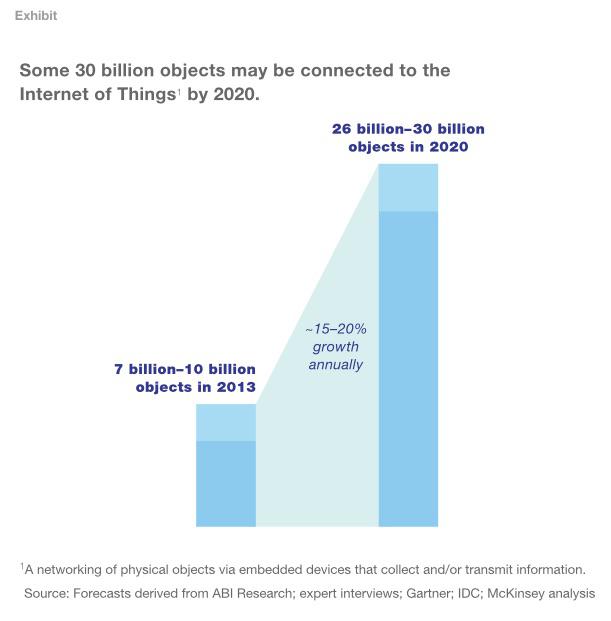 As shown, McKinsey & Company is projecting for connected "objects" to grow at an annual clip of 15-20% through 2020. Obviously, General Electric will not capture all of this growth but the company is indeed setting itself up to capture a large portion of the market share.
These estimates are very encouraging for General Electric, as the company is an early adopter to the shift towards a more-connected industrial world. The market opportunity is huge, and General Electric appears to be well-positioned as a market leader and this will bode well for both the company and its shareholders.
Bottom Line
General Electric is currently fairly valued based on estimated 2016 earnings (see my valuation analysis in this article), but management will have the opportunity to create a tremendous amount of shareholder value in the next three-to-five years with adoption of IIoT picking up steam.
The majority of the market research reports that are available for the IoT, and the IIoT, hammers home the importance of companies adopting Predix, or similar software, sooner rather than later. General Electric is already the clear-cut leader in the industry, and this is a great position to be in. Currently, the Industrial Internet may not seem that important to operations with GE Digital only bringing in $5b in revenue in 2015, but in the next few years this industry will be significant enough to move the needle for this large conglomerate.
If your investment time horizon is longer than one-to-two years, it would be wise to treat any significant dips in GE's share price as buying opportunities. Furthermore, investors are receiving an above average dividend (3.1%), even with the dividend freeze for 2016, to wait for the long-term benefits of IIoT to materialize.
If you found this article to be informative and would like to hear more about this company or any other company that I analyze, please consider hitting the "Follow" button above.
Disclaimer: This article is not a recommendation to buy or sell any stock mentioned. These are only my personal opinions. Every investor must do his/her own due diligence before making any investment decision.
Disclosure: I am/we are long GE.
I wrote this article myself, and it expresses my own opinions. I am not receiving compensation for it (other than from Seeking Alpha). I have no business relationship with any company whose stock is mentioned in this article.