Squeezed by content providers and by genuine competition from Comcast (CMCSA) with its Xfinity Strempix service, Netflix (NFLX) is losing momentum. What is next? Is the 'mighty' Netflix to recover, become irrelevant, or die?
In How the Mighty Fall, Jim Collins identifies five stages of decline of mighty corporations:
Hubris Born out of Success: Leadership becomes arrogant as it considers success an entitlement. The stock heads to the moon as investors chase after the stock.

Undisciplined Pursuit of More: Reckless behavior sets the company at great risk while the stock continues to climb.

Denial of Risk and Peril: Failure of leadership to recognize and address risks; stock peaks.

Grasping for Salvation: A sharp decline visible to the public; investors flee in all directions and stock falls sharply.

Capitulation to Irrelevance or Death: Growth declines, the stock falls out of favor.
Once a 'mighty' corporation, Netflix seems to have undergone the first three stages, and now be in the fourth, as evidenced by Friday's move to split up its service bundle into two separate bundles. So what is next for the company, recovery, capitulation to irrelevance, or death?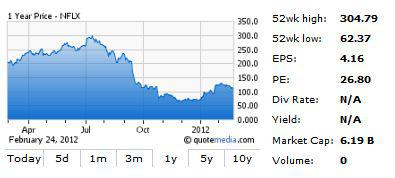 Netflix's problem is its business model that leaves the company open to threats from competitors like Amazon.Com (NASDAQ:AMZN), Google (NASDAQ:GOOG), and Apple (NASDAQ:AAPL), and from content suppliers like CBS (NYSE:CBS). Unless Netflix finds some magic way to fix its model or be acquired by someone, it is doomed to follow the path to irrelevance, as did Dell Computer (NASDAQ:DELL), Cisco Systems (NASDAQ:CSCO), JDS Uniphase (JDSU), Ciena Corporation (NASDAQ:CIEN), and Lucent Alcatel (ALU) in the last decade. What should investors do with Netflix's stock?
Conservative investors should stay away. Aggressive investors may want to get on the short side.
Disclosure: I am long AAPL.