GrafTech International Ltd (GTI) is a small company with a $1.86B market cap whose fourth quarter and full year 2011 earnings report shed additional light on the weak solar sector and the weakening economic conditions in Europe. GTI provides graphite products for many industrial applications including solar manufacturing and steelmaking. According to Reuters, GTI's "…electrodes are used in electric arc furnaces to recycle scrap metal into steel, a method that accounts for about a third of global steel output." So GTI has particular insight into the health of the industrial economy through the eyes of its customers.
In the latest earnings report, GTI ran down a litany of economic weaknesses, primarily in Europe, from official statistics. These are all direct quotes…
The IMF highlighted that downside risks have intensified globally over the past few months. Additionally, they are now projecting a mild recession in Europe as a result of the continued European debt crisis.
Noting the slowdown in Europe, The European Steel Association's February 3, 2012 report stated that they expect recessionary conditions to continue throughout 2012.
According to the World Steel Association, total steel production declined approximately 5 percent from the third quarter to the fourth quarter in 2011, with Europe accounting for much of the decline. GrafTech also saw an impact in the fourth quarter sales to steel producers in that region as a number of our customers reduced their production levels, closed furnaces and executed sizeable layoffs. Historically, GrafTech has had approximately 30 percent of total company annual sales in Europe.
The question and answer period during the earnings conference call provided additional color on GTI's economic observations in Europe, and included an opinion on conditions in China (quotes from the Seeking Alpha transcript):
Our view is the EU will be in a recessionary condition…
…a lot of the European customers - because Q4 was slow - have had inventory. And they will be going through some destocking. I think that's why a lot of them really aren't in a real rush to book their 2012 requirements.
…Q4 has been down, January has been very, very slow at our customers evidenced by the steel numbers that have just come out [down 8% year-over-year]. And so, I see Europe very volatile. And when we sit with our customers in Europe, they don't have line of sight.
…almost every data [point] in China is showing a slow down as the government tries to reign in the property market and if you look at PMI, almost every index there. Inventories at the ports of iron ore are at tremendous levels.
GTI is very pessimistic about the prospects for solar this year:
In our Engineered Solutions business we have also felt the slowdown in the European region and in the solar sector. Globally, the solar industry continued to reduce production and is expected to be at levels significantly below 2011. Recovery in solar is not expected until late 2012 or 2013.
During the Q&A, GTI noted that solar had been a very good business for the company with double-digit growth and strong profitability. Fortunately, even with the drag from solar, the Engineered Solutions division should still show profit growth this year.
Finally, the question and answer period during the earnings conference call provided additional detail and support for the guidance (quotes from the Seeking Alpha transcript) that disappointed the market:
We have good confidence in the guidance we've given. We think it's very prudent.
…we are building a book when a lot of our customers are losing money, shutting down furnaces, laying-off and so it's a tough environment right now from an operating stand point.
…that destocking that we're expecting is baked into our Q1 guidance and our full guidance.
…we are not expecting a lot of growth in 2012…We see big picture over the course of the year, our volumes increasing. Q1 first half lower, take care of the destocking in Europe and some of the other places and then Q3 and Q4 much higher…
Interestingly, GTI has so far been able to maintain pricing power even with the destocking in Europe. This pricing power has enabled them to keep up with rising material costs. However, it will also contribute to a stagflation-like environment as Europe works through recessionary conditions. Given the on-going debate on whether natural gas prices have finally bottomed - for example, see the recent stabilization in the chart of the U.S. Natural Gas Fund ETF (NYSEARCA:UNG) - I took particular note that GTI has benefited from low natural gas prices:
…we've been enjoying the relatively low rates for natural gas here for a while. So natural gas has been a benefit across to our portfolio and that's been a plus for us…So I would just look at natural gas has not been an issue and we usually have been ahead of every number we've planned its coming lower. (sic.)
Given the stock market overall has begun to ignore the economic risks from Europe, I was quite surprised to see GTI plunge as much as 26% on this earnings news. My natural inclination was to think the selling is overdone and to buy GTI as a materials play to accompany the commodities portfolio. However, the good friend who called GTI to my attention reminded me that GTI is likely experiencing cyclical woes that have just begun, meaning there is no rush to buy here. Nonetheless, I will be watching closely because GTI approved a new 10 million share buyback in December with over $300 million in new liquidity on the balance sheet. The company spent an average of $14.60 per share on the last 2 million shares it bought. So clearly, this current plunge has caught GTI completely by surprise.
The weekly chart below shows GTI is right at the edge of 52-week lows, making this a likely spot the company may start buying back shares. If this buying power fails, I will not be surprised to see GTI break down into the range of $10.00-11.50 even with a current valuation of only a 7.6 forward P/E. The price-to-sales and price-to-book ratios are still around 1.50.
click to enlarge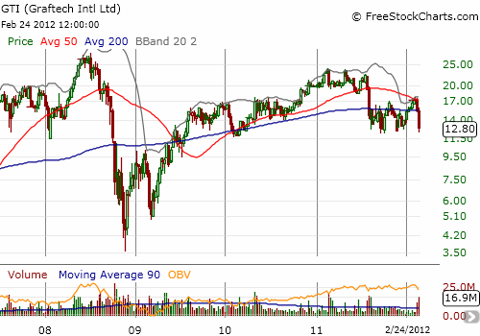 Click to enlarge
GTI plunges toward two-year lows
Source: FreeStockCharts.com
Be careful out there!
Disclosure: I have no positions in any stocks mentioned, but may initiate a long position in GTI over the next 72 hours.