In an article posted on February 8, 2012, a bear-call credit spread was considered for Clorox (NYSE:CLX) as a way to hedge an existing bullish portfolio. There is very little potential return left in the initial 2012 March 72.50/77.50 bear-call credit spread, so consideration for managing the position will be given.
Clorox's previous resistance level has been around $71, so rolling to a strike much below this could be troublesome. We will investigate rolling to the 2012 March 70/75 bear-call credit spread. The $70 strike price of the short call option may require additional management later if the Clorox's stock price recovers.
Using PowerOptions tools, the net debit for exiting the current position using midpoint pricing is shown as $0.00, so it will be assumed this position may be exited for a net debit of $0.01. The position we are interested in rolling to, the 2012 March 70/75 bear-call credit spread, is showing a net credit of $0.13 (using midpoint pricing) to enter as shown below:
Click to enlarge

With this, the position could potentially be rolled for a total net credit of $0.12 ($0.13-$0.01) which represents an incremental potential return of 2.4%. By rolling to the new position, the total potential return including the initial position is now 7.2% (69.2% annualized), with the same holding time-frame as the initial position.
A profit/loss graph for one contract of the new position, including net credit for the initial position, is shown below: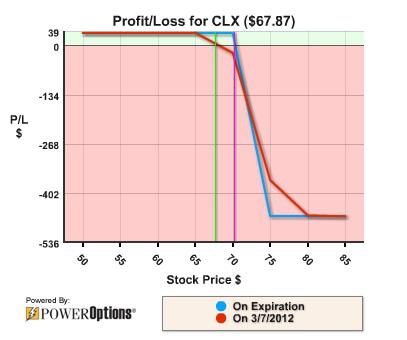 A management point of $69 is set for the new position. If the price of Clorox's stock increases to greater than $69, then the position should be managed for an exit or roll.
Note: Investors should make sure brokerage fees/commissions do not eat up the $0.12 net credit for rolling. If brokerage fees/commissions are an issue, then closing the position should be considered.
Disclosure: I have no positions in any stocks mentioned, and no plans to initiate any positions within the next 72 hours.