Until now, Apple (NASDAQ:AAPL) has mostly left enterprise mobile device management (MDM) of its iOS devices to third parties such as IBM (NYSE:IBM). With the arrival of Apple School Manager, Apple takes a big step forward to bolster its position in education, as well as cloud services. Apple School Manager paves the way for similar enterprise services. The enterprise MDM market may never be the same.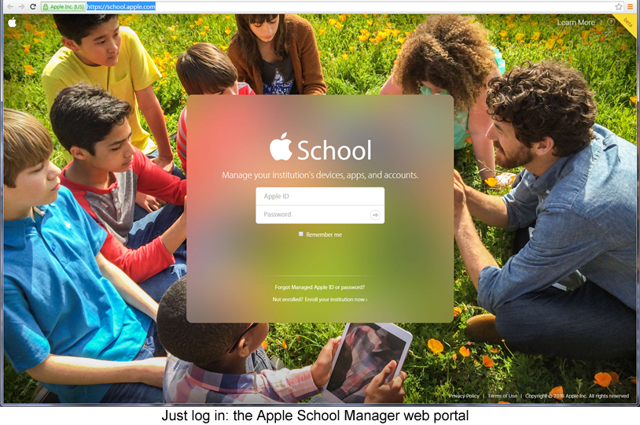 Source: school.apple.com
Closing a Gap in Education
It was a little over a year ago that I wrote about the ongoing competition between Apple and Google (NASDAQ:GOOG) (NASDAQ:GOOGL) in the education market. Even though specific market share numbers are hard to come by, there's no question Google's Chromebooks have had a substantial impact on the market. As of December 2015, consulting firm FutureSource estimated that Chromebooks had captured 52% of sales to K-12 in the U.S. in 2015 Q3.
As I wrote in the previous article, part of the reason for the rise of Chromebooks was the ease of administering them. Google provided an easy to use web-based management tool that IT administrators could use to set up devices. In contrast, many IT personnel reported very tedious set up procedures for iPads used in the classroom.
In fact, these IT people appeared not to be using the MDM tools available from third parties, or even the MDM tool Apple makes available as part of OS X Server. Buying and deploying an MDM server was added expense that the school's IT departments either hadn't planned on or didn't want to incur. Google's cloud-based tool was simple and free for Chromebooks purchased through Google.
It's taken a long time for Apple to develop a response to Google, but with Apple School Manager (ASM), system administrators finally have a cloud-based tool provided by Apple that integrates most of the administrative tasks that would be needed to administer a large number of iOS (iPad) and Mac OS X devices for a school district. Accessing the service is simply a matter of logging into school.apple.com.
The new ASM service is still in beta, and depends on a beta edition of iOS 9.3, but it should allow IT people time to become familiar with the new tools. As far as I can tell, ASM addresses most if not all of the complaints I was hearing from IT professionals about the difficulties of managing iPads in the classroom environment.
Specifically, it's now possible for multiple students to share a single device. When a student logs in, all the student's individualized settings and documents become available. ASM now makes it possible to set up student and faculty accounts, manage devices, purchase and deploy content, all through a centralized management console.
ASM can even interact with existing third party MDM servers. Whether ASM can fully replace a third party MDM isn't clear based on Apple's somewhat sketchy documentation, but it probably goes a long way in that direction.
ASM also offers education specific services. Teachers can use it to build and deliver course materials. Interactive lessons can be created and delivered through iTunes U. Books and Apps can be delivered selectively based on the needs of a given class.
Along with the cloud-based ASM, Apple is building in support through iOS 9.3 beta as well as special purpose apps. Students recognize a shared iPad available for them to log into by seeing their photo ID on the lock screen. Young students can log in with a simple four-digit passcode. IOS 9.3 beta also provides infrastructure to work with ASM for device management and app installation.
In addition to iOS changes, there's a new Classroom app that aids teachers in conducting live classroom instruction. The Classroom app allows the teacher to launch apps for specific students in the class, lock the app on the students' devices, and even see an individual student device screen mirrored in the teacher's iPad.
With these new educational services and apps, we're seeing Apple's holistic approach to its devices put to best use. Apple can develop apps, operating system and cloud services in the optimal combination to serve a given market. Apple is testing this approach in the education market, but it clearly has larger implications.
Investor Takeaway
ASM represents yet another expansion of Apple into enterprise cloud services. As such, it's still somewhat experimental, but I can see it growing past the education market once Apple gains experience in this area. This will take time, probably a year or more. But an awful lot of what ASM does is general purpose administration that IT people do in any enterprise.
What Apple is doing in education is very similar to the approach that IBM is taking in enterprise with respect to Apple devices. IBM is providing app development and cloud services tailored to the specific needs of businesses it serves.
As I pointed out in my recent article on the Apple/IBM partnership, there's a definite potential for conflict between the partners as Apple expands its cloud services. Education has effectively become an enterprise cloud market. It's significant that Apple has entered this on its own.
For the time being, Apple appears to be happy to leave enterprise MDM to IBM and other MDM providers. Based on ADM, I could see that arrangement evolving into one where Apple to some degree competes with the MDM providers. Probably that will happen first in the area of small businesses that IBM is less interested in.
In the long run, Apple's need to expand its enterprise cloud services business may outweigh the perceived advantages of partnering with IBM. This may cause some fraying of the relationship with IBM, but ultimately it will be to Apple's benefit.
Apple is clearly on a course to grow its enterprise cloud services into a significant revenue stream. I remain long Apple and recommend it as a buy.
Disclosure: I am/we are long AAPL.
I wrote this article myself, and it expresses my own opinions. I am not receiving compensation for it (other than from Seeking Alpha). I have no business relationship with any company whose stock is mentioned in this article.