Royale Energy Inc. (NASDAQ:ROYL) is a micro cap stock with a market cap of only $65.11M and an enterprise value of $63.01M. It closed Friday Feb, 24, 2012 at $6.05. It has an analysts' one year target price of $14.91 (more than double its current price). Royale energy is an independent oil and natural gas explorer and producer in the US. The company owns wells and leases principally in the Sacramento Basin and the San Joaquin Basin in California (over 32,000 acres), Utah, Texas, Oklahoma, and Louisiana. It markets more than 16 MMcf/d of natural gas. More recently ROYL acquired 100,480 net acres from the recent North Slope lease sale (334,969 acres sold total) in Alaska.
Royale won 60 of the 178 tracts in the heart of the oil window (announced Dec. 13, 2011). Of these 40,320 acres are known to sit on the migration path of the oil that filled Prudhoe. Since then the USGS (as per a ROYL Feb. 24, 2012 announcement) has put out an estimate of up to 2B barrels of recoverable oil and up to 80T cubic feet of natural gas in the North Slope field. Given that most of the USGS estimates that have been made of late, such as the Bakken, have been huge underestimates, the amount of oil and natural gas present in this field may be many times this estimate, and this estimate is in itself no small amount. In short ROYL has just become a prime stock.
The new Alaska acreage is considered fantastic. The primary targets are the Shublik, Kingak, and HRZ formations at depths ranging from 7,000 to 10,000 ft. The company was able to acquire this acreage primarily due to the efforts of former Standard Oil of Ohio (majority owner of the Prudhoe Bay Field) geologist, Mohamed Abdel-Rahman -- Royale's VP of Exploration. Hence the company should not be short of expertise in development in this area. Royale's VP should also have some helpful contacts with Standard Oil of Ohio and other operators in the area, especially those with infrastructure. These may be helpful in ROYL's development process.
To help pay for all of this Royale Energy entered into a sales agreement (Feb. 17, 2012) with CK. Cooper & Co. to sell up to $10M in ROYL's shares from time to time. The dilution should be less as the stock price goes higher, which it has been doing for some months now. I have not been able to find the specific total price that Royale Energy paid for the Alaska North Slope leases.
However, I did find a reference in which ROYL lost out to Great Bear Petroleum on two North Slope tracts by a penny. One case was a bid of $40.11 per acre. Another was a bid of $40.10 per acre. My thinking is that the other North Slope lease bids were for roughly similar amounts. If you estimate an approximate $4.10 price per acre for ROYL's 100,480 acres, ROYL paid approximately $4.03 million for the complete 100,480 acres. It cannot be much more than this because the entire 334,969 acres of North Slope tracts that were auctioned off brought in only $14.1 million (or $42.09 per acre). Using this average, ROYL's price rises to $4.23 million.
Given that Royale Energy's VP of Exploration is an expert geologist with vast experience in Prudhoe Bay and its environs, it is probably a safe bet to think that the price of these acres will soon skyrocket to $10,000/acre or more, especially after the substantiation of their value by the recent USGS report. With a little development work, ROYL may soon be seen to have profited by roughly $1B or more on this deal. Given ROYL's current $65 million market cap, this deal alone makes ROYL a huge buyout target. When you take into consideration that ROYL was already considered greatly undervalued before this deal (a huge buyout target before the deal), you get an idea of how quickly its stock price may rise.
To get anywhere near full value out of this new acquisition, ROYL will have to do some development work. This will be expensive. There is also a possible transportation problem. However, the good news here is that the trans-Alaskan pipeline has been operating at less than one third of its 2.1 million bpd total capacity recently. Plus, ConocoPhillips (NYSE:COP) was also an active bidder on some leases in the National Petroleum Reserve-Alaska. COP is moving closer to getting a permit to build a bridge and a pipeline that could link leases in the reserve to the North Slope infrastructure and eventually to the trans-Alaskan pipeline. COP was also a high bidder on 34 North Slope tracts.
There will be many big oil companies building the infrastructure. All ROYL will have to do is tap in to the infrastructure of others. Those richer companies will charge fees for this, but those will be fees that ROYL will be able to pay over time out of profits from the oil revenues. If oil prices move higher to the $120-$130 range over the next two years (as many now think they will), it will be that much easier for ROYL to pay such fees out of its profits. There is also the possibility that ROYL will take on a JV partner to help pay for all of this. This may be the quickest way to huge profits for the Royale Energy and for its stockholders.
The two year chart of ROYL below provides some technical direction for this trade.
click to enlarge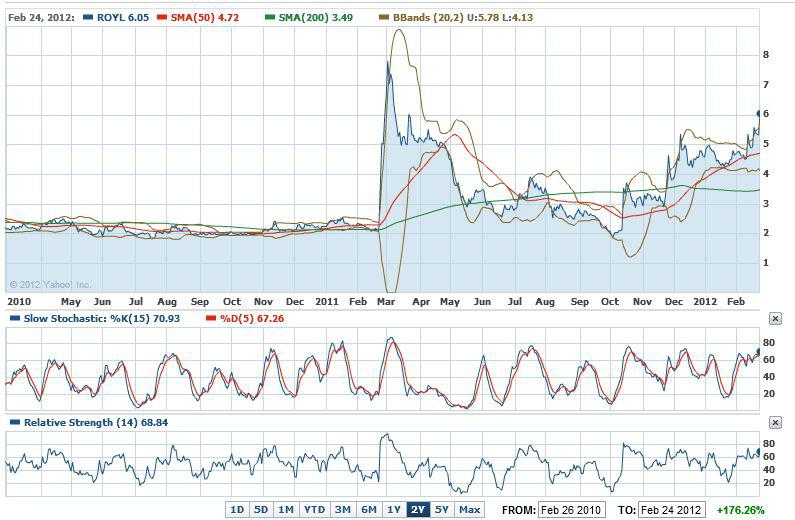 Click to enlarge
The slow stochastic sub chart indicates that ROYL is near over bought levels. The relative strength sub chart indicates much the same thing. The main chart shows a strong uptrend has existed for the last 4-5 months. The 50-day SMA has recently crossed over the 200-day SMA. This is usually taken as a buy signal. Given the fundamentals of ROYL, this is assuredly the case. Many would say to forget caution. Buy into this stock now. However, you have to remember that the ECRI has just predicted a recession for the US near term.
You have to remember the coming EU recession. You have to remember the negative effect currently rising oil prices will have on the US economy (-0.5% in GDP for every additional $10 per barrel).You have to remember that it is expensive to develop oil wells in the harsh weather conditions of Alaska. There is a long way for this very small oil company to go. Taking a small position in this stock could help your overall performance greatly if it performs as many now expect it to. However, the prudent investor will spread his/her investments out.
There is something to be said for the slower growing majors such as Chevron (NYSE:CVX), Exxon Mobile (NYSE:XOM), ConocoPhillips , Occidental Petroleum (NYSE:OXY), Marathon Oil (NYSE:MRO), Repsol (OTCQX:REPYY), and Pioneer Natural Resources (NYSE:PXD), etc. With these you will not possibly lose all of your money at once. You probably won't with ROYL either, but you may. It is important to remember that.
All that said, averaging in is a good strategy for this stock. The overall market is over bought. If it retraces noticeably from current levels, it will likely bring ROYL with a Beta of 1.77 down with it, even with the recent great news. You may be able to buy it at a lower price not long from now. It does look like a very promising company though, and the expertise of ROYL's VP of Exploration in the Prudhoe Bay area is a big selling factor for me.
Plus, keep in mind that ROYL had 19.72% short interest as of Jan. 31, 2012. This latest good news from the USPS could cause a big short squeeze as the GSPS news becomes more prevalently known.
Good Luck Trading.
Disclosure: I have no positions in any stocks mentioned, but may initiate a long position in ROYL over the next 72 hours.