With the price of gasoline soaring in recent days, burdening Americans as they empty their wallets at the pumps, many have turned to asking a simple question: "Why is this happening?" Explained in a story broadcast across National Public Radio (NPR), a surprising response is found in an answer that is not as simple as merely pointing a finger towards the recent rise in oil prices. While undoubtedly this has played a significant role in the problem in light of increasing tensions with Iran over its nuclear ambitions, one of the more unexpected twists in the story actually stems from the ongoing trend of falling natural gas prices in America.
"Because the global market is much more lucrative than the domestic market, for the first time in [the United States'] history we are not importing gasoline. Not only are we not importing gasoline, we're actually a net exporter of gasoline."

Fadel Gheit, Senior Energy Analyst - Oppenheimer and Co
Gheit goes on to explain that the reason this is happening is because the primary resource needed to crack crude oil into products like gasoline at the pump happens to be domestically-abundant, good-old-fashion natural gas. And as a result of price differentiations of natural gas between refining regions, America has also developed a comparative advantage in refining petroleum products. Internationally, the contrast in natural gas prices is stark. In Japan for instance, the spot price of natural gas has climbed north of $16/mmbtu, a price exceedingly higher than in America which has since dropped below $3/mmbtu. As such, American refiners are able to ship gasoline to Mexico, for instance, cheaper than Mexican refiners are able to produce it.
Click to enlarge: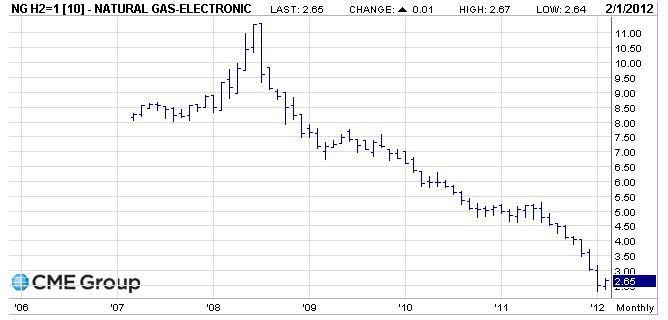 As one of the few resources found to be abundant in the United States, natural gas has seen its prices come down significantly in light of technology improvements. With the arrival of hydraulic fracturing and horizontal drilling, land-based drilling of the shale rock formations have released abundant amounts of natural gas reserves previously unknown to exist. So abundant has this new source of natural gas been, that by drilling with ease, exploration companies have combined for a rise in the supply that has quickly outstripped the rising demand. By January, prices had gotten so low that industry leader Chesapeake Energy (NYSE:CHK) made the bold move of cutting its natural gas output in the United States in light of the ongoing firesale.
Given the large impact natural gas prices are having on the domestic refining sector, a fundamental progression of thought is for an investor to consider the other industries that are heavily reliant upon natural gas as an input cost. In my other article, I articulate some of the unique industries gaining traction as the nation positions itself to become more reliant on cheap natural gas. Yet there are direction correlations to domestic production of goods that are having a propping effect on U.S.-based companies. Two such domestic industries that are poised for continued prosperity from lower costs are the fertilizer producers and the chemical/plastic manufacturers.
Nitrogen-based fertilizers utilize natural gas as both a heating source and a raw material. Necessary in order to produce ammonia, natural gas is reacted with water at a high temperature under pressure along with a catalyst. Used also as the fuel to heat the process, natural gas stands as one of the largest input costs for the industry. Companies like CF Industries (NYSE:CF), Agrium (NYSE:AGU), and Mosaic (NYSE:MOS) all stand to retain an international advantage in their production costs.
Large U.S. chemical companies are also receiving the stimulative effect of low natural gas prices. In another article by NPR, its made clear that chemical companies are beginning to expand in the United States in light of the Marcellus shale effect on the commodity. Diversified chemical giants such as Dow Chemical (NYSE:DOW) and E.I du Pont de Nemours (NYSE:DD) are sure to retain ongoing international advantages for the production of their products. The same can be said about smaller businesses such as AEP Industries (NASDAQ:AEPI), a manufacturer of plastic packaging products. As the primary raw material necessary for the production of polyethylene-based products, cheap natural gas is sure to serve as a boon towards companies' ability to market their goods.
Overall, perhaps one of the greatest untold stories about the current economic recovery in America lies in the role of falling natural gas prices. The stimulative effect of lower input costs found in cheap natural gas as its used either as a heating source or as the raw material itself has spurred job growth and enabled growing margins for domestic production. For industries with heavy reliance on natural gas such as fertilizer and chemicals/plastics, the drilling boom of the past decade has been a hand of grace in a very rough time period for the industry as a whole.
Disclosure: I have no positions in any stocks mentioned, and no plans to initiate any positions within the next 72 hours.