Chase Coleman is another "Tiger Cub" who was taken under Robertson's wing when he was just 24. Coleman also has the distinction of being a descendant of Peter Styuyvestant (the Dutch Governor of New York who actually built the Wall on Wall St.). Coleman's Tiger Global fund has compounded at over 20% since he founded it in 2001 and he has more of a tech focus than many of his Tiger brethren.
In Q3, Coleman increased exposure to a lot of his top names-with the biggest increase in shares in BIDU and started a new position (that was in the top 20) in Homeaway (NASDAQ:AWAY) (of which Tiger Global is the top institutional shareholder with almost 6% of shares outstanding.)
In Q4, Coleman substantialy increased his stake in Priceline (NASDAQ:PCLN) (just like his Tiger Cub brethren Ken Griffen) and especially Google (NASDAQ:GOOG) increasing his shares 10 times. His biggest position, however, remains a little known company called Yandex ("the Google of Russia") that was recently featured in this Bloomberg article:
Yandex NV (NASDAQ:YNDX) surged to a three-month high in the U.S. as a deal to make Twitter Inc.'s feed available to users of Russia's most popular search engine bolstered the outlook for the company.
As can be seen, Chase Coleman is making a huge bet after only introducing it into the portfolio in Q2:
right click to enlarge

...and so far this year, its working: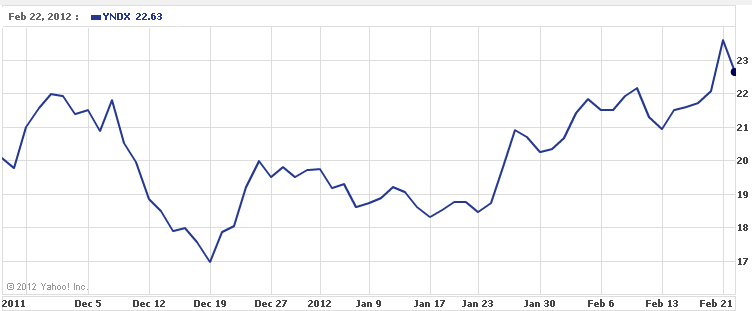 Disclosure: I have no positions in any stocks mentioned, and no plans to initiate any positions within the next 72 hours.