You can always count on Twitter to break news. Consider what hit the site on Thursday: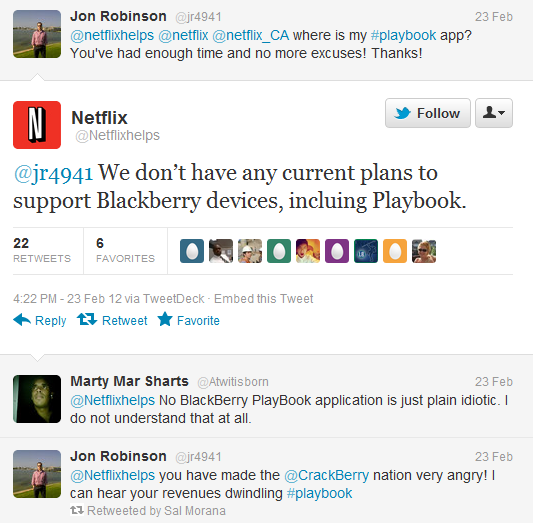 When I discovered this, I was listening to a sports radio station out of New York City. During every commercial break, I heard a Netflix (NASDAQ:NFLX) commercial. You cannot turn around without seeing Netflix anywhere and everywhere. Walk into a Barnes & Noble (NYSE:BKS), you'll see Netflix prominently advertised as part of the Nook. Order up a Kindle Fire from Amazon.com (NASDAQ:AMZN) and Netflix is one of the most popular apps. Netflix is on every device under the sun, yet the company has no "current plans to support Blackberry devices, including Playbook."
Finally, I agree with a decision made, presumably, by Reed Hastings. And if you're a Research in Motion (RIMM) shareholder from anything higher than $20 or so, this should scare the living heck out of you.
What does it mean when the ubiquitous Netflix, in full damage control and rebranding mode, refuses to support a platform? And it's not just any old platform. It's the legendary BlackBerry. It's still the number one smartphone, for instance, in Canada, a place where Netflix desperately needs to gain more international traction. It means you have officially become irrelevant.
While I would never link the following to the direct reason Netflix disses RIM, it's appropriate symbolism. Flashback to a Seeking Alpha article I wrote on June 8, 2011, entitled Looking Back on Balsillie: The Roots of Research In Motion's Collapse:
Consider news that made the rounds during the fall of 2010. First, via All Things D and Barron's, RIMM Co-CEO Jim Balsillie not only referred to mobile apps as "fads," he also made a professional and competitive error by attacking Apple (NASDAQ:AAPL).



... maybe Balsillie was correct on some sort of technical grounds that nobody outside of a tech geek or two actually cares about. That's part of the problem. It really does not matter much if a product is "better" in the eyes of a well-schooled critic. If that's the case Bob Dylan's most recent albums should sell millions of copies. What matters is not critical acclaim (which RIMM does not get as much of lately, anyhow), but what consumers want and enjoy using. Apple gets this, Balsillie and RIMM clearly do not.
Just place the magnitude of the things Balsillie said in context. RIMM bulls like to argue that the company simply lost its way. Balsillie went on his "You don't need an app for the web" and mobile has no future rant in late 2010. Clearly, the guy did not just come up with that tripe on the spot. His thinking, which helped trigger RIM's implosion, had to develop over a considerable period of time. And the damage sustains even as the company attempts a feeble and stale turnaround.
Throughout all of 2011, as I was calling the play-by-play on each company's collapse, Netflix and RIM fought hard to be the most pathetic excuse for a major corporation. When it gets to the point where Netflix wants nothing to do with you, you've got serious issues. Again, this is not the straw that will break RIM's back; rather, this is just one of those stories historians will tell when they shine a creative and illustrative light on the biggest Canadian failure since Nortel Networks.
Disclosure: I am long AAPL.
Additional disclosure: I am long NFLX June $40 put options.