By Jason Napodano, CFA
Anacor Pharmaceuticals (NASDAQ:ANAC) is focused on developing and commercializing novel small molecule therapeutics derived from its boron chemistry platform, with a core focus on topically administered dermatology products, antibiotics, and infectious disease. The company currently has four proprietary clinical stage candidates and one partnered candidates with GlaxoSmithKline (NYSE:GSK).
Anacor's Pipeline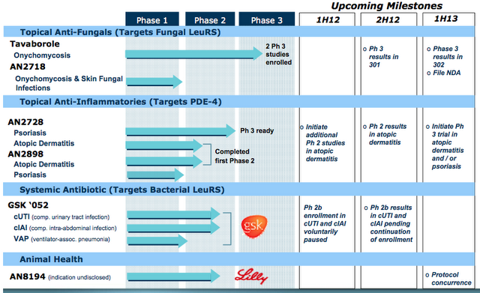 Tavaborole (AN2690)
The lead product candidate at Anacor is tavaborole, currently in Phase 3 trials for onychomycosis (nail fungus). Onychomycosis is primarily caused by fungi (dermatophytes) that infect the skin, hair or nails. The infection can manifest on the nail plate, nail bed, and the skin surrounding the nail itself. Signs and symptoms include deformation and discoloration of the nail. Besides the obvious physical and social implications, because the nails become thicken, split, or even brittle, it can be painful for patients with onychomycosis to wear shoes.
We see onychomycosis as a significant market opportunity for Anacor. An estimated 35 million Americans have nail fungus, with about 95% of the infections in the toenail. Glaxo's Lamisil (terbinafine), an oral tablet, is the market leading product, with an estimated 80% prescription share. Lamisil, now available as a generic, posted sales of $1.2 billion at its peak (2004). According to IMS Health, doctors wrote nearly 1.5 million prescriptions for terbinafine in 2010. Still, Glaxo estimates that 50% of the market goes untreated, giving competitors a significant opportunity to grow despite generic alternatives.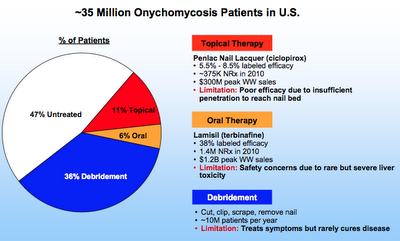 Glaxo has since formulated terbinafine into a cream and spray, approved for Athlete's Foot and Jock Itch. Ciclopirox is approved as a topical agent for onychomycosis, and does roughly $200 million in "branded equivalent" sales in the U.S. IMS Health reports over 350,000 ciclopirox prescriptions annually.
Terbinafine is an effective product, with 38% clear nail and mycological cure after 12 weeks. The problem with terbinafine is the systemic exposure and harmful side-effects, including liver toxicity. The FDA recommends patients undergo liver function testing (LFT) prior to starting treatment with terbinafine, an inconvenience for patients seeking a simple treatment for nail fungus. Topical ciclopirox is a relatively clean drug, but listed efficacy according to the label is low, only 5.5% to 8.5% clear nail and mycological cure at 12 weeks. The ideal product would have the efficacy of terbinafine with a topical administration and clean safety profile.
Enter tavaborole, Anacor's topical solution currently in two Phase III trials for onychomycosis. Phase II data with tavaborole suggests efficacy superior to ciclopirox with little to no systemic exposure.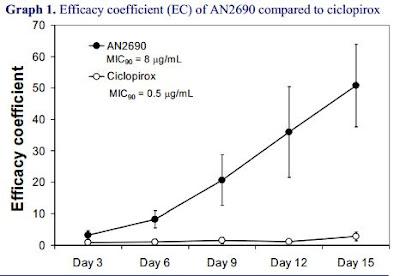 Data from an open-label Phase II program with tavaborole showed 50% patients using a 7.5% solution saw 2 mm clear nail growth and negative fungal cultures after six months. Roughly 25% of the patients saw 5 mm clear nail growth and negative fungal cultures after six months.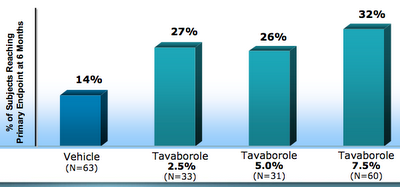 Anacor and partner Merck met with the U.S. FDA in 2009 to discuss the Phase II data. Merck has since returned the rights to tavaborole to Anacor. The original deal was with Schering-Plough in 2007. Merck most likely felt as though tavaborole clashed with existing products or did not have peak sales potential large enough to continue the partnership with Anacor. We see tavaborole as a specialty promoted product, into podiatrists and dermatologists. For a company like Anacor, it's an attractive first product.
Anacor's first Phase III trial completed enrollment in November 2011. The second Phase III trial completed enrollment in December 2011. Data from these trials are expected late 2012 and early 2013, respectively. Given the positive Phase II data noted above, we think odds favor a positive outcome. We see tavaborole as having peak U.S. sales of $350 million.
AN2728 & AN2898
Anacor's second product candidate is AN2728, a topical anti-inflammatory product for the treatment of psoriasis and atopic dermatitis. The drug is being designed to have efficacy similar to mid-potency corticosteroids and vitamin D analogs, but with improved safety and tolerability, the benefits of which would allow for longer duration of treatment. These two products dominate the topical care market, but each has limitations.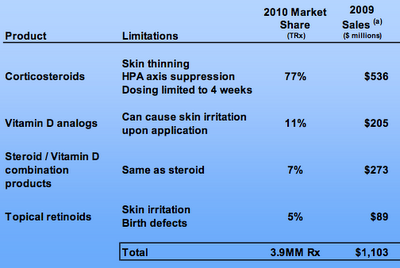 AN2728 is a novel boron-containing small molecule that inhibits PDE4 and reduces the production of TNF-alpha, a precursor of the inflammation associated with psoriasis, as well as other cytokines, including IL-12 and IL-23, which are proteins believed to be involved in the inflammation process and immune responses. TNF-alpha inhibitors such as Enbrel, Humira, and Remicade posted sales in excess of $20B in 2010 for the treatment of rheumatoid arthritis and psoriasis. If approved, AN2728 would be the first topical non-steroidal treatment that inhibits TNF-alpha.
Psoriasis is a chronic inflammatory skin disease that affects approximately 7.5 million people in the U.S and over 100 million people worldwide. Psoriasis is characterized by thickened patches of inflamed, red skin covered with thick, silvery scales typically found at the elbows, knees, scalp and genital area. Patients can be categorized as mild, moderate or severe, with approximately 80% of patients having mild to moderate forms of the disease. It's an estimated $3 billion market between the U.S. and Europe. According to IMS Health, over 4.5 million prescriptions were written for psoriasis in the U.S., with >85% topical therapies. Current treatment options have varying degrees of efficacy and tolerability. While we do not believe the market is under-served, an effective topical treatment option with a proven mechanism of action through a novel delivery such AN2728 or AN2898 could gain meaningful market share.

Atopic dermatitis is a chronic rash characterized by inflammation and itchiness that impacts approximately 40 million people between the U.S. and Europe. The condition most commonly appears in childhood and it can persist into adulthood. Skin that is broken and chafed from itching allows bacterial or viral access, which leads to secondary infections. Current atopic dermatitis treatments attempt to reduce inflammation and itchiness to maintain the protective integrity of the skin. Combinations of antibiotics, antihistamines, topical corticosteroids and topical immuno-modulators, round-out the current standard of care. This type of mixed-pharmacology creates issues with compliance and side-effects / tolerability. An effective topical treatment option that improves compliance while lowering side-effects could be a meaningful product.
Anacor is currently conducting a Phase III study with AN2728 in psoriasis and nearing the initiation of another Phase III program in atopic dermatitis. There is also a back-up compound in AN2898 under development.
Phase IIa data in mild-to-moderate atopic dermatitis announced in December 2011 show solid results for both AN2728 and AN2898. The primary endpoint for both compounds was successfully achieved after 28 days of twice-daily treatment, with 64% of AN2728-treated lesions showing improvement in Atopic Dermatitis Severity Index (ADSI) score versus 24% for vehicle (P = 0.05) and 71% of AN2898-treated lesions showing improvement in ADSI score versus 14% for vehicle (P = 0.01). There were no severe adverse events reported that were considered related to either study drug. We expect Anacor to make a decision shortly on advancing one of these compounds into Phase II shortly.
Phase IIb data in mild-to-moderate plaque-type psoriasis was released in June 2011. The 68 subject trial showed encouraging signs of efficacy and tolerability. AN2728 was superior to the control at each of the recorded time-points during the 12-week study period, with peak efficacy of 26% occurring after six weeks. The company also recently announced that a maximal use systemic exposure (MUSE) study in patients with psoriasis met its preliminary safety endpoint. The data confirms the safety and tolerability of the drug in patients susceptible to side-effects from steroids and/or vitamin D analogs.
Between psoriasis and atopic dermatitis, we see AN2728 and AN2898 as having peak sales potential north of $500 million. The most recently approved novel topical treatments for atopic dermatitis were topical immunomodulators, Protopic (tacrolimus) and Elidel (pimecrolimus), approved in 2000 and 2001, respectively. Protopic and Elidel achieved combined sales of over $500 million in 2004, prior to receiving a Black Box warning from the FDA in early 2005.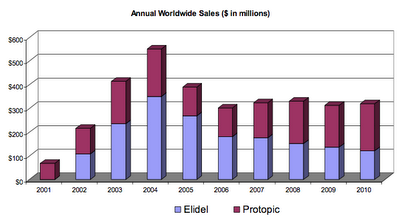 GSK'052
Anacor has a development and commercialization collaboration with GlaxoSmithKline for GSK'052, a systemic antibiotic for the treatment of infections caused by gram-negative bacteria. These types of infection typical occur in the hospital setting and have limited treatment options. This is an enormous market opportunity. There are approximately 2.0 million hospital-acquired gram-negative and gram-positive infections in the U.S. each year, with over 100,000 deaths. The New England Journal of Medicine also indicates that Gram-negative bacteria are responsible for more than 30% of hospital-acquired infections and account for approximately 70% of hospital-acquired infections in the intensive care unit. IMS Health estimates that there were 45 million days of Gram-negative therapy administered in the United States in 2009. It's a near $10 billion pharmaceutical market.
Anacor reported results from a Phase I study on GSK'052 in June 2010. Results showed the antibiotic to be safe and well-tolerated. In June 2011, GSK initiated two separate Phase 2b trials of GSK'052 in complicated urinary tract infections (cUTI) and complicated intra-abdominal infections (cIAI).
The Phase IIb trial in cUTI is a multi-center, randomized, double-blind, multi-dose study of the safety, tolerability, and efficacy of GSK'052 in the treatment of adult subjects with febrile lower cUTI and acute pyelonephritis. GSK'052 will be compared to imipenem-cilastatin, an antibiotic commonly used to treat serious cUTI. GSK anticipates enrolling approximately 200 patients.
The Phase IIb trial in cIAI is a multi-center, randomized, double-blind, multi-dose study of the safety, tolerability and efficacy of GSK '052 in the treatment of cIAI in adults. GSK '052 will be compared to meropenem, an IV therapy that is approved for use in the treatment of subjects with cIAI. GSK anticipates enrolling approximately 200 patients.
Unfortunately, Glaxo recently halted enrollment in both these programs due to recently identified microbiological finding in a small number of patients in the cUTI trial. Glaxo is in the process of obtaining additional information in order to better understand the data. Enrollment in the cIAI trial has been halted as well while Glaxo investigates the findings. Glaxo expects to resume enrollment in the trials once it has concluded its investigation, assuming a path forward is found.
In September 2011, Glaxo was awarded a contract with the U.S. Department of Health and Human Services' (HHS) Biomedical Advanced Research and Development Authority (BARDA) to support the ongoing development of GSK'052. The contract provides up to $94 million in funding for up to four years to support studies to evaluate the efficacy of GSK '052 against bioterrorism threats, Phase II clinical trials for ventilator-associated pneumonia, and Phase III trials for complicated intra-abdominal infections.
Anacor is eligible to receive further development milestones up to $69.0 million, commercial milestones up to $175.0 million and double-digit tiered royalties with the potential to reach the mid-teens on annual net sales of GSK'052. The collaboration was recently expanded to include tuberculosis and malaria using Anacor's boron chemistry platform. We think if Glaxo can get GSK'052 back on track in the two above Phase II programs, it provides meaningful upside to the Anacor story.

Conclusion
Anacor went public in November 2010 at $5 per share. Gross proceeds from the IPO and concurrent private placement were $70 million. Just recently, in February 2012, the company completed a $21.5 million private placement of 3.25 million shares. As a result, the financial position is solid.
Today, at just below $6 per share, <10% below the recent offering price, we think the stock looks attractive. We see a steady flow of news over the next few months, with data and a regulatory strategy on AN2728 and AN2898 in psoriasis and atopic dermatitis coming in the next few months, and data from the two Phase III onychomycosis trials expected late 2012 / early 2013. We also expect updates on GSK'052 out of Glaxo, and potential advancements in the proprietary pipeline as well.
We see three to four drugs in Anacor's pipeline that could generate peak sales north of $350 million. We think the company is gearing-up to focus on AN2728 and/or AN2898 for a pivotal program to start later this year or in early 2013. Each drug has a "back-of-the-envelop" NPV of around $50 to $100 million. Plus, Anacor is sitting on $70 million in cash and investments. This assumes Anacor looks to promote tavaborole and AN2728/AN2898 in the U.S. to specialists (podiatrists / dermatologists) themselves through the creation of a 60-100 person sales force and partner for primary-care promotion in the U.S. We also expect that Anacor will look to out-licenses rights to these products for promotion outside the U.S.
Anacor also has a collaboration with Eli Lilly for animal health research and Medicis Pharma to discover and develop boron-based small molecule compounds directed against a target for the potential treatment of acne, and early-stage candidates focused on neglected disease.

Therefore, we see fair value around $550 million. Based on 31.5 million shares outstanding and adding in an additional 11 million shares for future dilution, that equates to a target price of $13 per share. We think we are being extremely conservative with our estimates and overly aggressive with our discount rate and share count.
Below we have posted a discount cash flow model for Anacor using our best-guess estimates for the next 11 years. We think Anacor is ripe for a take-out later this year if the valuation stays this low, or potentially in 2013 following the initiation of two Phase III programs in psoriasis and atopic dermatitis and positive Phase III data on tavaborole for onychomycosis.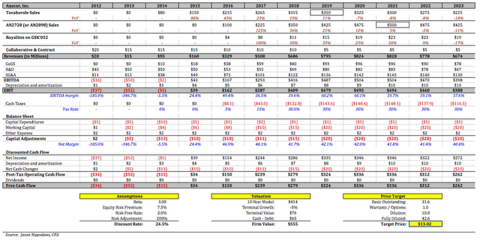 As noted above, the collaboration with Glaxo on GSK'052 has stalled. All the valuation has been removed from the story in our view. The stock is down 20% from the recent highs. If Glaxo can get GSK'052 back on tract, we see giving the stock a meaningful pop on the news. In fact, a successfully commercialized GSK'052, along with the cash on the books, makes Anacor an attractive target for Glaxo - in our view. After all, the company certainly knows the onychomycosis market with Lamisil, and topical therapeutics for psoriasis and atopic dermatitis are too attractive to pass up.
In the meantime, updates on tavaborole and AN2728/AN2898 alone make the story an attractive long-term play. A market capitalization of only $185 million is far under-valuing the opportunity here.
Disclosure: I have no positions in any stocks mentioned, and no plans to initiate any positions within the next 72 hours.