Over the last few weeks, I have been chronicling the reasons why I expect copper, as well as many other materials used widely in construction - such as steel, aluminum, iron ore, etc, to come under heavy pricing pressure due to a residential construction slowdown in China, resulting from overbuilding and already falling residential prices.
During this time, copper has been rather stable, whereas other basic materials have already been falling due to their lack of organized derivative markets, and hence, speculative demand. There are now signs, both in the COT (commitment of traders) report, and in the way several commodity ETF/ETNs trade, of wildly speculative and uninformed demand buying into the commodities left and right, copper included. This is a certainty, because ETNs such as iPath Dow Jones UBS Natural Gas (NYSEARCA:GAZ) or UBS E-TRACS Long Platinum TR ETN (NYSEARCA:PTM) have been hit with so much demand that they uncoupled from their underlying and managed to trade at wide premiums - something no informed commodities trader would pay.
In the midst of this general euphoria, some fundamentals even seemed to be turning in copper's favor, like the LME stocks drawing down significantly (from what were, truth be said, elevated levels) (source: Bloomberg).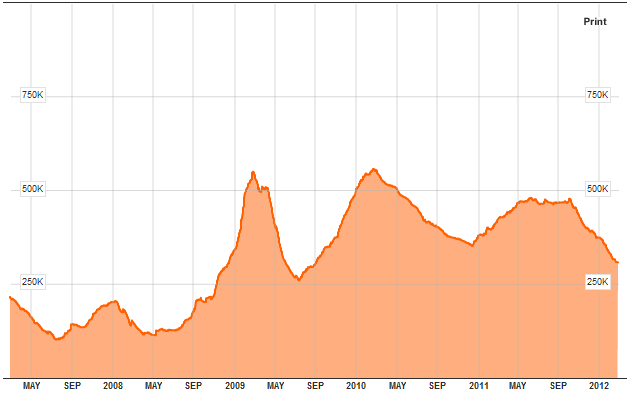 Click to enlarge
However, in the meantime something else happened that merits attention. I call it the "Great Copper Spike Of Death" (source: Bloomberg) …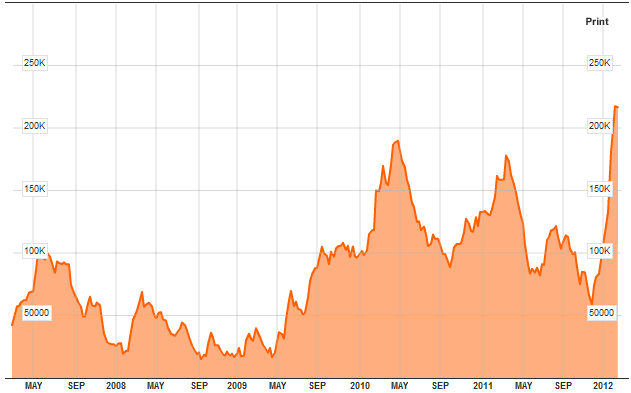 Click to enlarge
And what are these? These are the Shanghai Futures Exchange copper stocks. And boy, have they taken off toward the sky!
Conclusion
Since the main thesis calling for copper weakness is based on China consumption dropping (due to residential construction activity decreasing), any signs of reduced demand or higher copper inventories in China is to be taken seriously. This article presents one such sign, which could hardly be more obvious. As such, care must be taken with long positions in copper (NYSEARCA:KOL) and related producers.
Disclosure: I have no positions in any stocks mentioned, and no plans to initiate any positions within the next 72 hours.