Dynavax Technologies Corporation (NASDAQ:DVAX) recently announced that the results of a pivotal Phase 3 trial for it lead drug HEPLISAV for hepatitis B were published in the journal VACCINE. The article is entitled "Comparison of Safety and Immunogenicity of Two Doses of Investigational Hepatitis B Virus Surface Antigen Co-administered with an Immunostimulatory Phosphorothioate Oligodeoxyribonucleotide and Three Doses of a Licensed Hepatitis B Vaccine in Healthy Adults 18-55 Years of Age." In it, Dr. Scott Halperin of Dalhousie University, the principal investigator and lead author, demonstrated how, in a comparison of HEPLISAV with Engerix-B [from GlaxoSmithKline (NYSE:GSK)) in 2,415 adults randomized in a ratio of 3:1, HEPLISAV to Engerix-B, the seroprotection rate at the primary endpoint after two doses for HERPLISAV (91%) was significantly higher than after three doses for Engerix-B (81%).
Dynavax now plans to submit the Biologics License Application, or BLA, for HEPLISAV by the middle of May for an indication in adults 18-70 years of age.
According to the US Centers for Disease Control, hepatitis B is a serious infection that affects the liver. It is caused by the hepatitis B virus. In 2009, about 38,000 people became infected with hepatitis B, and as many as 4000 people die each year in the US from the disease. It is a viral disease that is spread, among other ways, through blood or bodily fluids, sexual contact, or the sharing of IV drug needles. Hepatitis also can lead to liver cancer, cirrhosis, and death.
GSK's Engerix-B, according to the manufacturer, is given in a series of three shots, with the booster shots sometimes given 1 month and 6 months after the first shots. HEPLISAV, on the other hand, is administered as two shots, at 0 and 1 month, offering the patient considerable convenience.
According to the company, "[T]he total worldwide market for adult monovalent hepatitis B vaccines is estimated to exceed $400 million annually. Current vaccines leave unmet needs for more rapid and increased protection, particularly for less responsive, underserved populations."
The $400 million market cited above is interesting, because the total market capitalization for Dynavax today is only $521 million. Clearly, approval and subsequent ramp-up in HEPLISAV sales will have a significant impact on the market value of the company.
Other markets for HEPLISAV also exist. Dynavax notes, for example, that "… the chronic kidney disease market is large, growing rapidly, and is widely recommended for vaccination. In 2008, there were approximately 750,000 end-stage renal disease, or ESRD, patients in the United States and major European markets, with approximately 150,000 new patients added annually." To this end, the company has announced that it will file a supplemental BLA with an indication for patients with chronic kidney disease when the initial BLA for HEPLISAV is approved. Add in the patient population for this disease in the Far East, Australia, and other parts of the world as well as other indications for which Dynavax might seek approval for HEPLISAV, and you can see why this company is beginning to develop a following on the Street.
Finally, with the BLA submission for HEPLISAV expected in May, 2012, filing in the EU should not be far behind. It would not be aggressive to expect approval in the U.S. sometime in 1H13.
Technical Analysis
The Daily chart, courtesy StockChart.com, shows the stock under distribution following it peaking at $4.50 in early February. The MACD data are negative, with the first line of support for this issue being at the 50-day moving average (blue), currently at $3.64.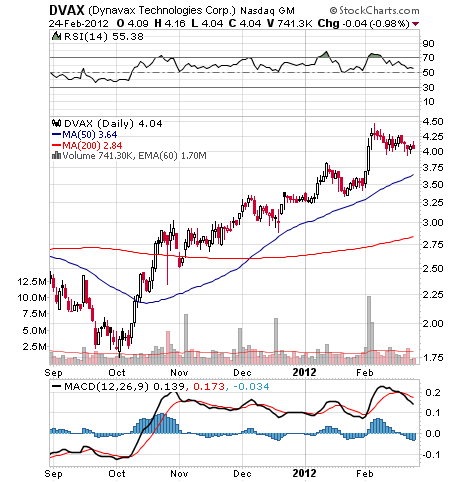 The Weekly chart, with its lagging indicators, tells a somewhat different story. The Relative Strength is just beginning to come off its high and the MACD data are still positive.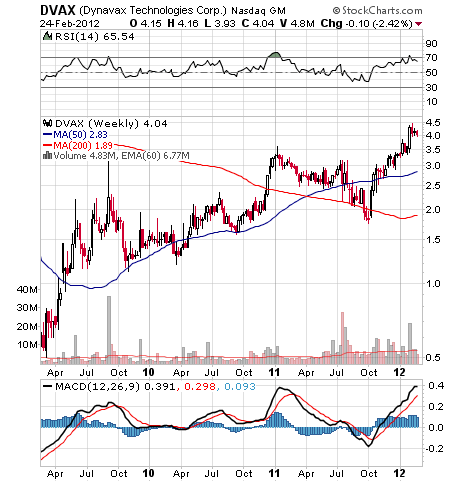 If anything, the mixed technical data are telling us to be cautious.
Disclosure: I am long DVAX and will not alter my position within 72 hours of the time of publication of this article. Material presented here is for informational purposes only. Consult your financial adviser before making investment decisions. Investing includes risks, including loss of principal.