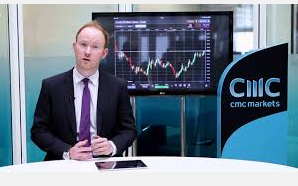 Source: CMC Markets UK PLC
A model that evaluates how new events will likely pressure crude oil prices
Every day there are hundreds of news stories that are related to crude oil prices or have an effect on crude oil prices. It is often not clear why crude prices respond the way they do. The same event may at certain times have a large effect on crude prices while at other times have no effect. Analysts and reporters often have conflicting opinions on how the event will influence crude oil prices. There are so many contradictory factors that are constantly evolving and influencing crude oil markets that it is difficult, at any given time, to determine what is driving crude oil prices and what is just noise.
The objective of this article is to set up a very basic model that enables a quick evaluation of how a new event should influence crude oil prices longer term. Evaluating how an event will influence crude oil prices in the short term would also be interesting, but short term reactions are more difficult to predict than long-term movements based on supply and demand.
Basic premise
The fundamentals of supply and demand determine the upward and downward pressure on crude oil prices. When supply exceeds demand, the pressure on prices will be to the downside and when demand exceeds supply the pressure will be to the upside. Further, the pressure on prices is determined not just by actual supply and demand but also expectations of supply and demand and risks to expected supply and demand in the future. We will look at the three components of the model next:
Actual supply and demand
Expectations of future supply and demand
Risks to expected future supply and demand and other influences
Model of supply and demand - a good starting point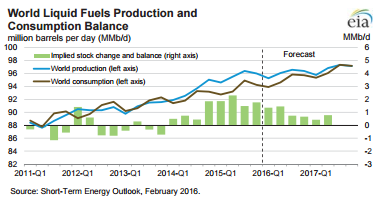 The U.S. Energy Information Administration (EIA) reports worldwide production and consumption of liquid fuels and currently forecasts 2016 and 2017 production and consumption (the first two parts of the model). As the chart above shows, supply has exceeded demand since the first quarter of 2014 and is forecast to continue to exceed demand until the third quarter of 2017.
Although I have heard a lot of criticisms of the EIA data, it is freely available in the public domain and is a reasonable place to start. The value of incorporating other sources of data and recognizing the uncertainties and differences with other sources of data will be evaluated against the additional complexity of adding other data into the model.
The first two parts of the model indicate that current supply exceeds demand and the expectations are for supply to continue to exceed demand through the second quarter of 2017. Without news, it appears that downside pressure will remain on prices for some time.
The third factor in the model - Main risks to expected future supply and demand and other influences
The main risks to expected supply and demand, along with current expectations for some of these risks, are outlined below. Any change in expectation to these main risks will likely affect crude oil prices.
OPEC actions:
When crude oil prices began to fall in 2014 due to increasing supply from US light tight oil (LTO or more commonly referred to as fracked oil) production, there was an expectation that OPEC would act to keep markets in balance and prices high. When OPEC did not cut supplies but instead increased supplies, prices cratered. At the time, this surprised the market but Saudi Arabia has subsequently explained its position and current market expectations are that Saudi Arabia and, therefore, the rest of OPEC is unlikely to change its position.
Supply uncertainty - Saudi Arabia and Iran:
The EIA doesn't provide individual OPEC member's forecast production. The EIA provides historical figures by individual country and provides a total OPEC forecast. The forecast is for OPEC crude oil production to increase from 31.60 million barrels per day (MMBD) in 2015 to 32.30 MMBD in 2016 and 32.87 MMBD in 2017. The EIA states that Iran accounts for most of the increase in OPEC production.
Supply uncertainty - US crude oil production:
The EIA forecast US crude oil production to decrease from 9.4 MMBD in 2015 to 8.7 MMBD in 2016 and 8.5 MMBD in 2017. The EIA does provide monthly detail for those interested in the detail which can be found in the February Short Term Energy Outlook here.
Demand uncertainty - China:
There has been concern about the Chinese economy for some time. If the Chinese economy falters it will likely have a large impact on the worldwide economy and the demand for crude oil.
Differences in reported data by the different sources including, EIA, IEA, OPEC, and JODI:
Different data sources are thought to have advantages and disadvantages in different areas. A better understanding of the differences in the available data will improve the model.
Other influences, considerations, and current expectations
There are a great number of other influences. I have included some of the most important in the addendum to this article.
A quick example
It was announced on February 15th, 2016, that Saudi Arabia, Qatar, and Venezuela had agreed with Russia to freeze crude oil output at January 2016 production levels. This initially led to a sharp price spike but prices fell back below the level where they had been before the announcement, as market participants realized that none of the four parties that had agreed to freeze production at January levels were actually expected to raise production above those levels. As this became clear the market sold off but since then the market has recovered and is trading above where it was when the announcement was made.
Looking at the model:
Actual supply and demand - After consideration, it seemed unlikely that this agreement would affect actual supply to the market in the short term.
Expectations of future supply and demand - Although the initial reaction was an expectation this agreement would decrease supply to the market, after consideration, market participants realized that it was unlikely to decrease supply to the market. The market initially jumped on the announcement before fully understanding its implications for supply. When it was understood that the agreement would not reduce crude oil supply to the market, prices fell.
Risk to supply and demand - While it seems unlikely that this agreement will reduce supply, it does seem possible that OPEC and Russia cooperation could add some level of risk of further cooperation. Since the announcement, prices have recovered and are higher but since there have been numerous news items over this period, it is hard to attribute the move up to this announcement.
Overall, the model indicated that the agreement was unlikely to affect supply or expectations of future supply significantly so the agreement should have had little effect on price. The cooperation could increase the risk of further cooperation in the future which could put a "risk premium" on prices but given the current high inventories and production in excess of demand, this risk premium should be pretty minimal. With supply and expectations of future supply still in excess of demand and little new risk, the pressure on prices should remain to the downside.
Conclusion
There is a lot of interest and a lot of noise around the crude oil markets right now. While a simple model will never be able to correctly forecast the price of crude oil, a framework that can forecast the expected pressure on prices and can quickly evaluate how new events may change that pressure should be useful.
The model and factors outlined in this article are a starting point. It provides an overall framework to quickly evaluate whether new events are really news that should influence crude oil prices for some time or just noise.
Addendum
Other articles on the oil markets
Stocks and funds impacted
Other influences, considerations, and current expectations
While this list of influences on crude oil prices is long, it is far from complete, as there is a relationship between crude oil prices and many different factors. This does provide a starting point for evaluating new events and can be expanded as required.
Current inventories:
When current inventories are higher than desired, there is a downward pressure on prices.
Financial markets:
Crude oil prices and other financial and commodity markets have become more closely correlated recently. An increase or decrease in one market leads to an increase or decrease in the other markets.
Historical and futures prices:
Historical and future prices show how prices have reacted in the past to various events and the range they have traded and give an idea of what to expect in the future.
OPEC spare capacity:
Significant OPEC spare capacity reduces the risk of price spikes due to disruptions. Currently, OPEC spare capacity is lower than in the past.
Petroleum product inventories and supply and demand:
High petroleum product inventories will limit crude oil price increases. Typically, the markets focus on the seasonal product, gasoline in the Spring/Summer and heating oil in the Fall/Winter.
Production cost curve and changes to it:
The production cost curve indicates the cost to produce crude oil from different regions, using different recovery techniques. Recently it was expected that low-cost oil production was at capacity and the marginal barrel of production would come from high-cost oil sands, deep-water or fracked oil. Instead fracked oil has proven to be produced in greater quantities and at lower costs than expected. This has significantly altered the expectation of the price required in order to produce the marginal barrel of crude oil.
Region specific issues - Atlantic Basin inventories:
Historically, inventories in the Atlantic Basin were more visible to market participants and had a greater effect on prices.
Region specific issues - Brent price disconnect:
Brent is the most widely used benchmark for pricing crude oil, yet production is very limited. It is thought that the price of Brent has been manipulated by market participants in the past and other factors such as weather can cause the price of Brent to disconnect from other crude oil prices.
Region specific issues - Cushing storage limitations and WTI price disconnect:
While arbitrage between markets will typically cause crude oil prices to move together and differ by little more than the value of their refined products and the difference in the transportation costs to a region, regional storage and transportation limitations can, at times, cause disconnects in regional crude prices. WTI is priced in Cushing, Oklahoma, which has limited storage and transportation infrastructure. With storage reaching capacity, there is concern that the WTI price may fall, disconnecting from other crude oil benchmarks.
Region specific issues - OECD vs worldwide inventories:
OECD inventories are also more visible to market participants than non-OECD inventories.
Rig counts:
Rig counts have been much more closely followed recently. There has been a belief that US fracked oil production would fall with US rig counts but US fracked oil production has been much more resilient than most people expected.
Seasonality:
Crude oil and petroleum product supply and demand have a seasonal component and this should be incorporated into the model.
Strategic petroleum reserves:
Increases or decreases in strategic petroleum reserves will affect prices.
Technical analysis:
Crude oil price movements are affected by technical factors.
Substitutes:
Renewable energy has been coming online more quickly than expected and the cost is becoming more competitive. One of the concerns that has been mentioned as driving Saudi policy is that renewable energy could lead Saudi reserves to be uneconomic in the future, so what is not produced in the near-term, may never be produced.
Supply Disruptions:
Supply disruptions due to weather, conflicts, and other causes are the norm. When these disruptions increase or decrease, or the risk of these occurring increase or decrease, prices are affected.
Weather:
Extreme weather influences both supply and demand for crude oil.
Weekly crude oil and petroleum product statistics reported by the American Petroleum Institute (API) and the EIA:
US petroleum statistics are reported weekly, they fluctuate greatly week to week and they can influence short term prices beyond what would be expected by the model.
Disclosure: I/we have no positions in any stocks mentioned, and no plans to initiate any positions within the next 72 hours.
I wrote this article myself, and it expresses my own opinions. I am not receiving compensation for it (other than from Seeking Alpha). I have no business relationship with any company whose stock is mentioned in this article.