By Mark Bern, CPA CFA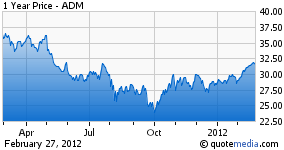 Archer Daniels Midland (NYSE:ADM) stores, transports, processes and trades in agricultural commodities. The company also processes corn, oil seeds, wheat and cocoa for use in food products, animal feed, chemical and energy uses. The company has increased dividends every year for 12 consecutive years. The current yield is only 2.2%, but the dividend has increased at an 11% compound annual rate over the last five years. Earnings have increased at a compound annual rate of 9.4% over the same period. Those numbers may seem mundane until one considers that these results were achieved in spite of the worst economic environment since the Great Depression. Imagine what this company will do in years of normal economic expansion.
The company continues to expand overseas operations in China, India, Eastern Europe and Latin America. Management believes that these regions hold the most promise for future growth and I agree. The strong balance sheet gives the company plenty of flexibility to expand existing facilities and make additional acquisitions where necessary. Acquisitions will likely be the vehicle used to grow international operations and expand into new markets. The company's track record in this area is excellent and asset prices in many areas, especially Eastern Europe, are at depressed levels.
Let's look at how ADM scores on the report card relative to the industry averages. I prefer comparing companies to industry peers rather than the broader market because each industry has unique requirements in areas such as debt, labor intensity, marketing, and the like. Thus, comparing to industry averages provides me with what I believe is a better gauge of how well a company is managed.
| | | | |
| --- | --- | --- | --- |
| Ratio / Measure | ADM | Industry Ave. | Pass / Fail |
| Ave. Annual 5-Yr Earnings Growth | 9.4% | 8.5% | Pass |
| Net Profit Margin | 2.5% | 6.3% | Fail |
| Debt to Total Capital | 34% | 32% | Neutral |
| Return on Total Capital | 8.2% | 10% | Neutral |
| Dividend Yield | 2.2% | 2.5% | Neutral |
| Payout Ratio | 19% | 42% | Pass |
| Price-to-Earnings | 14.1 | 18.4 | Pass |
The failure in the profit margin area is understandable since ADM mostly processes agricultural commodities to be used by other food processors that make the final retail product that consumers purchase. Also, as commodity prices for grains have risen in recent years the company has experienced higher costs while not being able to pass those costs on to its industrial customers. ADM is in a low margin business, but is able to manage the business well and continue to grow.
In 2012, I do not expect to see much, if any, earnings growth for ADM. This is a year in which patient investors should watch for a good price dip as there could be a negative earnings surprise if consensus expectations do not adapt to the lower growth environment that will likely dominate this particular segment this year. I don't think ADM will fall too far, but I do believe that there is a strong possibility for a dip down into the mid-$20s area. I say this only because the price has been down that low in the last year and I expect earnings to be relatively flat. My suggested price target is to get into ADM under $26 in 2012.
Looking out for five years at the potential price appreciation and dividend increases, I expect that patient, long-term investors will be well rewarded. I expect the company to improve margins through cost controls and lower capital costs for acquisitions. I also expect some expansion in the P/E ratio on top of solid high single-digit earnings growth. Combining all these factors I expect that total return for ADM to be near 16% compounded annually over the next five years.
My goal is not to try to time the market or pick the top or bottom for any individual stock. Rather, I hope to separate the wheat from the chaff, so to speak. I try to bring the best two or three companies in each industry to investor attention. None of us knows with certainty when the market will correct or head higher or by how much. I also hope that all investors will complete additional due diligence on each stock considered before adding purchases to their portfolio to ensure that each holding is appropriate and suitable to each individual's needs.
As I write this article and check the prices, the time is now about 2 p.m. EST on Friday, February 24, 2012. The current price of ADM stock is $31.93 and there is significant open interest in the September put options contracts with strike prices of $25 and $26. The most volume for the day is in the $26 strike price and the last trade was at $1.06, even though the bid is at $0.73 and the ask premium is $0.77. I also noticed that the last price on the June contract with a $26 strike was $2.90. Good luck getting deal like that one. But it will take a premium of over a $0.80 in the June contract to achieve an annualized return of better than 8%, which is what I generally try to hit. But it may be worth a try. If the option is exercised we would end up with a cost basis of $25.20 per share. That is an entry price I could be happy about.
If investors are not certain about the mechanics of selling puts please consider reading an article I wrote about another stock some time ago that provides a detailed explanation of the process "here."
Disclosure: I have no positions in any stocks mentioned, and no plans to initiate any positions within the next 72 hours.