RadioShack (NYSE:RSH) has stores where you can pick up useful electronics. The retailer attempts to communicate this through the following slogan: "mobile phones, mp3 players, laptops, and more". Ah, but I don't currently need a new mobile phone, mp3 player, or laptop. So "more" means more of what I don't need, even though RadioShack actually does sell some other stuff that I could use.
Why the counterproductive slogan? The core demographic of RadioShack is people who need a salesperson's help to understand technology. By exploiting this vulnerable layperson demographic, RadioShack can charge more. That's why RadioShack's motto isn't "Electronics You Can Use." This would be too clarifying, and RadioShack wants to keep its core demographic confused - so confused, they don't even know why they're shopping at RadioShack.
It took a once-in-a-lifetime event for Rocco Pendola to become a RadioShack customer. But Rocco bought, and he did so because RadioShack had a physical presence. For all its faults, RadioShack has stores where you can go.
Within the stores you'll find a diversified array of electronic consumer technology. Whether Research In Motion (RIMM) makes a comeback or not, RadioShack will profit from tablet sales. With rapper 50 Cent's premium headphones RadioShack will make money. If another rapper develops a better brand that puts 50's out of business, RadioShack won't care, because RadioShack will be selling the new brand.
For the counterproductive communication of RadioShack's brand, I disliked RadioShack shares above $10, but I like them now that they're below $8, because the brands RadioShack sells do enough communicating on their own. Sharper Image (OTC:SHRPQ) traded at $10, then $8. It didn't bounce back. It's at $.0028. But RadioShack is not Sharper Image. And that's because RadioShack sells relatively useful stuff.
This brings me to a short idea: Sears Holding (NASDAQ:SHLD). Sears Holding (includes Kmart) competes directly with Wal-Mart (NYSE:WMT), and tries very hard to hide this relationship from customers, because Sears Holding can't compete with Wal-Mart--Sears just doesn't have the margins.
But Wal-Mart is just the beginning of the denial.
Are you familiar with "myGopher"? Probably not. MyGopher is how Sears approaches online shopping. Sear's approach is to wish online sales never existed, and myGopher delivers exceptionally on this vision. Unfortunately for Sears, cutting off your own feet does not mean no one can step on you, and myGopher's impotence does not disable Amazon (AMZN).
While RadioShack is useful for quickly picking up a gadget, Sears/Kmart/myGopher are finding it difficult to be more useful than Wal-Mart and Amazon. While RadioShack features popular brands, Sears peddles washed-up brands, like Kenmore and Craftsman. Now Lampert is scrambling to reinvent the brands. But honestly, why should we believe that at this moment, after years of disappointment, Lampert is suddenly figuring it all out?
RadioShack can survive even if it doesn't figure things out. We're in a secular bull market for the stuff RadioShack sells. Sears cannot survive if it doesn't figure things out, because Sears competes with Wal-Mart.
(Click chart to enlarge)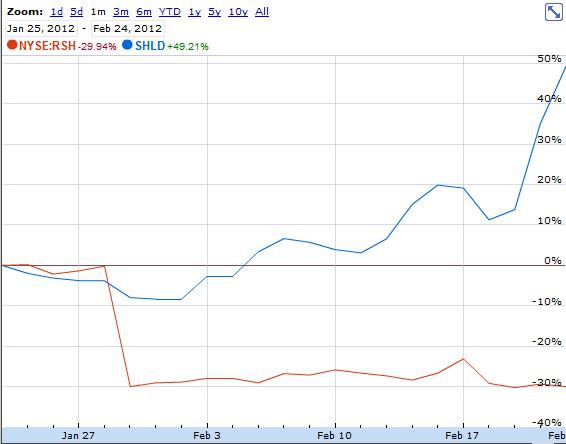 Here is a chart from Google showing Sears Holding gap up above RadioShack over the past few weeks. How far can this gap widen before it collapses?