Caterpillar (NYSE:CAT) continues to be one of the cheapest large cap stocks in the entire market. Even though the small caps, emerging markets, and technology-related stocks are leading the way so far in 2012, these stocks can be a little bit frightening for more conservative-oriented investors.
The tech-heavy Nasdaq is up 13.6% so far this year, while the S&P 600 small-cap index is up 11.0%, and the emerging markets (NASDAQ:ADRE) are up 9.9%. By contrast, the large cap Dow Jones Industrial Average (NYSEARCA:DIA) is only up 6.2%. This is opposite of what happened last year, when large cap dividend-payers led the way.
2012 is definitely a risk-on market so far, but this does not mean that there are not some very good undervalued large-cap dividend payers for the more conservative investors out there.
For those of you who have read my articles in the past, you may know that I am a hybrid investor. During my eighteen years as a professional money manager and stock analyst I have extensively studied both momentum and value investing. I find both styles to have their flaws.
Momentum investing, with CANSLIM being one of the more popular styles, leaves out a very important letter. That letter is "V." There is no value component in CANSLIM. This bothers me greatly. I have a hard time buying a stock just because it is hitting new highs and has superior relative performance. I still remember the years 2000-2002.
On the other hand, I have bought my share of value traps over the years. I have discovered that stocks like Hewlett-Packard (NYSE:HPQ) are trading at single-digit multiples for a reason -- their performance is lousy. Hewlett has been going backwards by an average of 7.4% per year over the last five years. I don't care how low the valuation ratios are! Maybe CEO Meg Whitman should consider selling her shares on eBay (NASDAQ:EBAY).
I instead like stocks that have both momentum (performance) and value. What is wrong with combining the best of both of the popular investment styles? Performance tells me that the company is doing well and thriving in today's difficult environment. It also tells me that the management of the company is pretty darn good. Value tells me that I can still justify upside potential in the stock going forward.
Right now, Caterpillar is a very good example of this concept. Let's first examine its performance over the years: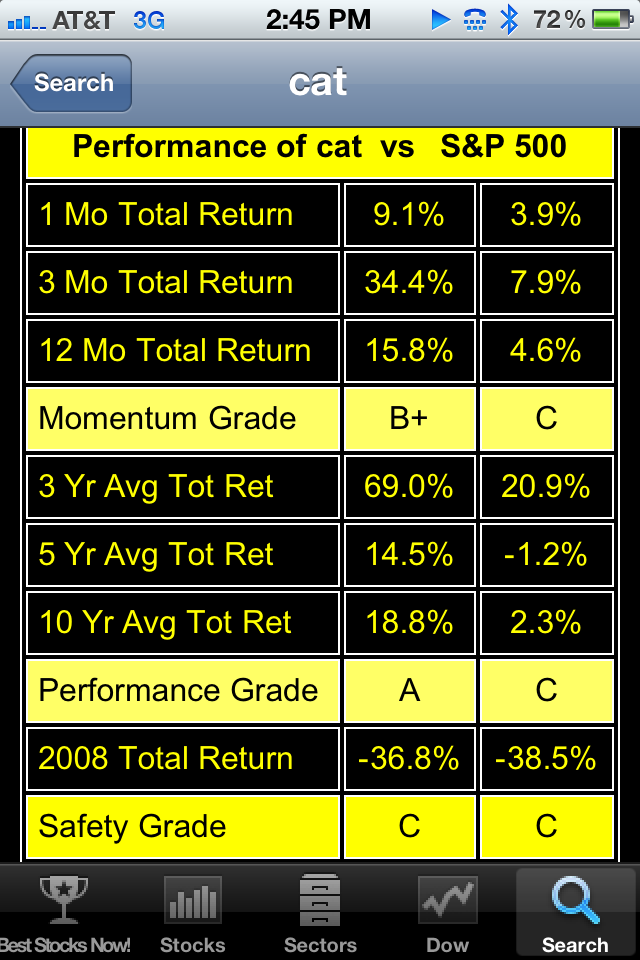 Click to enlarge
Data from Best Stocks Now app.
The shares of Caterpillar have returned a very remarkable average annual return of 18.8% per year over the last ten years. Who would not be happy with that? This return is even more stunning when we look a the paltry 2.3% average that the S&P 500 (NYSEARCA:SPY) has delivered during that same period of time.
CAT has delivered an average annual return of 14.5% over the last five years. Once again, I think most investors would have been very happy with returns like this, given that the S&P 500 has delivered negative 1.2% returns during that same timeframe.
The last three year average returns have been nothing short of spectacular! How about 69% per year average total returns! Once again, the stock has delivered returns that crush the indexes. The "Big Cat" is up another 18.8% over the last twelve months. Is there anyone out there that can question the performance of the stock?
Caterpillar passes the performance test with flying colors. I also personally believe Doug Olberhelman to be a very good CEO. I included Caterpillar in my book last year and sent him a copy. He took time out of his day to write me a personal letter. He gave credit to his great employees at the Peoria, Illinois-based company.
I also believe that company made a very wise strategic buy of Bucyrus that gave them immediate exposure to the all-important commodity and mining markets around the world. Mr. Olberhelman has also been very critical of the current business environment in the United States and Illinois in general, but he continues to wrack up big returns for his investors in spite of not so favorable conditions.
We can stop with the analysis right here and go out and buy the stock. I have a problem with that, however. Is the stock currently overvalued, fully valued or undervalued? I don't like to pay up for stocks, no matter how good the performance is.
Let's begin with a very common valuation measure for growth stocks like Caterpillar, the PEG ratio. The consensus earnings estimate on Caterpillar for next year is $11.36 per share. It currently has a forward PE ratio of 10.21. That does not sound too bad, but how does it compare with its growth rate? Amongst the 20 or more analysts that cover the company (I am not one of them) the consensus annual growth rate over the next five years is 26.5%.
This may seem a bit lofty but consider that the last four quarters has produced 58%, 40%, 58%, and 268% year over year earnings growth. No wonder the shares have been doing so well! The current PEG ratio of Caterpillar is a very favorable 0.38. Anything less than one is favorable.
Let's go a step further with the valuation and project out a five-year target price. Those of you who follow me should know that I like longer term target prices as opposed to very unpredictable 6-12 month ones. If we are going to estimate growth over the next five years, why not also estimate price targets for the same length of time?
If we begin with earnings expectations of $11.36 and extrapolate them out by 26.5% per year over the next five years, we come up with earnings potential of over $27 per share five years from now. Now, what earnings multiple would be appropriate for the shares at that point in time?
The PE ratio of Caterpillar has ranged between 8-20 over the last ten years. It currently has a PE ratio of 15. Even if we drop down the lower end of the range and use a multiple of 8 on forward earning, we come up with a price target that is 93% higher than today's current price.
I like to buy stocks that have 80-100% or more upside potential over the next five years. Caterpillar obviously also passes the value test with flying colors.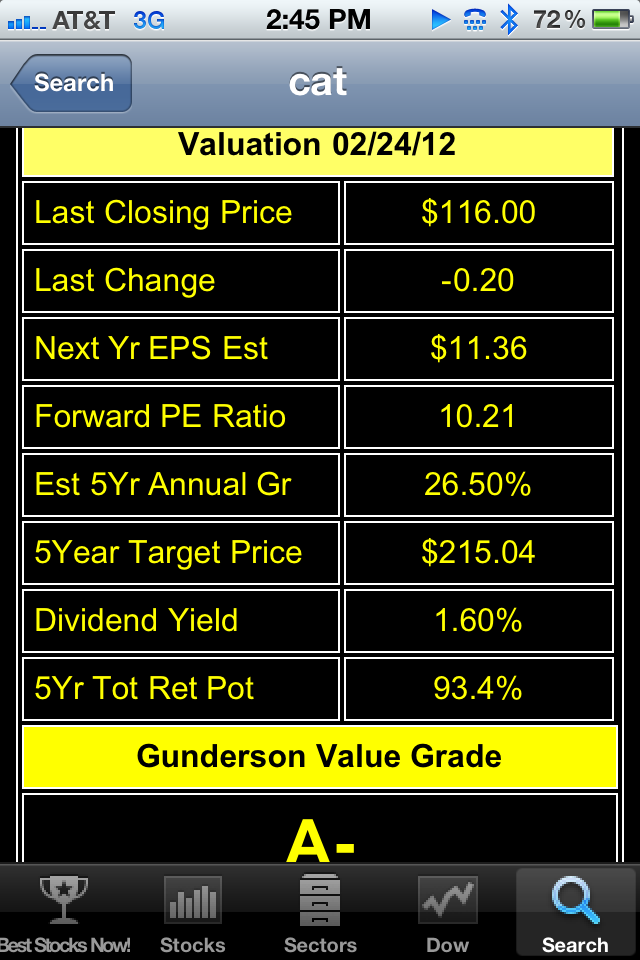 Click to enlarge
Data from Best Stocks Now app.
Caterpillar is an excellent current example of the performance and value concept -- the best of both investment styles combined into one. In my book, Caterpillar is appropriate for moderate to conservative growth investors. The stock also sports 1.6% dividend yield.
Out of 2,716 stocks that I currently follow, Caterpillar currently ranks number 65. Hard to go wrong with the shares of CAT.
Disclosure: I am long CAT.