Biotech stocks are probably the hardest to get a true handle on unless you have a P.H.D., a good research staff and more than a little luck. I think the best way to invest in the space is to select companies that seem to have significant promise, have the funding to last a few years and hope for the best. As long as you can make yourself comfortable with the notion that for every 5 stocks you invest in, one or two will go bankrupt, one will muddle along, one will be a slight success and the last one will be a ten bagger. One stock I am comfortable throwing into the mix at these price levels is Geron Corporation (NASDAQ:GERN).
According to Yahoo Finance, "Geron Corporation, a biopharmaceutical company, develops biopharmaceuticals for the treatment of cancer and chronic degenerative diseases, including spinal cord injury, heart failure, and diabetes."
7 Reasons to take a flyer on Geron at $2 a share:
Its pipeline of oncology drugs is promising. It has one drug, imetelstat, that is in several clinical trials. A breast cancer treatment just completed enrollment into phase II trials.
It has approximately $140mm in net cash on its balance sheet. It is bleeding about $40mm to $45mm a year in operating cash flow so it has over three years of funding at current run rates.
Insiders have been net insider buyers of the stock over the last six months.
The median price target on Geron for the 4 analysts that cover the company is $6, triple its current price.
Although sales are small, revenues are projected to grow 80% in FY2012.
The stock looks like it has bottomed and just crossed over its 100 moving day average.
click to enlarge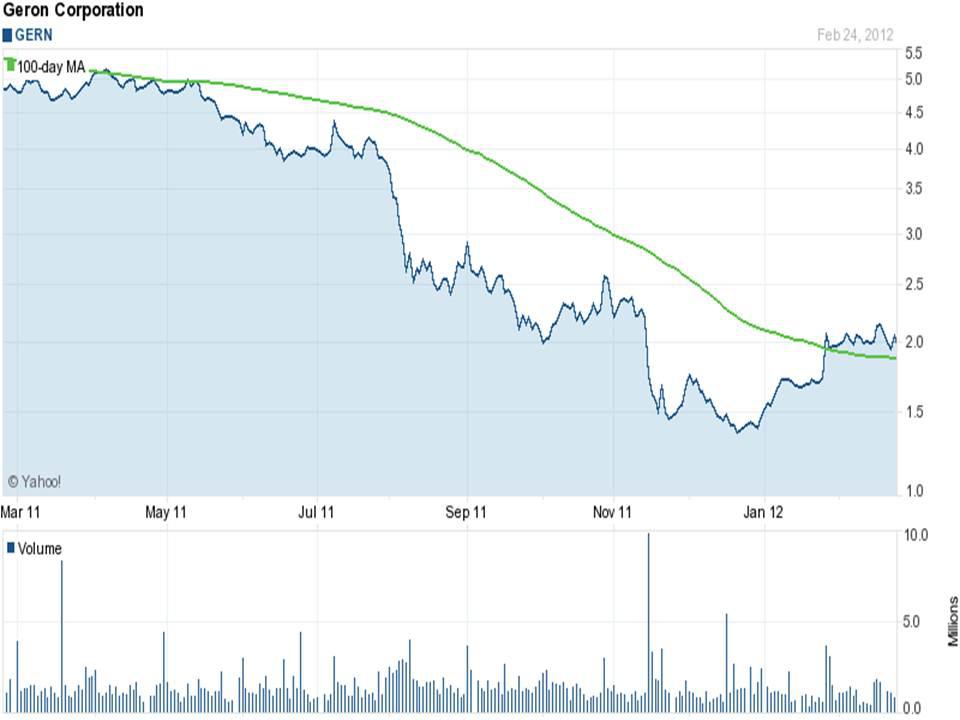 The CEO is presenting at 2012 Global Health Care Conference in New York City at the end of the month which should generate positive buzz for the stock.
Disclosure: I am long GERN.