With prices at the pump spiking, I'm expecting some high-flying retail stocks to experience a correction soon. Consumers should expect to see $4 or more gasoline soon. That may cause some retrenchment in recent good economic data.
The three retailers reviewed in this article are excellent executers. All have had brilliant execution in tougher times. As the economy continues to improve and jobless rates fall, they should continue their winning ways.
VF Corporation (NYSE:VFC)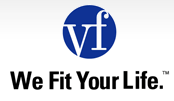 Many people won't recognize the VF Corporation's name, but they will recognize its brands. VF owns such recognizable brands as Lee, Wrangler, Timberland, and The North Face. VF's brands span the economic spectrum, from $29 jeans at Wrangler to $200 jeans at 7 For All Mankind and $180 jackets at the North Face. This gives VF the diversity to benefit in all economic situations. The North Face brand performed exceptionally well despite a much warmer winter season. Revenues at The North Face were up 22% globally in 2011. Timberland, added in 2011, was accretive to both earnings and revenue above what the company expected. Even in Europe, organic revenue growth was 16% in 2011.
VF's stock isn't cheap right now, which is why I'm considering it on a pull-back. The stock trades for more than 18 times earnings and slightly less than 14 times 2014 expected earnings. It has a Price to earnings growth (PEG) ratio of 1.17. VF had the best performance during the recession and subsequent recovery of any of our three retailers in this article. VF has grown revenue at an annualized rate of nearly 9% over the last five years. Earnings grew an annualized 11% over the same period of time.
click to enlarge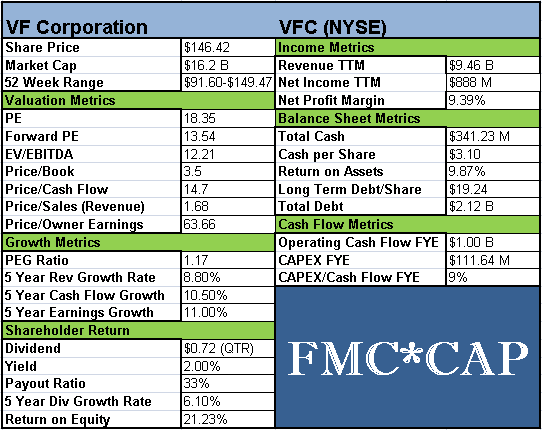 VF should continue to outperform other retailers due to its excellent execution, diversity of products, and improving economic conditions aiding sales of its mid and upper tier products.
Macy's Inc. (NYSE:M)

Macy's has a unique position in the marketplace that differentiates it from retailers like JC Penney (NYSE:JCP) and Target (NYSE:TGT). Macy's appeals to an upper-middle class consumer and even attracts some more affluent consumers. This segment of the population hasn't been hurt as much during the economic downturn as the middle and lower end consumer. Competitor JC Penney is dealing with its own turnaround as Macy's continues to grab market share. This is a testament to management's brilliant execution. Macy's has sued Martha Stewart Living (NYSE:MSO) in an effort to block its plans of offering a line of products at JC Penney, despite JC Penney now owning a stake in Martha Stewart Living. Macy's has had its own line of Martha Stewart products for a couple of years.
Macy's sells its share of higher end brands that fall into the affordable luxury segment. It carries such items as Coach (NYSE:COH) and Kate Spade (owned by Liz Claiborne (LIZ)) handbags, and Ralph Lauren (NYSE:RL) clothing, as well as its own brand of products that appeal to multiple consumer segments.
Macy's stock is the least expensive of the three retailers in this article. Macy's sells for less than 13 times earnings and less than 10 times 2014 expected earnings. It has a price to sales ratio of just 0.62 and its price-to-owner earnings ratio is less than 10. This actually makes Macy's attractive at current levels.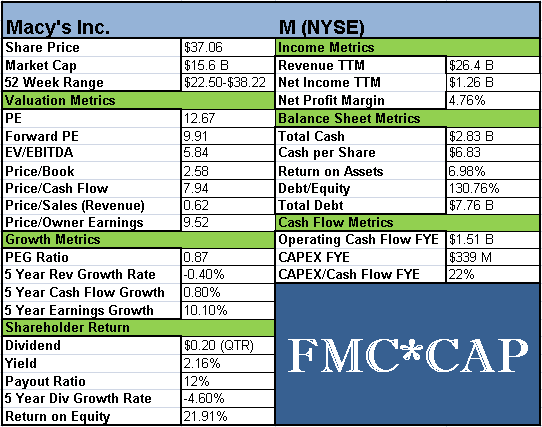 Macy's didn't come through the recession unscathed. The company cut its dividend to preserve cash as the Great Recession squeezed its target consumer. Macy's responded by increasing its appeal to consumers less affected by the recession. Last year, Macy's increased its quarterly payout to $0.20 per share. This shareholder friendly move has helped Macy's stock move from its 52 week low of $22.50 to near its 52 week high of $38.22.
Limited Brands Inc. (LTD)


Limited Brands may be best known for sexy models strutting on the runway at its annual Victoria's Secret fashion show. The stock has been strutting its own stuff over the last year, up about 42%. Limited Brands owns both Victoria's Secret and Bath and Body Works. It used to own its namesake, The Limited, but sold those stores in 2007. Limited Brands wasn't affected by surging cotton prices last year as much as other retailers. There just isn't that much cotton in underwear and body lotions. Sales at Victoria's Secret increased 10% last year and sales at Bath and Body Works increased 4% last year. The company expects to spend more this year updating its Victoria's Secret stores. It plans to open about 50 new stores in 2012 and close about 90 stores in an effort to exchange non-performing square footage.
Limited Brands pays a quarterly dividend of $0.25 per share. Investors have come to like the company's habit of paying a special dividend in December. Last year the company paid a $2.00 per share special dividend. Whether Limited brands repeats the payout this year will likely depend on its cash flow performance.
Limited Brands trades at 17 times earnings and just over 14 times 2014 expected earnings. It has a PEG ratio of 1.21. It has grown earnings at an annualized rate of 10% over the last five years.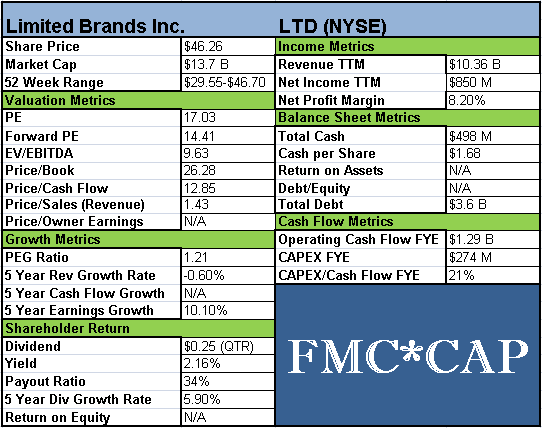 Limited Brands is trading near its 52 week high and is certainly not a cheap stock at this level. Again, this is a stock that I am watching for a pull-back before entering a position. The company continues to outperform as its brands appeal to a broad consumer base. Management has executed well in times of rising costs and a difficult economy. I expect this to continue in the future.
Conclusion
These three retailers are all performing well and taking market share from competitors. Although this is reflected in their stock prices any pull-back of 5%-10% would make them attractive. Macy's is already priced attractively based on its growth prospects and increasing market share. The appeal of these retailers crosses economic lines, but focuses on the "affordable luxury" segment. As the economy continues to improve, as I expect it will, and more people find jobs, these retailers should continue to win over consumers and outperform their peers.
Disclosure: I have no positions in any stocks mentioned, but may initiate a long position in M over the next 72 hours.
Disclaimer: Mr. Constantino is a proprietary investor and does not provide individual financial advice. The stocks mentioned in this article do not represent individual buy or sell recommendations and should not be viewed as such. Individual investors should consider speaking with a professional investment advisor before making any investment decisions.