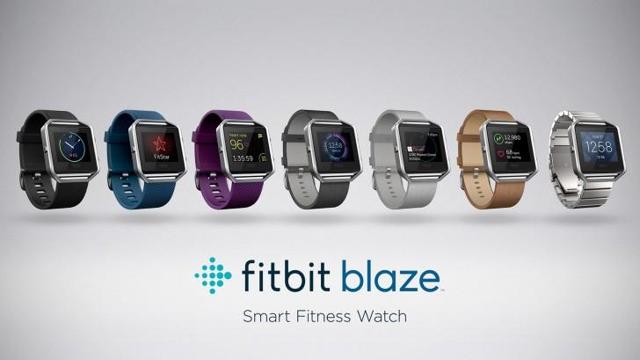 Click to enlarge
Occasionally, the market sees a confluence of events that create an oversold price for a stock with excellent fundamentals. This can create a compelling buying opportunity and the setting for a stock to trade much higher. Investors may consider that Fitbit (NYSE:FIT) is in such an oversold condition and has solid fundamentals that have been improving over time.
Because Fitbit is an industry leader of an increasingly important wearables category, it could be assigned a premium valuation going forward. Currently, Fitbit trades at a deep discount that is unjustified. This article will address the oversold valuations and multiple upside catalysts that could result in shares of Fitbit trading higher. Most notably, it has become increasingly clear that the new Fitbit Blaze product launch is tremendously successful and is actually beating sales of the Apple (NASDAQ:AAPL) smartwatch on Amazon.
This success for the Blaze launch is in direct opposition to the market's wrong-minded reading of this event when shares of FIT were sold from $31 on 1/5/16 when Blaze was announced, down to a recent low of $11.91 on 2/24/16 (please see chart below).
Shares of Fitbit May Take Back The Unjustified Sell-Off
The market sold off FIT primarily based upon the false premise that the Blaze would fail horribly in direct competition with the Apple Watch. It is now clear that Fitbit Blaze is beating the Apple Watch in the marketplace. Shares of FIT may not only regain the unjustified sell-off back up to $31, but the company may finally receive the premium valuation that an industry leader is often assigned. FIT currently trades at a deep discount while industry leaders often trade at premium valuations.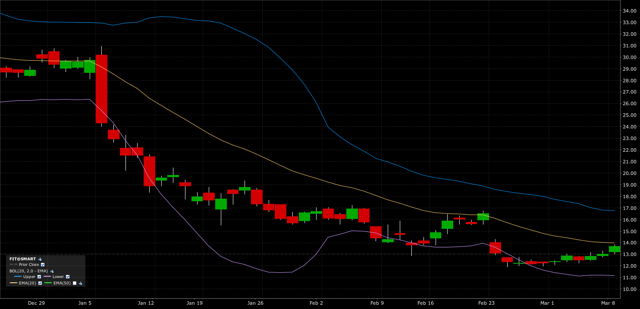 Click to enlarge
We recently published three articles on Fitbit that will provide relevant information on this misunderstood, developing, and highly attractive special situation. Due to the fairly large number of misunderstood key issues by Wall Street on Fitbit, we have been endeavoring to break this research material down into smaller components that are more easily digested by readers. For your ease of reference, here are the previous three articles and the dates they were published:
Fitbit Emerges From Post-IPO Boot Camp Leaner And Ready To Rise In 2016, January 22, 2016;
Oversold Fitbit Ready To Blaze Higher On Surge Of New Buyers, February 22, 2016; and
Reasons To Be A Raging Bull On Oversold Fitbit, March 3, 2016.
Fitbit Blaze Is Beating The Apple Smartwatch On Amazon
This current article is providing focus on an extremely exciting development for Fitbit in the wearables market that could be a game-changer for the company. Despite all of the doomsayers who pronounced Fitbit's new product launch of a "smart fitness watch" named Blaze to be DOA (dead on arrival), it is now clear that the Blaze product is very much alive and kicking. More to the point, Blaze has kicked the much over-estimated Apple Watch out of the top spot on Amazon's Best Sellers for smartwatches.
There is a new number one, best-selling smartwatch on Amazon's Best Sellers page for smartwatches and it is the Fitbit Blaze. Fitbit's Blaze has taken over this number one spot from Apple's smartwatch since it began pre-sales several weeks ago. Now that product deliveries have begun, the Blaze now occupies additional best-selling spots in the top 10 on Amazon's Best Sellers page for smartwatches, indicating that sales of Blaze have accelerated. Over 500 reviews of the Blaze have resulted in an excellent rating of 4 out of 5 stars. This high level of consumer approval corresponds to the 17 (seventeen) Top Honors and Best In Show awards garnered by Blaze at CES 2016 on January 5th.
Please also note that other Fitbit products dominate the Amazon Best Sellers page for fitness trackers. Fitness trackers and smartwatches are two separate sub-categories in the wearables category. These two sub-categories actually do not compete directly with each other, which is an unknown fact to many in the media and the investment community. This is an extremely important distinction that is crucial to making an informed evaluation of Fitbit's shares as an investment. Please reference the March 3rd article by Bull-Bear Trading for a discussion of this key distinction.
This link will introduce you to the world's new number one, best-selling, "smart fitness watch" - the Fitbit Blaze. You may choose to watch the video for the Blaze that is provided on the Fitbit website.
Clearing Up Misunderstandings In Wearables Gives Proper Context
To understand the reasons why Fitbit's Blaze is beating Apple's smartwatch, it will be useful to put this issue in context:
The wearables category has two primary sub-categories of fitness trackers and smartwatches. The consumer clearly understands this key differential while many in the media and on Wall Street still do not grasp this important concept. The analogy that comes to mind is the difference between the sub-categories in computers. The consumer shopping for a tablet device does not usually buy a desktop computer, although both devices are in the overall computers category. Similarly, consumers shopping for a fitness tracker do not usually buy a smartwatch although both devices are in the overall wearables category.
While Apple dominated the smartwatch sub-category in 2015, Fitbit dominated the fitness tracker sub-category with all of its 2015 shipments comprised of trackers. The key takeaway is that Apple and Fitbit products did not compete directly in 2015.

Click to enlarge

Although it is accurate that FIT's trackers and AAPL's smartwatch did not compete directly for the same consumer in 2015, there is some indication that "Fitbit was pushing Apple Watch off of users' hands." Consumers opted for Fitbit's trackers over Apple's smartwatches by almost a 2:1 ratio in the all-important 4Q15 holiday season.
Fitbit's dominance in the overall wearables category has continued despite the doomsayers' cries of impending competition that has had far less impact than predicted by Wall Street "experts" - Fitbit Far and Away Top Selling Wearables. Both the IDC report and following graphic indicate that Fitbit actually took back market share from both Apple and Xiaomi in the overall wearables category during 4Q15.
Apple's smartwatch and Fitbit's products have not met as direct competitors until the recent release of FIT's "smart fitness watch" Blaze. It is important to note that with this action, it is Fitbit's Blaze stepping into the smartwatch category to take market share away from Apple's smartwatch. It is not Apple stepping into the fitness tracker category that is dominated by Fitbit. This gives Fitbit a great advantage for the expansion of existing market share at the expense of Apple and other smartwatch competitors.
Going into this direct competition between Apple's smartwatch and Fitbit's Blaze, it is important to note which brand's products have been resonating with consumers: Apple Watch is a Flop and Apple Watch Holiday Numbers Are Awful accurately communicate how the consumer feels about the Apple Watch. In contrast to awful Apple Watch sales, Fitbit sales have been booming, often at the expense of AAPL, even though it has been indirect competition.

Click to enlarge
So with this context and clarification of key misunderstandings held by many about the wearables category, we see that while Apple's smartwatch has been struggling, Fitbit's products have been winning. We see that even indirect competition from FIT across sub-categories has witnessed Fitbit's fitness trackers taking market share from Apple's smartwatch as indicated by the sales results from 4Q15. Now that we know Fitbit trackers have been beating Apple Watch sales by taking market share away from AAPL even during indirect competition, it should be no surprise to see that Fitbit's smart fitness watch Blaze is winning against Apple's smartwatch during direct, head-to-head competition.
Reasons Why Fitbit's Blaze Is Beating Apple's Smartwatch
From day one of the Blaze's product launch announcement on 1/5/16, it was clear that legitimate industry experts understood the relationship between consumers and wearables as they awarded Blaze Top Honors at CES.
Other more dubious "experts," many of whom had a short selling interest in FIT, were quick to attack the Blaze without basis. Consequently, shares of FIT were unjustifiably sold off on 1/5/16 from $31 to a recent low of below $12 on fears that Fitbit's Blaze would be crushed by Apple's smartwatch. Now it is becoming clear that the facts are exactly the opposite: Fitbit Blaze is crushing the Apple Watch. Based upon this developing juxtaposition of facts that is coming as a surprise to the market, shares of FIT could not only re-take the unjustified sell-off back to $31, but the company could be assigned its rightful premium valuation as the undisputed, worldwide leader of an increasingly important wearables category that grew over 170% last year.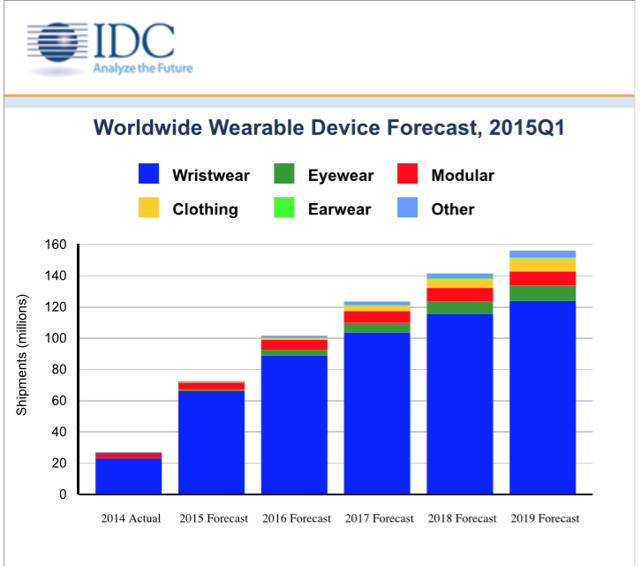 Click to enlarge
The first indication of early success for Blaze was when the product launch garnered 17 top honors by the acknowledged industry experts at CES. The next indication that Blaze was resonating well with consumers, as is the familiar pattern for all Fitbit products, was during the pre-sales period for Blaze. Amazon's Best Sellers for smartwatches page quickly indicated that consumers valued Blaze more highly than Apple's smartwatch. I personally conducted a retail channel check via Best Buy's (NYSE:BBY) online LiveChat where the CSR confirmed the consumers' high enthusiasm for Blaze. Facebook and other online posts continued to confirm the groundswell of pre-sale enthusiasm for Blaze that surrounds all Fitbit products with the consumer worldwide. During recent investor conferences, Fitbit CFO Zerella announced that, "Blaze and Alta pre-sales have exceeded expectations." (Alta is the other new Fitbit product launch now following the Blaze launch). When a company accustomed to sky-high consumer acceptance of its products announces that pre-sales of its two recent product launches have exceeded expectations, then Wall Street should take notice. But this has not occurred yet, although FIT closed at $13.05 today off of its recent low below $12.
Then came the initial deliveries and Blaze actually took over additional spaces in Amazon's Best Sellers page for smartwatches. This indicated that upon launch of the Blaze's deliveries that enthusiasm for the product increased further. While Blaze increased market share on Amazon, Apple's smartwatch and other competitors fell further down the Best Seller board.
Then indications that Blaze was quickly sold out at major retailers like Wal-Mart (NYSE:WMT) and Best Buy began to surface.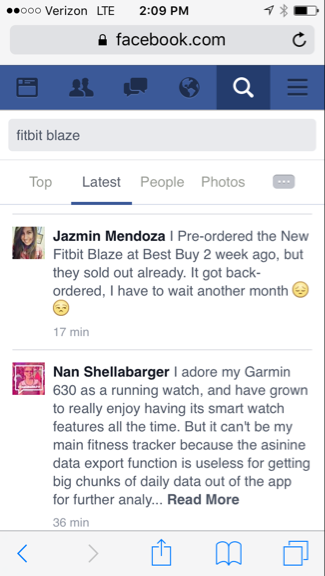 It is now becoming increasingly clear that Blaze is another in a long line of Fitbit products that all receive overwhelming consumer acceptance in the marketplace.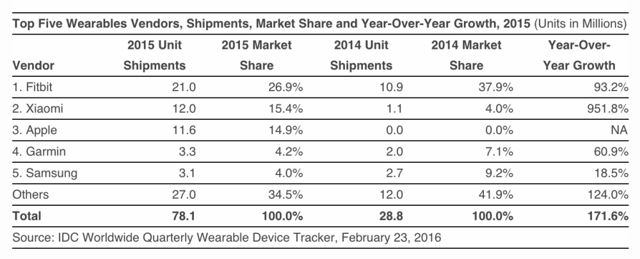 Click to enlarge
Fitbit Blaze is beating Apple's smartwatch and taking market share away from AAPL and other competitors in the smartwatch sub-category. Here are the reasons why:
Specificity of function or focus on function is a huge issue for consumers who have spoken loudly and clearly that they want wrist wearables to perform only a select few specific functions: Fitbit figured out some time ago what the mass market of consumers really wants in a wearable wrist device, and this knowledge has benefited the company greatly.
Consumers do not want a "Swiss Army Knife" kind of a device on their wrists that performs a vast array of functions with endless numbers of apps like the Apple Watch. Maybe because the screen is just too small to view and work with effectively, or maybe because there are other larger devices that are easier to interact with and better suited for performing certain tasks, but the consumer just does not want a device on their wrist that does "too much." This consumer preference for "less is more" in wrist wearables is counter-intuitive, but it is a fact. The graphic below shows that Fitbit products are precisely on point according to consumer preference while Apple and others are missing the mark.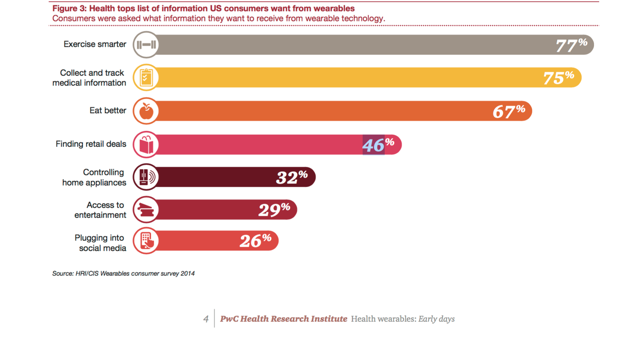 Click to enlargeApparently, even the vast majority of smartwatch owners only use their device for a handful of specific functions. So the consumer has decided that when it comes to smartwatch/tracker functions, it is best for a wrist wearable device to just KISS (Keep It Simple Stupid). Who knew? Apple didn't know this crucial metric, and neither did other smartwatch competitors know this crucial consumer preference. But Fitbit clearly has demonstrated its awareness of the consumer in wearables as demonstrated by the huge success in 4Q15 and full-year 2015 sales. This consumer awareness on issues like focus on function has been a key strength for Fitbit and a weakness for Apple and others in wearables.
Keep in mind that the Apple smartwatch product barely even moves the revenue needle for the quarterly earnings reports so it receives limited resources to compete with a superior wearables company in Fitbit that is 100% focused on this category. It is a myth that AAPL beats other companies when it enters their category as demonstrated by a succession of recent misses by Apple in Music, TV and wearables.
Compatibility is another key issue that Fitbit has nailed while Apple has missed. A prerequisite for buying the Apple smartwatch is ownership of the expensive Apple iPhone, and of course you have to subscribe to a monthly service plan for that iPhone. Since Apple only has about 20% of the worldwide cell phone market, Fitbit wins 80% of the market for wearables right out of the gate. Because Fitbit is 100% compatible with all operating systems worldwide, it crushes the Apple Watch on the issue of compatibility. The graphic below shows that Fitbit knew in advance what the consumer wanted, a seamless experience in compatibility, and delivered exactly that product to overwhelmingly positive, worldwide acceptance. Apple has missed the mark in wearables badly while only Fitbit is winning big worldwide with consumers, corporations, governments, insurers, and healthcare providers.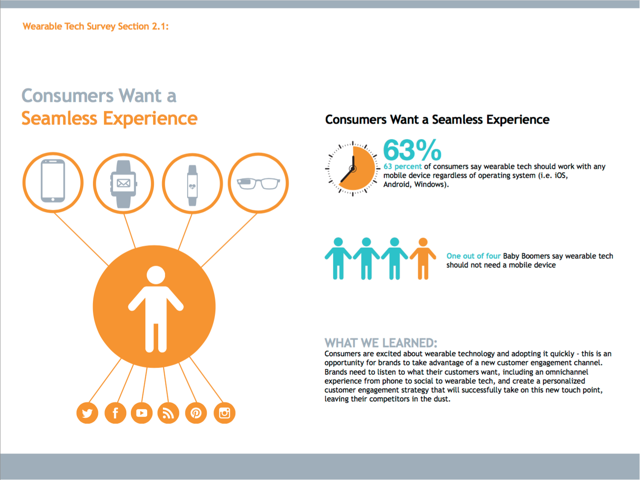 Click to enlarge
So here is a concise list of reasons why Fitbit Blaze is winning now and will continue to beat the Apple Watch in the future. This list also may render future versions of the Apple smartwatch DOA against future Fitbit products:
Price: Not only does the Apple Watch cost over $350 vs. Blaze's more reasonable $199.50, but also the consumer must first purchase the expensive iPhone and also subscribe to an expensive monthly service plan for their iPhone. Add up the total cost to become a user of the Apple Watch and you can see why Fitbit Blaze destroys the Apple Watch on price. Advantage Fitbit Blaze.
Battery Life: The Blaze delivers about five days battery life so that the user can track sleep non-stop and not be inconvenienced by daily requirements to recharge their watch. The Apple Watch only allows one-day usage before requiring recharge. And if you use a lot of the apps on the Apple Watch, you could find your battery drained in just 18 hours. Don't even think about tracking sleep with the Apple Watch. Once again, battery life is a huge advantage for the Fitbit Blaze. Now, based solely upon just the first two key points mentioned here, many shoppers would opt for the more consumer-friendly Fitbit Blaze. But there are even more reasons for the Blaze to beat the Apple Watch.
Focus on function or product specificity is a strength of Fitbit Blaze as demonstrated by the BI Intelligence graphic above entitled, "Health Tops List of Information U.S. Consumers Want From Wearables." Perhaps it is counterintuitive to think that the consumer actually wants less function on their wrist wearable device, but it is the fact. And Fitbit knows this important consumer metric while Apple is apparently clueless. Once again, advantage Fitbit Blaze.
Compatibility: Apple cell phones comprise less than 20% of the worldwide market. A consumer must own the iPhone prior to buying the Apple Watch. Fitbit Blaze does not require any such prerequisite and is 100% compatible with all mobile operating systems. So the Apple Watch is limited to a world market of only sub-20%. Obviously, not every iPhone owner will buy an Apple Watch, so this greatly handicaps the prospects for the Apple Watch. Once again, huge advantage for the

Fitbit

Blaze.
Yet another compatibility issue: I access my Fitbit Surge ecosystem with my desktop PC, which ironically is an iMac. My girlfriend can only access her Apple Watch ecosystem with her iPhone, she can't even access the Apple Watch via her iPad tablet, much less our iMac computer. Now get this: she can access the Fitbit ecosystem with either her iPhone, or her iPad, or our iMac. And of course the Fitbit ecosystem is 100% compatible with every other operating system worldwide. The huge advantages for Fitbit Blaze just keep increasing.
Ecosystem: The co-founders of Fitbit, Park and Friedman, are software guys. And the Fitbit ecosystem shows it with an amazing online UX via the dashboard. Users of the Fitbit ecosystem "get it" and we tell our friends, family, co-workers, readers, etc. Candidly, do yourself a favor and try out a Fitbit product. See for yourself what the world is raging about. And then it will really bake your noodle when you think about where innovation will take this technology in the years ahead since it is still very early days for wearables. Ecosystem is another huge advantage for Fitbit Blaze.
Social Media: Many consumers rave about the online social media experience that keeps them involved, motivated, and having fun with other Fitbit ecosystem consumers locally and/or worldwide. Fun stuff. Again, where will Fitbit take this social media experience in the years ahead as innovation continues is a valid question for investors to consider. No surprise here, advantage Fitbit Blaze.
Brand Favorite: "I need to make a Xerox of this document" "Can you please pass me a Kleenex," "Sussan Ley to trial new e-health record for the Fitbit generation": It's over... Fitbit owns the category... Fitbit is now synonymous with the device known as the fitness tracker and Blaze is now extending this favorite brand advantage into the smartwatch sub-category.
There are other significant advantages and reasons why the Fitbit Blaze will continue to beat the Apple Watch and take market share away from AAPL in wearables, such as first-mover advantages and a large, focused R&D effort. But the point is clear: Fitbit Blaze is a major winner that is beating the much weaker Apple smartwatch.
And Fitbit's other product now being launched, Alta, is a blockbuster winner also. Both the Blaze and Alta will be significantly accretive to earnings, increase revenues substantially, and improve margins. So now let's revisit that unjustified sell-off of FIT from $31 down to $12 of FIT based upon the critics' misreading of the Blaze when it was released on 1/5/16. Fitbit bulls not only want every penny of that unjustified sell-off back into the price of FIT shares, but bulls also want the added-value back above $31 that the shares should experience due to the clear success that both Blaze and Alta are delivering to the company. Citi's recent initiation of coverage with a Buy Recommendation and a price target of $35 is reasonable.
An interesting side note concerning competitor Xiaomi's low-end wearables product: The low-price/low-quality nature of the Xiaomi product is attracting first-time customers into the wearables market. Because Fitbit recently surpassed Xiaomi in downloads in its home market of Asia, this may indicate that many of the new customers introduced to wearables by Xiaomi's low-end products have chosen to upgrade to Fitbit's higher-quality ecosystem. Because of a much higher-quality product and excellent marketing including Bollywood stars in the Indian market, Fitbit's products are now perceived as being for the "cool kids" of all ages worldwide. Growth in the new Asia market for Fitbit will continue to be strong and Xiaomi may continue to inadvertently assist FIT in this growth. AAPL will continue to struggle worldwide for the reasons listed above. Please note in the recent IDC reports that Xiaomi has surpassed Apple's smartwatch in units shipped, albeit at a far lower price point.
Variant View
Critics of Fitbit will point out that Apple's smartwatch has an ASP of about $350 while Fitbit's Blaze is priced lower at $199 when it comes to measuring total revenue comparisons. This means that Blaze will need to outsell Apple's smartwatch by better than a 3.5:2 ratio in order to win the revenue battle. We will see. But it would be reasonable to conclude that the rapidly growing revenues of all Fitbit products will soon overtake the relatively stagnant growth of the Apple smartwatch revenues. Fitbit Blaze may indeed continue to take market share from the Apple smartwatch as indicated by current retail channel checks. This would tilt the tables in Fitbit's favor even more.
Also, critics rarely take into consideration that a rapidly growing number of corporations and insurers are buying Fitbits and then providing them to employees and policyholders for free because the Fitbit ecosystem makes for healthier people and this equals substantial cost savings. The most preferred price that consumers are willing to pay is FREE. Shocker.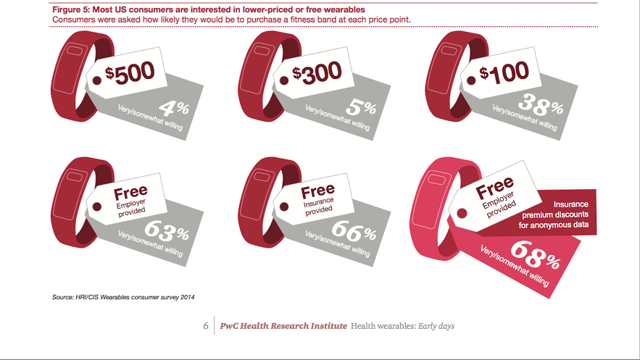 Apple Watch version 2.0 is on the way. Although it is rumored that the new Apple Watch has been pushed back from March until September due to the lack of consumer demand, Apple fan boys are holding out hope for this product to somehow get AAPL back in the wearables game in a meaningful way. What can Apple do to overcome the many steep disadvantages that its inferior smartwatch product suffers relative to a far superior wearables company, Fitbit, remains to be seen. Certainly, we already know that consumers do not want more apps or functions from the Apple Watch due to the focus on function issue. So possibly increasing battery life by double from its current weak one-day charge to a less weak two days would help. Although Fitbit Blaze's five-day battery life may also be doubled with future innovation.
Summary
Honestly, it is difficult to present a convincing variant view for the disappointing Apple smartwatch. When considering the overall future prospects for the Apple Watch, one is reminded of the complete failure of Google (NASDAQ:GOOG) (NASDAQ:GOOGL) Glasses. How much of a drain on resources that the Apple smartwatch currently places upon a company with decelerating sales growth in its core products is an important consideration. Apple may not tolerate the continued drain on resources caused by the disappointing smartwatch product that makes no meaningful contribution to moving the company's revenue needle on quarterly reports. Sales of its smartwatch have not even been disclosed by Apple since the product's launch. This type of a cover-up of a product's lack of revenues is never a good sign for the future existence of that product.
Discontinuance of the Apple smartwatch cannot be ruled out going forward as future Fitbit products and innovation increase its dominance over AAPL in the wearables category. Just as Apple's Music product has faded into relative obscurity, the smartwatch has been on a similar downward trajectory that may be hastened by the advent of Fitbit Blaze taking substantial market share away from Apple. At some point, it becomes smart business for Apple to just cut its losses and stop throwing good money after bad on its most recent miss, the Apple smartwatch.
The consideration now enters the discussion that Fitbit Blaze, and soon-to-be-announced future products, will knock the flagging Apple smartwatch right out of the wearables category's competition. Fitbit has dealt similar death blows to Nike (NYSE:NKE), Microsoft (NASDAQ:MSFT) and Jawbone (Private) whose products have been relegated into obscurity by the dominant company in wearables, Fitbit. There is absolutely no reason to believe that Apple will be any different than the other major companies which have made fatal mistakes in wearables as AAPL also has made fatal mistakes as listed earlier in this article. The launch of Fitbit Blaze could be marking the beginning of total domination over Apple in the dual wrist wearables sub-categories of both fitness trackers and smartwatches.
If ever there was an oversold stock that is trading at a deep discount when instead Fitbit should be trading at a premium valuation as the undisputed worldwide leader and pioneer of the triple-digit-growth wearables category, that stock is FIT. Wall Street's doomsayers and the illegitimate media "experts" have predicted that large-cap Apple would crush mid-cap Fitbit in wearables. These people have been proven wrong. It is now becoming clear that David is beating Goliath and that Fitbit is crushing Apple in wearables. Soon the Street will realize what is happening in wearables and then appreciate shares of FIT to the high-growth premium valuation that it deserves. And the sky-high short interest in FIT now must cover making the potential for a rapid rise in price per share likely.
Disclosure: I am/we are long FIT.
I wrote this article myself, and it expresses my own opinions. I am not receiving compensation for it (other than from Seeking Alpha). I have no business relationship with any company whose stock is mentioned in this article.