In a recent article, I presented a deep dive analysis of global supply chains for these critical raw materials from a battery industry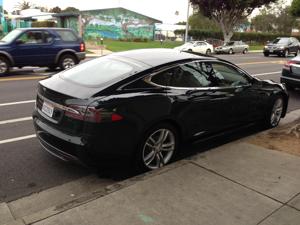 perspective. In a follow-on piece, I analyzed the obvious supply chain risks from an EV manufacturing perspective. The numbers will come as a shock to anyone who believes lithium-ion batteries will change transportation and the electric grid forever.
The simple and inescapable reality is that even if the battery industry abandons high cobalt LCO chemistry in favor of lower cobalt NCM and NCA chemistries, global cobalt supplies cannot support total worldwide production of more than a few million short-range EVs (under 100 miles) or a couple million long-range EVs (over 200 miles) per year.
General Motors (NYSE:GM), Nissan (OTCPK:NSANY), Porsche (OTCPK:POAHY) and others are following Tesla Motor's (NASDAQ:TSLA) lead and planning the introduction of long-range EVs. Because the Chinese are also planning to manufacture some five million EVs a year by 2020, the cobalt cliff is already in sight and things will get very ugly for lithium-ion battery and EV manufacturers.
It may well be the biggest supply chain management "oops" in the history of supply chain management.
Nobody with an ounce of common sense plans a mass-market product that requires large volumes of scarce raw materials without having rock solid supply agreements for those materials.
Reliance on a byproduct is incredibly risky because byproduct availability is always tied to demand for the primary product; in this case nickel and copper.
Reliance on a byproduct that's also an essential material in other high-value products like superalloys, machine tools, catalysts and pigments is just plain stupid if your business is more cost sensitive than businesses that need the same material to manufacture their high-value products.
But that's exactly what we're seeing in the lithium-ion battery and EV space.
Without rock solid supply contracts, most owners of massive new battery factories will find themselves between a rock and a hard place as they try to outbid other companies that need cobalt for higher value products.
The likely price of supply chain failure will be business failure because huge factories cannot operate consistently or profitably without reliable supply chains for all essential materials.
The domino effect is unavoidable. Inadequate cobalt supplies will reduce battery supplies. Higher cobalt prices will increase battery costs. Ultimately, it doesn't matter how many EVs your car factories can produce if you can't buy or make enough batteries to power them down the road.
Until somebody develops, validates, commercializes, and optimizes an entirely new high-energy battery technology that doesn't need cobalt, EVs are a dead end with no potential to become environmentally or economically relevant.
The cobalt cliff will not be a friendly neighborhood for Tesla, which is reportedly having a hard time securing supply agreements from traditional cathode material suppliers and reaching down into the ranks of poorly capitalized junior miners to shore up its gigafactory story.
If Tesla's supply chain problems aren't resolved, there will be no operational gigafactory to make cheap batteries for the Model 3. Without sufficient cobalt to permit full-scale manufacturing of NCM and NCA batteries, the only option will be reconfiguring the gigafactory to make NMO or LFP batteries that have lower energy densities but don't need cobalt, even if the substitution makes the Model 3 less competitive.
I've never been a Tesla fan and while many of my factual predictions about the company have been spot-on, the market for Tesla's stock has never responded the way I thought it should because their PR machine is so very effective.
The cobalt supply chain issues are certain to become obvious this year as African copper mines are temporarily closed for modernization. Those closures will reduce 2016 cobalt production by several thousand tons. The issues will intensify over the next couple years as governments respond to increasingly blatant human rights abuses in the artisanal mining sector. While non-African miners may step in to fill the gap if prices stabilize at attractive levels, bringing new mines into production typically takes a decade or more, so the response won't be fast or cheap.
The looming cobalt shortages are not necessarily the kind of "right-now" issues that would support a short sale strategy. They are, however, critical and clear enough that prudent investors should consider hedging their risk or seek the safety of the sidelines.
Disclosure: I/we have no positions in any stocks mentioned, and no plans to initiate any positions within the next 72 hours.
I wrote this article myself, and it expresses my own opinions. I am not receiving compensation for it (other than from Seeking Alpha). I have no business relationship with any company whose stock is mentioned in this article.
Editor's Note: This article discusses one or more securities that do not trade on a major U.S. exchange. Please be aware of the risks associated with these stocks.