March has started off with quite a bit of activity, and we've got another week to go until expiration. Fortunately, all the activity has been positive so without further ado ...
March 4 - General Motors (NYSE:GM)
When I wrote the March 4 $29.50 calls, I had two purposes in mind:
Avoid potential early exercise on March 8 if they were in the money
Experiment with writing weekly contracts
While call writers are well advised not to "marry" their underlying equities, there are times when we'd like them to stick around. Specifically, on the day before they trade ex-dividend. When a "front month" short call is in the money on that day and the time value remaining on the call is less than the dividend, there's a very good chance the call will be exercised to capture the dividend. Since General Motors' ex-dividend date was March 9, it made some sense to write March 4 calls and either roll out or let them expire worthless.
Ideally, of course, the calls would expire, and Monday, March 7, I would write a batch of March 11 calls. Things looked "good" (for my plan anyway) when General Motors reported lower year-over-year February sales on March 1. However, as that report was digested, it became clear retail sales were up considerably, with the Chevrolet brand up 13% y-o-y. By mid-morning, the stock was rising toward $30, a level it eventually broke through late in the day. It stayed stubbornly above $30 through the rest of the week rising above $31.60 midday Friday.
With the calls that deep in the money, the best course was to let them be exercised. At my cost basis of $27.60, the sale cleared about $1.89 per share profit on the position. Since I still wanted to earn some income on my new pile of cash, I wrote 10 April 15 $29.00 CSEPs at $0.43, exceeding the dividend I "lost."
March 10 - Merck & Co. (NYSE:MRK)
Merck also went ex-dividend on March 11, so this position was also subject to early exercise. With a dividend of $0.46, my March 18 $51.50 calls opened the day with about $0.05 in time value left.
I chose the April 22 $51.50 strike as my roll-out target and placed an order asking for a $0.50 credit. It was filled almost immediately after the open for a net profit after commission and fees of $330.18.
While I could have gotten a better price later in the day, I'm not quite retired yet, and with a couple morning meetings and an afternoon colloquium on the calendar, I didn't have as much time to monitor the position as I will in a few months.
An observation from Friday
An equity will tend to gap up the day before an ex-dividend date. If there's plenty of time value in your roll-out target, it can pay to wait until things have settled down a little instead of placing an order before the open as I did.
Here's a table of the last few years of MRK's "pre-ex-dividend" trading. The date on the left is the ex-dividend date and the prices are for the close two days prior to the ex-date and the open one day before the ex-date. As you can see, there doesn't seem to be any pattern to the size of the gap up so it's probably not trade-able.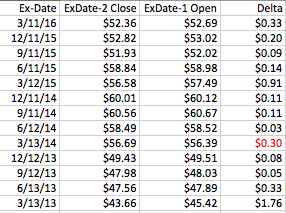 March 10/11 - Altria Group (NYSE:MO)
Altria went ex-dividend March 11, so my March 15 $60 calls were ripe for the picking on the 10th. As with GM, these calls were deep in the money, so there were no attractive strikes available to roll out. With my cost basis at $57.72, I had a $2.28 per share profit in hand if they were assigned.
As I expected, the position was assigned, and I made a net profit of $1,358.27 after commission and fees. The stock traded as high as $63.00 at the close on the 10th, but of course, the price was adjusted to $62.435 to reflect its ex-dividend status.
On the 11th, MO opened at $62.80 instantly erasing more than half of the dividend adjustment. Morningstar has a fair value estimate of $59.00, so the stock is somewhat expensive right now. To get things into a more reasonable price range, I chose to sell April 15 $60 puts at 55¢ for a net profit of $316.40. With a delta of -.260, these are rather unlikely to be exercised.
Conclusions
At this point I've seen net income of $4,278.56 on the two assignments, the roll out and sale of CSEPs. Unallocated cash (net of CSEPs) has increased to $18,518.69. That cash represents a little more than five months of actual living expenses at this point in time and seven months of our projected expenses once we move into the city. My goal is to have the "in the city" period at about 24 months - about $63,500. That leaves about $45,000 to be saved between now and when we plan to move. Since we don't plan to move for another three years, that $45,000 should be easily achievable.
Although I gave up a March dividend from General Motors through exercise, I more than made up for it by selling a batch of puts and collected a nice profit on the assignment. Altria Group would have been an April dividend, and there too I took in a nice profit on the early exercise of my position and collected more than the missed dividend in premium. Merck was just a normal roll-out, preserving the April dividend while collecting a bit more than its value in option premium.

My options positions are in pretty good shape. Of the March expirations, only General Mills (NYSE:GIS) is deep in the money. With my cost basis at $54.46, I won't mind seeing those shares assigned at all. Verizon (NYSE:VZ) should be an easy roll-out if needed. I'd like to see Merck come in a bit, but that's got plenty of time to go.
Disclosure: I am/we are long MRK.
I wrote this article myself, and it expresses my own opinions. I am not receiving compensation for it (other than from Seeking Alpha). I have no business relationship with any company whose stock is mentioned in this article.