According to Gartner, Apple (NASDAQ:AAPL) sold 71.5 million smartphones in Q415 vs. 74.8 million smartphones in Q414.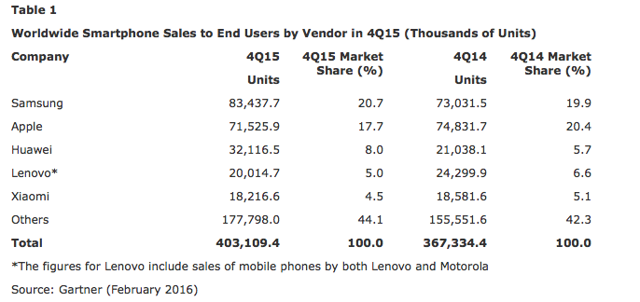 Click to enlarge
How can it be Apple said it sold 74.8 million devices in Q415, slightly more than Q414, but Gartner says less?
Apple counts the smartphones it sells to third parties (retailers, etc.), while Gartner counts what has been sold to end users. So if we believe what Gartner says, Apple had its first ever y/y dip in smartphone sales.
Then again, most investors who follow Apple closely probably knew this already, because Apple's guidance in January called for Q216 revenue between $50 and $53 billion, which is less than the $58 billion Apple booked in Q215.
So in other words, because of the fact that Apple did not sell as many iPhones to end users, third party vendors have not ordered as many iPhones. Which is the reason Apple had cut its order forecasts to iPhone suppliers over the past several months.
But what really struck me in the Gartner report was that Apple's market share fell almost 3% for the corresponding quarters y/y. According to Gartner, Apple's market share in Q42014 was 20.4% and by Q42015 it fell to 17.7%.
Apple's market share for all of 2015 actually increased a bit - from 15.4% in 2014 to 15.9% in 2015 - but the sharp fall in Q4215 might continue in 2016 and we might see Apple's worldwide market share drop.
Have we reached peak iPhone?
Difficult to say. However, I do not think Apple's upgrade cycle has much to do with this first ever y/y drop in iPhone sales. My guess is Apple probably has almost the entire high-end segment of market and there is not much more to be had. Like I said in a recent post, Apple has conquered the world, and there is not much more to conquer.
Yes, Apple will probably sell more iPhones over the course of time, but at present, all those who can afford and want an iPhone, probably have one.
Apple has to do two things. On one hand it has to at least maintain its market share. On the other, it has to find ways to increase it (if possible). Because when global smartphone sales increase by 9.7% and you sell fewer devices, that is not a positive development.
What should Apple do?
The first thing Apple has to do is to make a cheaper iPhone. This is something I have been calling for a long time. And when I say cheaper device, I do not mean a device like the iPhone 5S that is cheaper because it's older. People want up-to-date stuff. I mean a device that is of the iPhone 6 class, but cheaper.
According to rumors all over the web, Apple will be introducing a 4-inch iPhone, codenamed iPhone SE. It is rumored to be announced on March 21.
While we do not know much about the device, if the rumors it will sell for between $400 and $500. If confirmed, I think Apple will strike out with this device.
For Apple to penetrate the lower segments of the smartphone space, it has to go after the $200-to-$300 market. That's where all the Chinese smartphone action is. Unless Apple can find a way to make a device this cheap, I think it will not be able to sell to the low-end of the market and maintain its market share.
It's important to note, besides maintaining its market share, selling more iPhones is important to Apple because it will further expand its ecosystem.
Personally I think one of the reasons Apple has been selling more Macs over the past several years - besides that they are great machines - is because of the iPhone. Basically, people who use an iPhone are so thrilled with it, they decide to buy a Mac also, and then get hooked on the Apple ecosystem altogether.
In a recent development, Apple might hit two birds with one stone. That is, put more iPhones in the hands of users, and increase its market at the same time.
In a recent post from the Times of India, Apple has sought permission from the Indian government to import and sell iPhones directly. While there are many companies doing this on their own worldwide, this is the first time used iPhones will be sold directly from Apple.
Obviously this is related to Apple's iPhone trade-in program. Apple needs to offload all the used iPhones it will acquire from the program. At the same time however, it will put more devices in the hands of the Indian consumer, many of whom can't afford to buy a new device. If people don't have $700 to buy an iPhone, perhaps they will have $300 or even $200 to buy a used or older model device.
So while I do not think the iPhone SE will penetrate much of the lower-end smartphone market, selling second hand iPhones to India will. Let me explain how.
To begin with, Apple will sell more iPhones in the U.S. and other western markets if it expands its trade-in program. About 42% of the iPhones in circulation are iPhone 5S models or older dating back to pre 2013. If Apple can persuade these users to upgrade, that means more iPhone sales.
However, that will not mean much for Apple's market share. Reason being, the actual number of iPhone users will not increase, these users will just have a newer iPhone. Unless that is, if Apple can persuade a very large number of Android users to upgrade as well. While this might happen, I am not betting on it.
However, by offloading second hand devices in India, Apple will essentially increase its market share without really selling may new iPhones.
Think of it, more people will have an iPhone, even if its an older model. Today many of these consumers simply buy a $200 Android device. If instead they get their hands on a used iPhone, they will count as people using iPhones.
This is important, not just because Apple will be able to offer a good deal for consumers to trade-in or upgrade their devices in the U.S. - and thus increase iPhone sales - but because over time, it will also expand Apple's ecosystem footprint in India and other places also.
Bottom line
Apple is having a hard time maintaining market share by virtue of the fact that it exclusively caters to the very high-end segment of the smartphone space.
Unless the iPhone SE is priced low enough, I do not think Apple will be able to crack the lower-end of the market, where the Chinese Android party is going on.
However, it might be able to gain market share and expand its ecosystem footprint with its trade-in program. While too early to tell, if successful, India might be the first of many markets where Apple officially sells used and older iPhones.
And if done on a large enough scale, it might increase iPhone production, Apple's global smartphone market share and Apple's ecosystem at the same time.
Disclosure: I/we have no positions in any stocks mentioned, and no plans to initiate any positions within the next 72 hours.
I wrote this article myself, and it expresses my own opinions. I am not receiving compensation for it (other than from Seeking Alpha). I have no business relationship with any company whose stock is mentioned in this article.